Bachelor of Business Administration
Your Future in Business Begins Here
The Bachelor of Business Administration (BBA) degree program at the H-E-B School of Business and Administration offers a comprehensive and contemporary general business education readying students to succeed in any number of fields. The business degree program also creates a strong foundation on which to develop field specializations.
About the BBA
A Bachelor of Business Administration degree, or BBA degree, offers a broad understanding of how the elements of business organizations relate to one another and to the marketplace. Unlike other business degrees, the BBA also provides the opportunity to study one subject concentration.
The BBA program at the HEBSBA offers 10 concentration subjects, which include accounting, economics, finance, general business, international business, management, marketing, management information systems, professional golf management and sport management.
In addition to providing the technical skills necessary for a professional-level position, the ethical considerations of business are also emphasized. Rooted in the Mission of the University, the BBA prepares students to be principled leaders.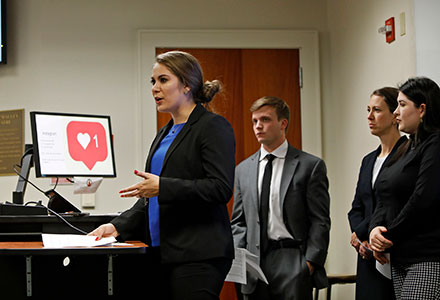 Undergraduate students in the BBA degree program take two Capstone courses in their final two semesters. The Capstone courses challenge students to apply the foundations of business and their concentration expertise to an operative business or organization.
Working in teams, students create business strategies, develop solutions and conceive of pathways to greater success. By doing so, they gain experience with the professional world and gain first-hand insights from business leaders. Their work can also serve as a portfolio piece when they enter the workforce.
BBA Degree Concentrations
Curriculum
To fulfill the requirements of the Bachelor of Business Administration degree, a student must complete the following 45 hours of core courses, in addition to the courses required by a student's chosen concentration.
ACCT 2311 Principles of Accounting I
ACCT 2312 Principles of Accounting II
ECON 2301 Principles of Macroeconomics
ECON 2302 Principles of Microeconomics
MIS 2321 Introduction to Information Systems
MIS 2325 Information Management Applications
BMGT 3370 Business Statistics
BMGT 3371 Management Science
BINT 3331 International Business Management
BLAW 3317 Business Law
BMKT 3331 Principles of Marketing
BMGT 3340 Management Theory and Practice
BFIN 3321 Principles of Financial Management
BMGT 4380 Integrative Business Analysis and Decision Making I
BMGT 4381 Integrative Business Analysis and Decision Making II
Admission Criteria
Discover more about beginning your journey to professional success as a student in the H-E-B School of Business and Administration
Accreditation
Business programs in the H-E-B School of Business and Administration are accredited by The Accreditation Council for Business Schools and Programs. The University of the Incarnate Word is accredited by the Southern Association of Colleges and Schools Commission on Colleges.
Learn more about accreditation.