A Message from the Provost
Dear Cardinal Community,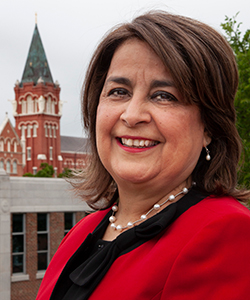 The tragic death of George Floyd affected America, indeed the world, like few other events in recent history. And from this terrible tragedy, we started a conversation at UIW, reflective discussions with a wide array of people—students, faculty, staff, Alumni Board members, Student Government Association officers, Faculty Senate officers, athletes, deans and associate provosts, vice-presidents, campus police, and others—to discuss diversity, equity, and inclusion (DEI) at UIW. To date, we have held 30 meetings and listening sessions and shared conversations with over 300 individuals. The conversations were insightful, sometimes difficult, and often painful; but they were always honest, respectful, and prayerful. And we truly listened—both to what others said and to what they didn't say. And from these conversations, we developed our "DEI—Report on Engagement of the UIW Community."
In 2017, the President's Council on Diversity, Equity and Inclusion was created by Dr. Evans "to ensure that we continue serving the underserved and elevate the dignity of every human person." Meeting regularly until it went on hiatus in March 2020 due to the pandemic, in July 2020, the task force submitted their recommendations to Dr. Evans thus concluding their activities.
The next stage of the process was to initiate reflective discussions across UIW, to that end, Dr. Evans appointed Dr. Barbara Aranda-Naranjo, Chief Academic Officer and Provost, and Sr. Walter Maher, Vice-President for Mission and Ministry, to lead the DEI engagement discussions and activities. These listening sessions and meetings occurred throughout the Fall 2020 semester. Please click on the button below to see a copy of the final report.
This does not mean our work is finished, there is much to do still; conversations are ongoing, and we will continue to ask for your input, and we welcome your comments. Updates will be posted on the Ettling Center for Civic Leadership & Sustainability web page. If you would like a report of the thematic responses for the listening session you attended, please contact Dr. Ricardo Gonzalez at rigonza4@uiwtx.edu or (210) 832-3208.
Praised be the Incarnate Word.
Sincerely,

Barbara Aranda-Naranjo, PhD
Provost