UIW Welcomes New Vice Provost of Academic Affairs
October 4, 2023
Dr. Dimitri Tamalis joins UIW from Cal State - Northridge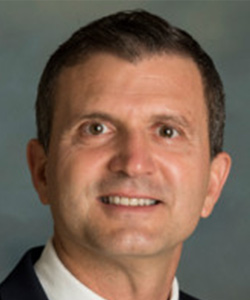 San Antonio – October 4, 2023 – The University of the Incarnate Word (UIW) and the UIW Office of Academic Affairs is proud to welcome the University's new Vice Provost, Dr. Dimitri Tamalis. Tamalis comes to UIW from his position as the Associate Dean of the College of Health and Human Development at California State University, Northridge. Tamalis has extensive experience with enrollment management, strategic planning, accreditation, student advising, curriculum development and budget management. His educational achievements include the establishment of undergraduate Radiochemistry and Radiobiology programs.
"I am extremely happy that Dr. Dimitri Tamalis has chosen to join us at the University of the Incarnate Word," says UIW Provost Dr. Farrell J. Webb. "His many years in management and leadership roles will serve us well. He has a deep understanding of what it means to provide a transformational education at an institution that welcomes so many first-generation students and students of all backgrounds looking to enrich their lives and that of their families. Dr. Tamalis is a tremendous addition to our UIW community."
Tamalis received his bachelor's in Chemistry from McPherson College, KS, and his Ph.D. in Biochemistry from Kansas State University. He has conducted postdoctoral research at New York University Medical Center and the Health Sciences Center at the University of Oklahoma. His research interests have concentrated on environmental issues and specifically the characterization of radioactive material in oil exploration waste products in Texas with funding coming from the Nuclear Regulatory Commission, the Office of Naval Research and the Department of Energy. Tamalis has presented at conferences including the annual American Nuclear Society meeting and published in journals such as the Journal of Environmental Radioactivity and the Journal of Radioanalytical and Nuclear Chemistry.
"I am deeply honored and excited to be joining the University of the Incarnate Word as the Vice Provost of Academic Affairs," says Tamalis. "I am certain that my academic career in service to HSI and HBCU institutions and my passion for student success will find a welcome home at UIW. I look forward to working collaboratively with faculty, staff, students and administration as we seek to tackle old and new challenges, from ensuring robust enrollment, retention and graduation rates, to maintaining and improving program quality and student satisfaction to exploring the role of AI in our educational model and beyond. I believe we can accomplish a lot in terms of increasing the institution's visibility and impact as we continue to make UIW's Mission to academic excellence, truth, social change, thoughtful innovation and environmental concern a lived and shared reality."
A native of Greece, Tamalis also has a working knowledge of Spanish which he aspires to elevate to fluency in the future. Watching the occasional soccer game is a favorite pastime of his.
---
MEDIA CONTACT: Michael Valdes, Media and Public Relations Manager, Office of Communications & Brand Marketing, (210) 829-6001, (210) 422-4052 or michael.valdes@uiwtx.edu