St. Anthony Welcomes Back Yellow Jackets for 2023 Homecoming
October 20, 2023
Class of 2003 holds Reunion during Annual Tailgate
San Antonio – October 20, 2023 – St. Anthony Catholic High School (SACHS) was proud to welcome back hundreds of Yellow Jackets during the 2023 Homecoming Game held on Friday, October 13. Approximately 500 former and current students, teachers and staff gathered at the University of the Incarnate Word's Benson Stadium for a game against Victoria St. Joseph and, although the outcome of the game was disappointing, the gathering of the SACHS community was an outstanding success.
"No matter the occasion, saying that St. Anthony is just a community is not enough… St. Anthony is truly a family," says SACHS Athletic Director Michael Salas. "It's always wonderful to see as many familiar faces as we do at an event of this magnitude. Thank you, Yellow Jackets, for all your support, time, effort and talents."
Tailgaters arrived early in the evening to set up tents and chairs to prepare for a festive night. Members of the UIW football team were also on hand. They visited with the SACHS community and shared dinner with them. Among the hundreds who gathered were members of the SACHS Class of 2003, celebrating their 20th high school reunion.
"The Class of 2003 definitely had a great time reconnecting at the tailgate," says Randy Daniels, Class of 2003 graduate. "It was awesome to see the Yellow Jacket community come together and supporting both former and current students. We look forward to more get-togethers like this."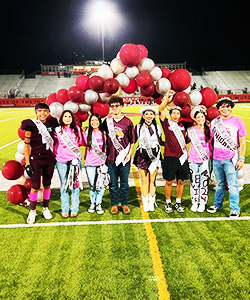 "As an alumnus of St. Anthony Catholic High School, it was a rewarding experience to see this event executed," says Ethan Gonzales, SACHS director of Development. "I remember having two parking spaces last year led by Class of 2006 parents Manuel Trevino and Joe Martinez. Fast forward to now, we had an entire road. Our community did not disappoint one bit. I am extremely grateful for the collaboration between UIW and the UIWPD as well as the maintenance crew for believing in our mission and providing us the opportunity to host something like this. Simply put, thank you Yellow Jackets for all your support! I look forward to continuing this initiative and invite our community… past, present and future… to join us next year."
St. Anthony Catholic High School marked 120 years of service to the South Texas community in 2023. Last year, SACHS students earned more than $7 million in scholarship funds. Those students are now attending institutions as diverse as Notre Dame, California State University, the University of the Incarnate Word and more.
---
MEDIA CONTACT: Michael Valdes, Media and Public Relations Manager, Office of Communications & Brand Marketing, (210) 829-6001, (210) 422-4052 or michael.valdes@uiwtx.edu