Welcoming Week Kick-Off: Recognizing and Embracing the Diversity of UIW and San Antonio
September 15, 2023
The University of the Incarnate Word (UIW) strives to embrace and promote diversity every day. From students, educators, administrators, alumni, etc., the entire University is constituted by individuals of diverse backgrounds, each with their own unique stories that all contribute to the collective story of UIW. Recognizing this fact, and in fulfillment of the University's Mission, the UIW Liza and Jack Lewis Center of the Americas works year-round to promote better relations and understanding among the people of the Americas.
On Friday, September 8, the Center hosted San Antonio's Welcoming Week Kick-Off on UIW's Broadway Campus. This event was hosted in collaboration with The City of San Antonio's Immigration Liaison, Arts and Culture with the intent of bringing together people of all backgrounds to have and hear discussions focused on inclusivity and the value of diversity. Event organizers also aimed to uplift the voices of newcomers, immigrants, and refugees that belong to both the UIW and San Antonio communities.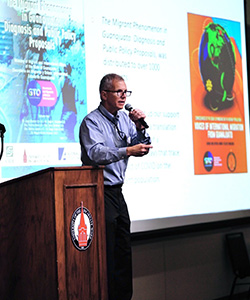 UIW's own director of the Liza and Jack Lewis Center of the Americas, Dr. Rafael Hoyle, helped to coordinate and host this event. "The goal of the event was to jump start or 'kick off' Welcoming Week in the City of San Antonio, with an event that brought together a wide representation from our diverse community in San Antonio, to celebrate our shared values of inclusion, distribute information about resources available to recent arrivals to our city (particularly to underserved refugees and immigrants) and hear the inspirational stories of individuals who migrated to the United States and successfully established a new home in the great City of San Antonio," he shared.
Hoyle described that upon entering the event, he heard multiple languages being simultaneously spoken in the SEC ballroom. He also saw Papa Bear of the American Indians of Texas in the Spanish Colonial Missions walking through the ballroom door, wearing a top hat and a traditional beaded headpiece, ready to deliver the Four-Directions Blessing.
"I was experiencing intense multiculturalism and internationalism at that moment and feeling very happy, for sure, and also proud of our City and our University for supporting this congregation of people," Hoyle recalled.
During the night, attendees heard from speakers on topics such as San Antonio's welcoming of people from all nations, the great potential of refugees and immigrants to achieve success in the San Antonio community, and the many opportunities the City has to offer people of all backgrounds.
"By hosting events like the Welcoming Week Kick-Off, we are sending a clear message to our entire university community that we believe in the value of diversity," Hoyle added.
The University's commitment to promoting diversity and inclusivity goes beyond just the Welcoming Week Kick-Off. It is a charge that is continuously carried out and nurtured every day within the institution. "We promote a diverse human connection by working proactively to … deliver an array of co-curricular activities that clearly reflect our values of inclusion and love of diversity," Hoyle explained, "We do these things well at UIW and that's what helps make UIW a very special place."
UIW campus members like Hoyle have an immense amount of passion for maintaining this ongoing pursuit. When asked what he loves most about his position, he answered that he feels privileged to aid in the promotion of values and a Mission he believes in wholeheartedly. "I believe that an appreciation of other cultures, and a cooperation among nations makes for a stronger global society for all, and I embrace UIW's Mission of educating men and women who will become concerned and enlightened citizens within the global community."
As the UIW community continues to grow, its members remain committed – through efforts such as the Welcoming Week event – to providing an environment in which people of all backgrounds and identities feel valued and respected in.
Learn more about the UIW Liza and Jack Lewis Center of the Americas.