UIW Bands Welcome New Director
August 18, 2023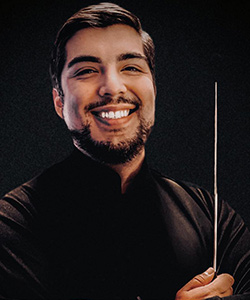 The Marching Cardinals and UIW Bands have a new director! Following a national search, the College of Humanities, Arts and Social Sciences appointed Dr. Nieves Villaseñor as the school's new coordinator of music education and director of bands beginning in the 2023-24 school year.
Previously, Dr. Villaseñor served as Visiting Assistant Director of Bands at James Madison University, where he served as Assistant Director of the Marching Royal Dukes, Director of the JMU Pep Band, and conducted the JMU Symphonic Band. He also served as artist-in-residence at the Virginia Mennonite Retirement Community (VMRC) in Harrisonburg, Virginia.
At UIW, he is now the Director of the UIW Marching Cardinals, the UIW Wind Ensemble and the UIW Cardinal Red Basketball Band. As Coordinator of Music Education and the Instrumental Area, Dr. Villaseñor will teach courses in instrumental music education and the music-major sequence conducting course.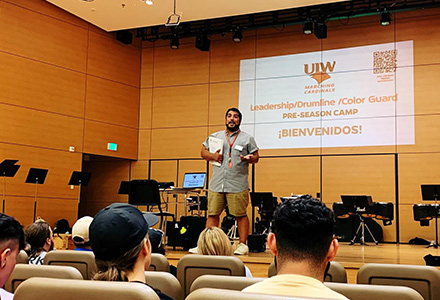 Dr. Villaseñor hails from the transient military community of Jacksonville, North Carolina. He completed his candidacy for the Doctor of Musical Arts in Instrumental Conducting with a cognate in Nonprofit Organizations from the University of Florida. He holds a Master of Music in Instrumental Conducting from Syracuse University, a Bachelor of Arts in Music in Saxophone from the University of North Carolina Wilmington, and an Associate of Fine Arts in Music and Music Education from Coastal Carolina Community College in Jacksonville, North Carolina.
Read his interview below to learn more!
 Q: Tell us a little bit about yourself! 
A: I can truly say that I'm a born-Texan, hailing from the small border town of Eagle Pass, but due to growing up in a military-family, my upbringing has come from many places. My dad was a United States Marine, taking my family as far across the globe as Okinawa Japan, California, Mississippi, and eventually, the coastal town of Jacksonville, North Carolina, home of Camp Lejeune Marine Corps Base. 
I began my college studies by attending East Carolina University, where I was drum major of the ECU Marching Pirates for two seasons. I loved being an ECU Pirate, but I found myself feeling a little lost in the larger music school scene. I transferred to Coastal Carolina Community College in my hometown, where I received my Associate of Fine Arts in Music Education. After that I transferred to the University of North Carolina Wilmington, where I received my Bachelor of Arts in Music in Saxophone. 
After my undergraduate studies, I moved to San Antonio, Texas (the first time), where I taught and built the instrumental music program at Jubilee San Antonio Charter School, marched with the WGI Independent World-Class Silver Medalist ensemble Crossmen Winds, and founded the San Antonio Community Wind Ensemble as the Artistic Director and Conductor, which currently serves as ensemble-in-residence at Texas A&M University San Antonio and is a program offering of Crossmen Productions, Inc. 
After a long and excited academic journey that took me to various places, I'm glad to be back in San Antonio (Learn more about his journey here).  
Q: When did you first discover your passion for music and music education?  
The discovery of my passion for music was purely by accident. At first, I didn't choose to be a part of my school's musical ensembles; instead, I was placed in a general music class. An inspiring general music teacher, Ms. Lori McClelland, and my middle school band director, Mr. Brian Edmonds, both took a chance on me, and welcomed me into the school band program. From there, I went on to White Oak High School and joined every musical ensemble I could be in, while also playing in the local community band. At the end of my high school years, I knew I wanted music to be something that I could do for the rest of my life. 
Q: What drew you to UIW? 
A: San Antonio was truly home, it is where all my extended family live and it is the community that I have always connected with, especially with its deep Hispanic heritage roots. With everything that I was doing in San Antonio, I knew I wanted to make an even bigger impact, which fueled my motivation to pursue graduate studies. Hopefully, I thought, one day I would return to San Antonio.  
At first glance, UIW attracted me because it was in the city that I have always closely associated with home. But as I come to learn more about UIW, it is a compilation of everything I have found special in every place I've lived… all in one place. Its small, tight-knit community lends itself to feeling like a family. I love how strongly it is driven by its Mission, and I am honored to be a part of that pursuit. 
Q: Who are your musical inspirations?  
A: My musical inspirations come from the collective of many people, rather than a single person. I am inspired by the power music has to connect people and create community. I'm inspired by the light and love that it instills in people to make the world we live in a better place.   
Q: How does a University's band program contribute to the school's culture?  
A: The university band program is one of the few places that brings everyone together from all the vast areas of studies across campus. As a band, we have a lot of love for our school, the community we co-exist in, and the world we are all a part of. In that love, we make it our mission to share that with everyone at every game, every event, and every classroom that we share. We truly love the spirit that comes from some place special like UIW. 
Q: How would you like to see UIW's band program, particularly the Marching Cardinals, be further immersed in the UIW community?  
A: I want the "Pride of the Incarnate Word" to be an undeniable part of the fabric of UIW. In my first year, I want to instill a strong sense of pride in the community that we live in, and what that means for us as a band. Whether that be Texas-pride, pride in living in Military City USA, pride in our Hispanic heritage roots, or in our faith, I want our students to be the heartbeat of what makes our university so special. I'm proud to be part of the Cardinal community at UIW. I can't wait to see what energy our students create, and how that translates to the university community and beyond.   
Catch the Marching Cardinals at the first UIW football home game on Sept. 23!