Rosenberg School of Optometry Commemorates 10 Year Anniversary of First Graduating Class
July 21, 2023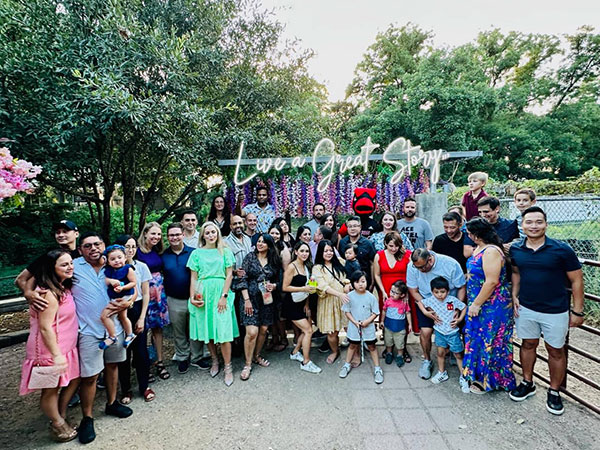 In May 2013, the University of the Incarnate Word Rosenberg School of Optometry (RSO) graduated its first cohort of optometrists. Ten years later, those alumni – and members of classes that came after – came back to San Antonio to reconnect and celebrate all they've accomplished in the last decade.
Alumnus Dr. Ajay Patel chaired a committee of fellow members of the inaugural class to plan a weekend of both fun and educational activities. 
"Nothing daunted him," said Assistant Dean of Student Affairs Dr. Renée Moore of Patel's efforts in planning the reunion. "He's quite the event planner!"
The weekend full of reunion events kicked off on Friday, July 7, with a welcome gathering at Elsewhere Garden Bar & Kitchen. Alumni brought family members to meet their old classmates and faculty while enjoying drinks and bites. Of course, Red the Cardinal couldn't miss an opportunity to visit with former students! The beloved mascot made sure to be in attendance to mingle with alumni (and their little Cardinals)!
The reunion was picked back up again on Saturday, July 8, when alumni were invited back to the RSO campus for an opportunity to sit in their old class seat while attending a lecture from a former faculty member. Drs. Jeff Rabin, Brian Foutch, Stephanie Schmiedecke and Nancy Amir delivered the lectures, providing a cheery opportunity for both continued education, and a true blast from the past. Following the lectures, alumni were transported to Boiler House at the Pearl for a delicious "Brainy Brunch."
That evening, alumni and guests once again came together for the weekend's signature event, the RSO Class of 2013 Reunion Reception. Held at Biga on the Banks on the San Antonio Riverwalk, the reunion welcomed back the pioneers in the first cohort of RSO graduates for a special dinner reception with friends, family, faculty and now, colleagues and peers. 
Before departing from each other once again, alumni gathered for Sunday Mass on July 9, where together they prayed for one another and honored classmates who have since passed, Byron Bonner and Susan Behrens. Throughout the weekend, alumni were also greeted by founding faculty members and former administrators who helped them on their journeys to becoming Doctors of Optometry.
"I was thrilled to learn that our administrators and founding faculty would come back, and it meant a lot to our alumni to see them," added Dr. Moore. "They talked to them one-on-one and reminisced together. We were all so happy to learn of the success of our alumni who are now practicing optometrists." 
Learn more about the reunion weekend and hear from RSO alumni in the Fall edition of The Word Magazine. Make sure your contact information is up to date to receive the magazine and other alumni exclusives on the info page.