Second Session of Conversations with Ambassador Creagan Set
March 9, 2023
The session will feature the General Consul of Mexico in San Antonio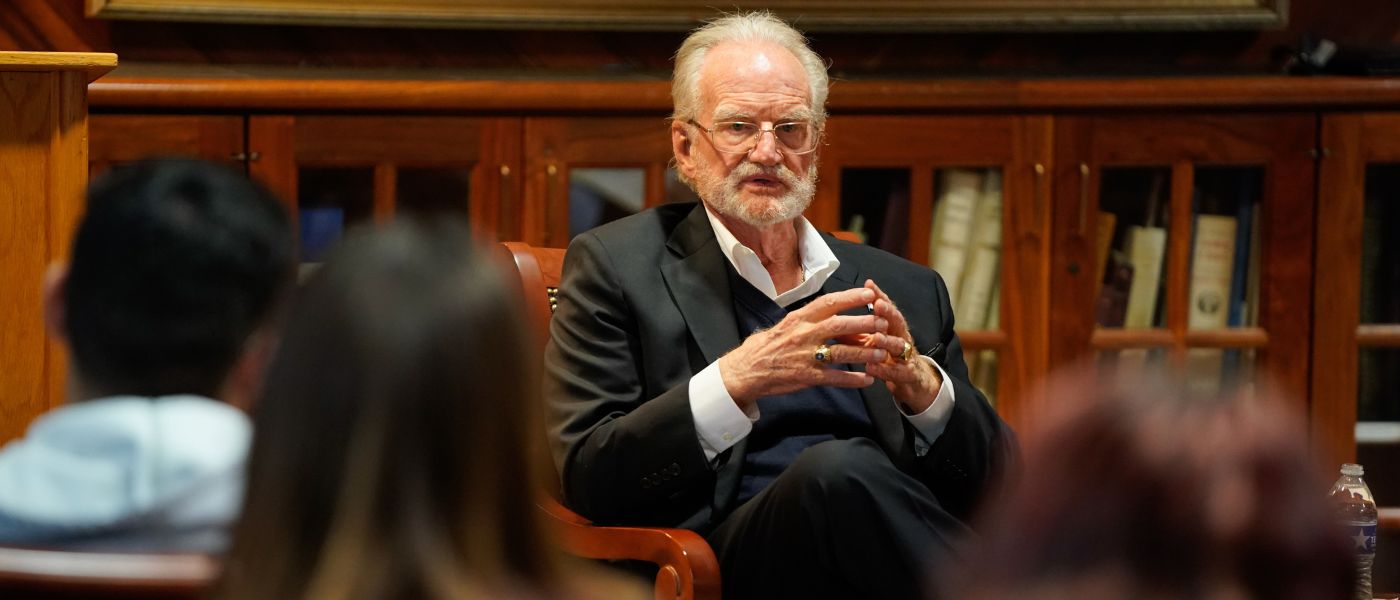 The Liza and Jack Lewis Center of the Americas and the Department of Political Science are hosting the second session of the new Conversations with Ambassador Creagan series at 4:30 p.m. Wednesday, March 22, in the Mabee Library Special Collections Room. Ambassador Dr. James F. Creagan will be speaking with special guest Dr. Rubén Minutti Zanatta, General Consul of Mexico in San Antonio, on the topic of "The State of U.S.-Mexico Diplomatic Relations on Their 200th Official Anniversary."
"The purpose of the Series is to underline the Lewis Center's mission of promoting understanding among the people and nations of the Americas," shared Dr. Rafael Hoyle, director of the Lewis Center. "While it may be obvious that Mexico and the United States are close neighbors in a multitude of ways, the relationship between the two nations is highly complex and requires ongoing study and attention.
"The forthcoming conversation between Ambassador Creagan and Dr. Minutti gives us an opportunity to deepen our understanding of the relationship by witnessing a live dialogue between two experts on international diplomacy in the Americas. Furthermore, the audience will have an opportunity to actually participate in the conversation during the Q&A segment of the event."
Creagan's and Minutti's knowledge in international diplomacy has been shaped by the experiences they gained through their official positions and careers in government. Minutti's career in public service to his country spans 20 years, and in January of 2020, he was appointed to the Consul General position. Prior to the appointment, he held the positions of Magistrate on the Mexico City Administrative Tribunal (2003-2019) and Legal Advisor to the Mexico City Secretary of Government, José Agustin Ortiz Pinchetti (2001-2002).
Minutti's academic pursuits in the United States have also contributed to the deep perspective that helps him execute his diplomatic capacity. Prior to earning his doctorate at the renowned National Autonomous University of Mexico (UNAM), he studied at the University of Texas at Austin, earning a Master in Comparative Law. Furthermore, his interest in the legal system of the United States helped lead him to write and publish a translation of the U.S. Constitution for Spanish speakers in Latin America (ed. Porrúa, México 2004).
Creagan's distinguished foreign service career spanned 35 years, and most of these were focused in Latin America. Serving as the U.S. Ambassador to Honduras was a notable highlight of his diplomatic career, but Creagan carried out senior level assignments in many other Latin countries, including Mexico. Also adding to his expertise in Mexico and his love of Mexican culture and history are the many years he has spent living in Texas, as well as the Mexican familial and heritage ties he gained through his marriage to Gwyn, his wife and professional companion for over 50 years.
Hoyle is honored to be serving as moderator of the forthcoming conversation. In addition to the live audience, the conversation will be live streamed to UIW's Mexico campuses, Centro Universitario Incarnate Word and Universidad Incarnate Word Campus Bajío, making this a true system-wide and cross-border event.