Assistant Dean of RSO Named Educator of the Year
March 3, 2023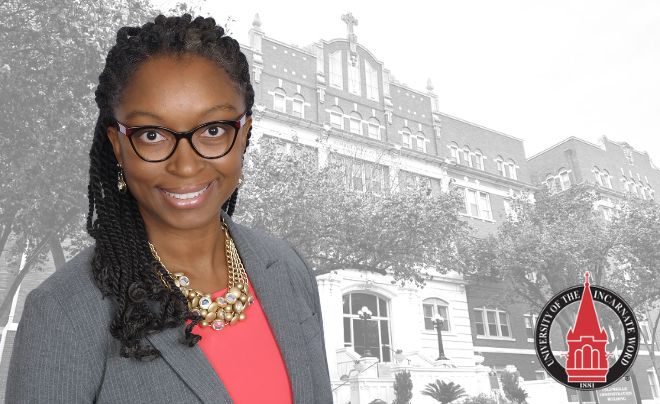 Nekima Williams, OD, assistant dean for Clinical Affairs and Externship Programs director at the UIW Rosenberg School of Optometry (RSO), was so excited she "actually started screaming" in her office when she learned she won the Educator of the Year Award from the Texas Optometric Association.
"I was unaware that I had even been nominated, but I'm overjoyed to represent UIW with this distinct recommendation," shared Williams. "This award was accepted on behalf of all educators at this school, and I am appreciative that my efforts in teaching the future of my profession are being recognized."
The award opens the door for Williams to participate in speaking opportunities, allowing her to promote UIW RSO. With this honor, she is also automatically nominated for the National Educator of the Year award for 2024 with the American Optometric Association.
But the accolades are not why Williams teaches. She wants to give students the opportunity to be the best they can be, while being their own version of a doctor.
"My teaching philosophy and style is simple: 'Strive to be you and not me,'" said Williams. "I allow them to think outside of the box so that they can make mistakes and learn from them quickly in addition to learning to provide quality care for those in our society."
Williams began her career in private practice before transitioning to an educator position, a role she takes very seriously. She fondly remembers having positive role models that helped her hone her craft; now, she says, it's her turn to give back.
"Now that I'm a clinic dean in academia, I am one of the few black doctors in the entire country who serves in an administrative role," said Williams. "As a female and person of color, it was pertinent that I had positive role models to guide and support me so that I could grow professionally. Because of the nurturing that I received, I choose to be the representation for the future of my profession and academia."
In addition to having positive influences, Williams noted she learned three things early in her career that have helped as she has progressed: work smarter, not harder; never let anyone steal your joy; and fight for your profession. "With the right focus, you can literally accomplish anything!"