UIW Announces New Senior Director of Alumni Relations
February 10, 2023
Will Bailey, '15 returns to lead alumni relations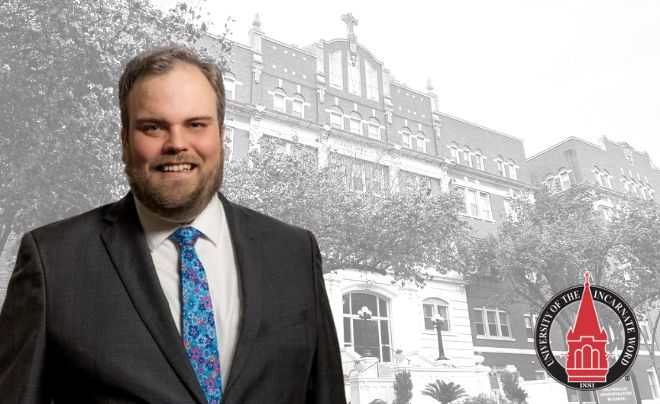 University of the Incarnate Word Vice President for External Affairs Rick Kimbrough has announced the hiring of William Bailey, '15 as the new Senior Director of Alumni Relations. Bailey will arrive at UIW in March.
"I am pleased to be able to welcome Will Bailey back to our UIW family," says Kimbrough. "As a graduate of our great institution, Will brings a unique perspective to the role. He has strong ties to the UIW faculty and a firm commitment to our Catholic Mission. I know our alumni will embrace his leadership and he will enjoy welcoming them back to the Nest."
For the past decade, Bailey has been committed to serving nonprofits through various leadership and frontline philanthropic roles. These opportunities to serve have positively impacted communities from Beaumont to Sonora and Wimberley to Brownsville. Bailey says, being of service to others is his personal mission in life.
Currently, Bailey serves as the Vice President of Philanthropy at the Hope and Healing Center & Institute in Houston. In his current role, Bailey provides leadership, coordination and implementation for all fundraising and marketing strategies, all while advancing the mission, vision and values of the HHCI throughout Greater Houston and beyond. Bailey has helped create a bold strategic plan for HHCI for which he and his team are responsible for raising the funds. Bailey has also created new initiatives that have dramatically increased event and annual campaign revenues.
Additionally, Bailey serves as Counsel of Record to Lee+ Associates, a non-profit consulting firm based in San Antonio that brings a holistic approach to help nonprofits grow capacity, strengthen leadership and most effectively deliver on their mission. In Bailey's role, he provides counsel to non-profits around Texas on various topics from governance to fundraising and strategic planning.
Prior to his call to the HHCI, Bailey served as Chief Development Officer for Good Samaritan Community Services. While there, he grew the fundraising efforts, helped build the strategic plan and expand donor base. Before that, Bailey served in various roles at the Children's Hospital of San Antonio Foundation where he helped with the success of their $86 million campaign and to grow their annual giving programs, and major and planned giving work.
Additionally, Bailey enjoys spending time mentoring other development professionals and non-profit board members on strategy and relationship building. He has spoken to various groups on topics surrounding the different facets of philanthropy. Bailey was born in San Antonio and graduated from the University of the Incarnate Word with a BA in International Affairs. In his spare time, he enjoys spending time with his wife, Rebecca, and their three dogs, the outdoors, and volunteering in his church and community.