Conversations with Ambassador Creagan Series
February 17, 2023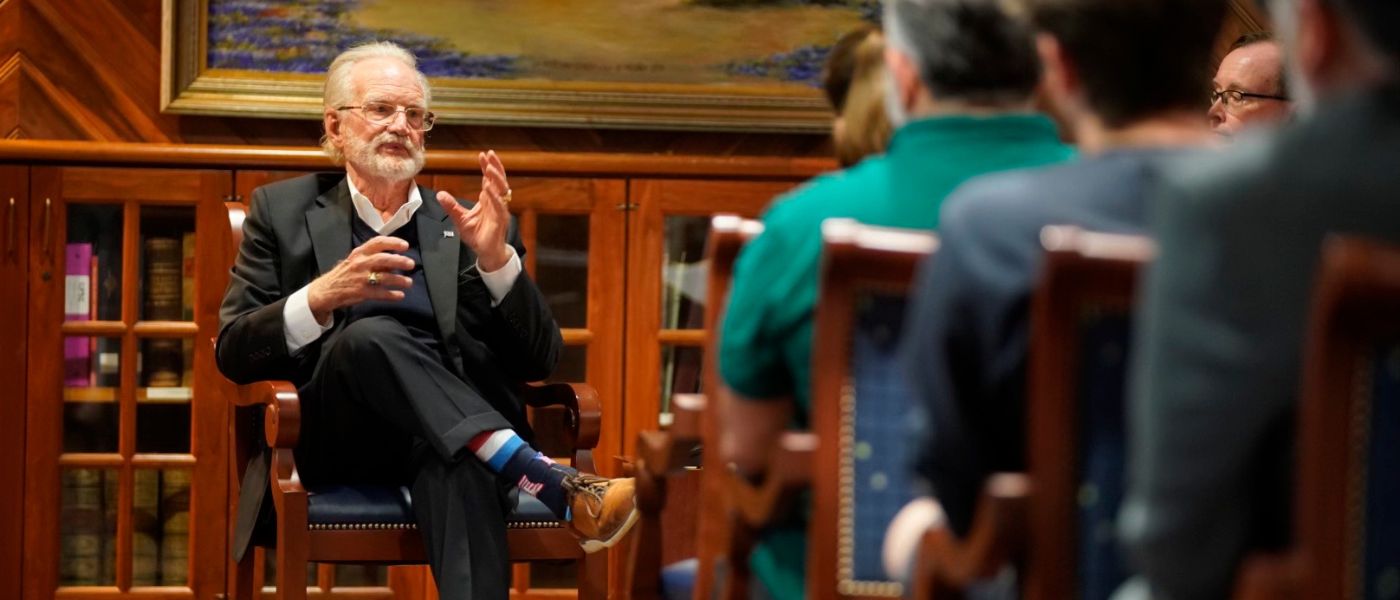 Members of the UIW community gathered on Thursday, Feb. 16, for the first session of Conversations with Ambassador Creagan, hosted by the Lewis Center of the Americas and the College of Humanities, Arts and Social Sciences. The event was live streamed to Centro Universitario Incarnate Word and Universidad Incarnate Word Campus Bajío.
Conversations with Ambassador Creagan offers the communities in the U.S. and Mexico a special opportunity to hear directly from Ambassador Dr. James F. Creagan on various topics in the realm of international affairs. Creagan, who spent time as a UIW professor in the early 2000's, is excited to be back on campus as a fellow for the Liza and Jack Lewis Center of the Americas.
"The inaugural conversation of the series was well received, with strong student attendance and numerous faculty members and administrators in the audience," shared Dr. Rafael Hoyle, director of the Center. "Students and faculty from our Mexico campuses connected via YouTube, along with UIW community members from San Antonio who could not attend in person."
Creagan was joined by UIW Professor of Political Science Dr. Scott Dittloff, who served as the guest interviewer for the first discussion. The conversation, titled "Democracies in Crisis? Interpreting the Transition of Power in the United States and Brazil," helped audience members reflect on the similarities and differences between the Jan. 6, 2021, insurrection in Washington D.C. and the events at the Brazilian capital of Brasilia on Jan. 8, 2023.
Questions from the audience contributed to the conversation, which touched on topics such as the current state of rain forest destruction in the Amazon and the severe polarization of society currently plaguing the U.S. and Brazil. Creagan provided insight into how developments in Brazilian government policies and legislation are relevant to the U.S.
The second conversation, scheduled for March 22, will focus on the state of official bilateral relations between the U.S. and Mexico in 2023, their 200th year of existence. Dr. Rubén Minutti Zanatta, General Consul of Mexico in San Antonio, will be the honored guest conversing with Ambassador Creagan.
Ambassador Dr. James F. Creagan served as a diplomat in the Foreign Service for over 30-years. He has held positions as Chargé d'Affaires and Deputy Ambassador to Italy and, separately, the Holy See. He has also lived and worked in Brazil, Portugal, Mexico, Peru and El Salvador. He was named U.S. Ambassador to Honduras by President Bill Clinton in 1996. In 2009, under President Barack Obama, Creagan served as Chargé d'Affaires to Bolivia and Chief of the U.S. Mission.