January 27, 2023
UIW's Semmes and Condos Galleries display exhibits from local artists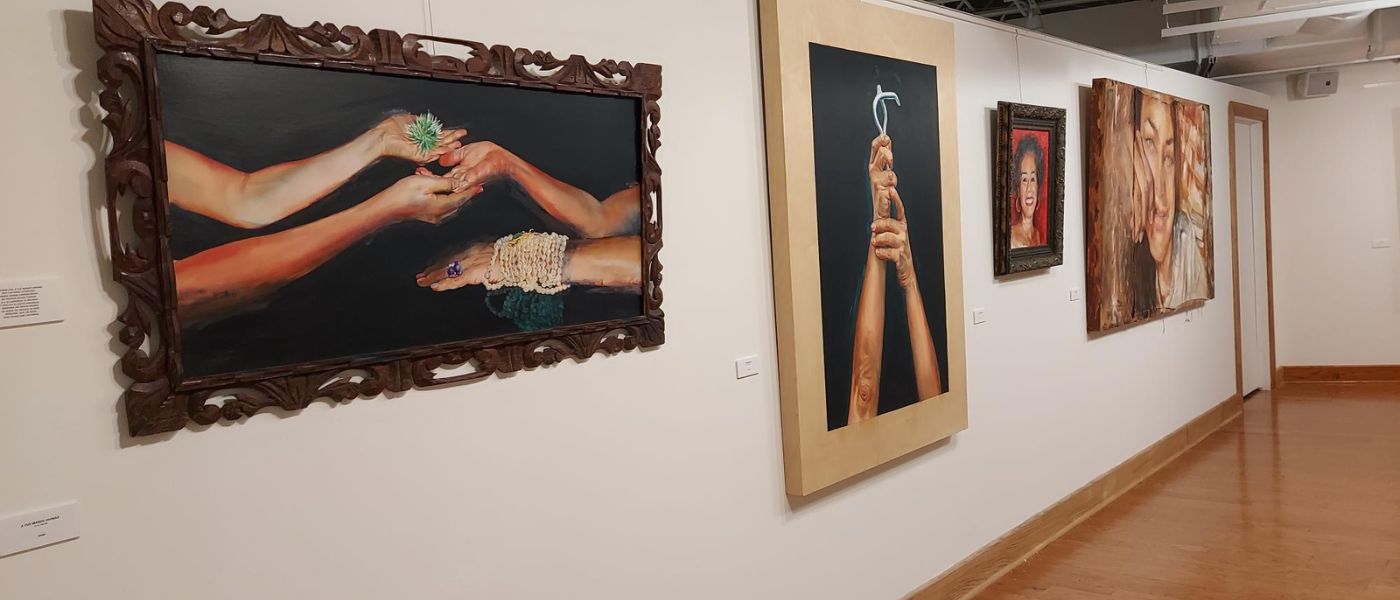 It was three years in the making. Local artist Elizabeth Rodriguez's "Las Mera Meras" painting was part of her exhibit originally scheduled to be on display at the UIW Kelso Art Center's Semmes and Condos Galleries in Spring 2020. The COVID-19 pandemic forced the gallery to close that semester, putting Rodriguez's display on hold. Now, the UIW and San Antonio communities can see her work Monday-Friday from 10 a.m.-5 p.m. until Feb. 10. Admission to the Semmes and Condos Galleries is free.
The San Antonio native began her career as a self-taught artist in oil panting and later took inspiration from other artists to fine tune her craft. The Las Mera Meras painting is a group of red peppers reflected on a shiny maple tabletop and is a symbolic portrait of a group of strong Latina women Rodriguez used to see at Mi Tierra Café in downtown San Antonio.
"I feel very honored to exhibit my work here at the University of the Incarnate Word," shared Rodriguez. "I have attended many exhibitions here of artists I have respected. The paintings I am presenting have been done for other exhibitions and this is the first time I have been able to present them all together.  It was nice to see the whole body of work complete."
Rodriguez is one of many local artists to have her works displayed at UIW. Prior to the pandemic, the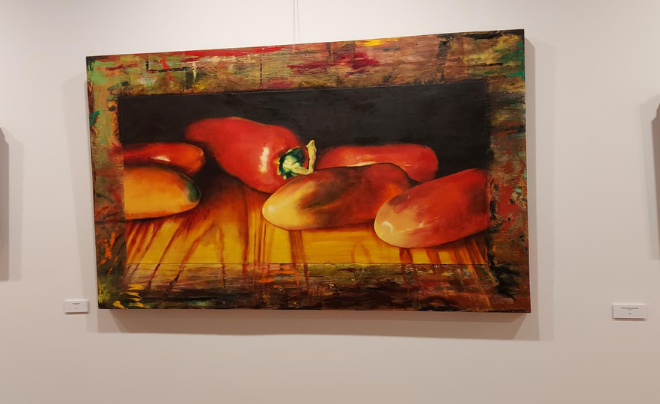 Semmes and Condos Galleries had a rotation of shows on display throughout the academic year. The gallery opened again during the 2021-2022 academic year with a continuing goal of connecting local talent to the San Antonio community.
"We always want to provide opportunities for artists in San Antonio and the surrounding area to have a chance to display their work," said Associate Professor of Art Miguel Cortinas. "The public may not be familiar with some of these artists, so displaying their exhibits at UIW provides them with the opportunity to reach a new audience. It also provides our students and community with a wide range of styles and topics to broaden their understanding of art."
Art is often taught using slide imagery or reproductions of art that are viewed on the computer screen. As a supplement, classes may take field trips to a local art gallery. But UIW Art students have the Semmes and Condos Galleries available so they can see works of art in person whenever they need to.
"It's really nice to have the option of taking students in front of an actual work of art so we can show them examples of shapes and different types of relationship in a real and tangible way," added Cortinas. "It makes for a more enlivened discussion of topics. This was particularly useful with the travel restrictions over the past few years, when we were not able to take off-campus field trips."
Local artists who wish to have their galleries displayed at UIW submit a formal request that includes images of their work and an artist's statement. A committee of full-time faculty members and Roland Sul, the department's secretary, select exhibits based on the type and quality of work.
Upcoming artists include Guy Blair, who spent 40 years as a Catholic priest ministering to the deaf and homeless communities. His exhibit, "Homeless in San Antonio," opens Friday, Feb. 17. UIW has also partnered with San Antonio Independent School District to showcase student work in a collaborative art fair beginning Friday, March 24. At the end of each academic year, UIW seniors who are preparing to graduate also have their capstone projects displayed in the gallery.
Members of the San Antonio community are invited and encouraged to visit the Semmes and Condos Galleries and enjoy the works displayed by local artists.
"There's something for everyone," said Cortinas. "We've done exhibitions that have included work done on fabric, we have had a quilters exhibition, and we also work with the local chapter of the National Watercolor Society. We've done a variety of shows, and we are often looking to expand the types of art we display. We always like to make sure that our local community knows that we have these types of exhibitions here, and that they're all for them to enjoy."
To submit art for display consideration, contact Roland Sul, Art department secretary and gallery director, at sul@uiwtx.edu.