UIW Celebrates Fall 2022 Commencement
December 16, 2022
550 graduates cross the stage during the Fall Commencement ceremony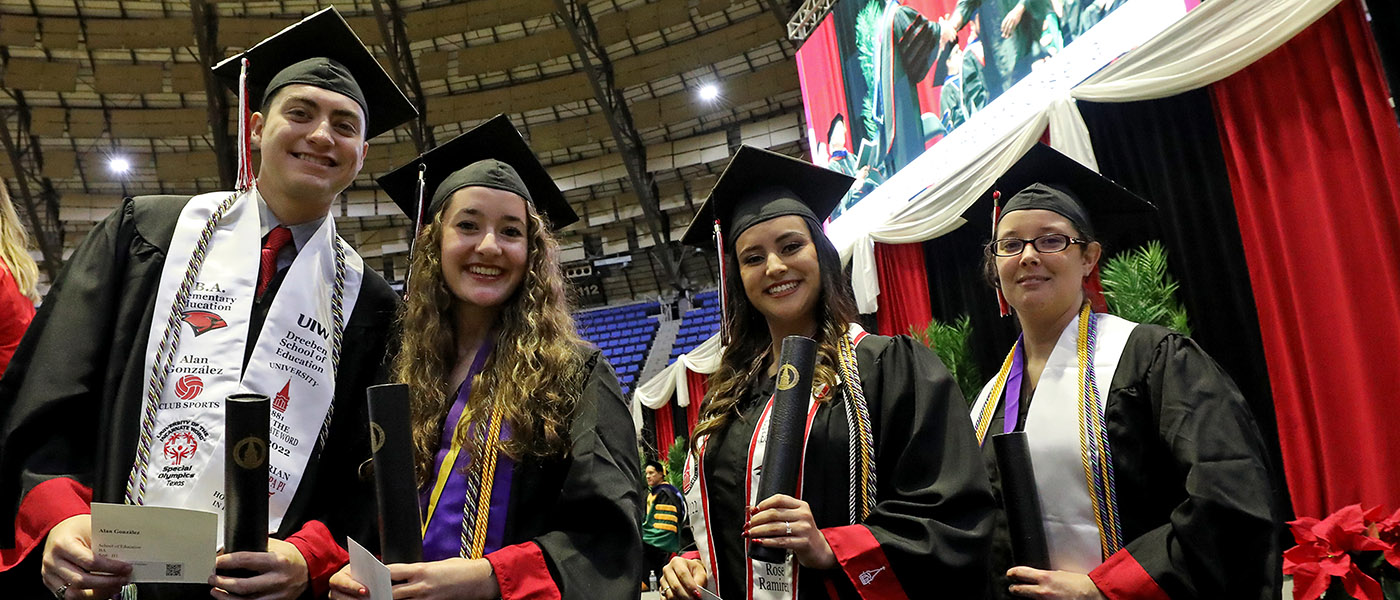 The University of the Incarnate Word celebrated its Fall 2022 graduates on Saturday, Dec. 10, at Freeman Coliseum. More than 500 graduates crossed the stage during the Commencement ceremony, with thousands of loved ones in attendance. Following the UIW core value of service, the Fall 2022 graduating class contributed 28,704 community service hours for an economic impact of $859,685.
Per tradition, the San Antonio Pipes and Drums performed the processional music as graduates walked to their seats while being cheered on by lines of faculty, as well as their family and friends. As graduates prepared to officially become alumni, they reflected on their time at UIW.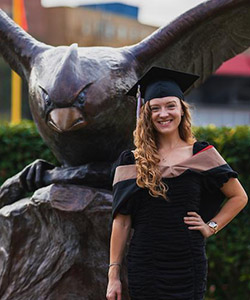 "My favorite memory at UIW is being a part of the community, building relationships with my peers and professors, and always seeing familiar faces around campus," shared MBA McKenna Armstrong-VanLaar.
Others looked ahead to the future, excited for what is next to come.
"I'll be continuing my education at the University of the Incarnate Word," shared Elizabeth Gonzales. "I will begin my master's in Healthcare Administration starting next fall!"
Among the graduates was Miss San Antonio-USA, Abigail Velez, who graduated with a degree in Communications. Crossing the stage right behind her were staff and members of the UIW football team. The team had just flown into San Antonio an hour before the ceremony after they upset Sacramento State in the NCAA FCS Playoffs.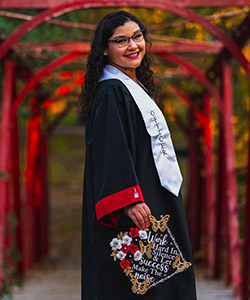 During the ceremony, UIW introduced its 2022 – 2023 Moody Professor, Dr. Lee Ann Waltz, associate professor in the Ila Faye Miller School of Nursing and Health Professions, as the Commencement speaker. Waltz has been a full-time faculty member at UIW since 2007. With over 35 years of experience as a Registered Nurse, Waltz is passionate about inspiring the next generation of nurses. She currently serves as co-chair of the UIW Interprofessional Initiatives Committee, building opportunities for students to work collaboratively across professions to serve the health care needs of the community and optimize patient outcomes. Her research interests include evidence-based practices in health care, curriculum development, interprofessional education and practice, and nursing education.
The professorship, established in 1971 by the Moody Foundation, reflects a high level of scholarship, teaching excellence, and community service attained by the recipient. This is the highest faculty honor bestowed by UIW. The Commencement address given by the Moody Professor is traditionally considered the students' "last class."
"Resist the temptation to minimize your impact in the world," Waltz told the graduates during her remarks. "Believe in the change you can create, knowing that you will never be fully aware of your impact in the world."
At the conclusion of the ceremony, UIW President Thomas M. Evans, PhD, left the graduates with a piece of advice: "As we prepare to see you off and process out today, you may be feeling excited, maybe a little nervous, just like you did in those first days as students. Because while this may feel like goodbye, today is actually another first day on a brand-new journey. When you find that your assurances are few and the right direction is unclear, look to your faith to guide you. Trust that His plans for you are ones of hope and hold in faith that you are uniquely prepared for anything that lies ahead. And, just as you have today, you will arrive at the destination that God has created for you."