UIW Faithful Brave the Chill to Light the Way
November 21, 2022
More Lights, More Food, More Holiday Fun made for an Unforgettable Night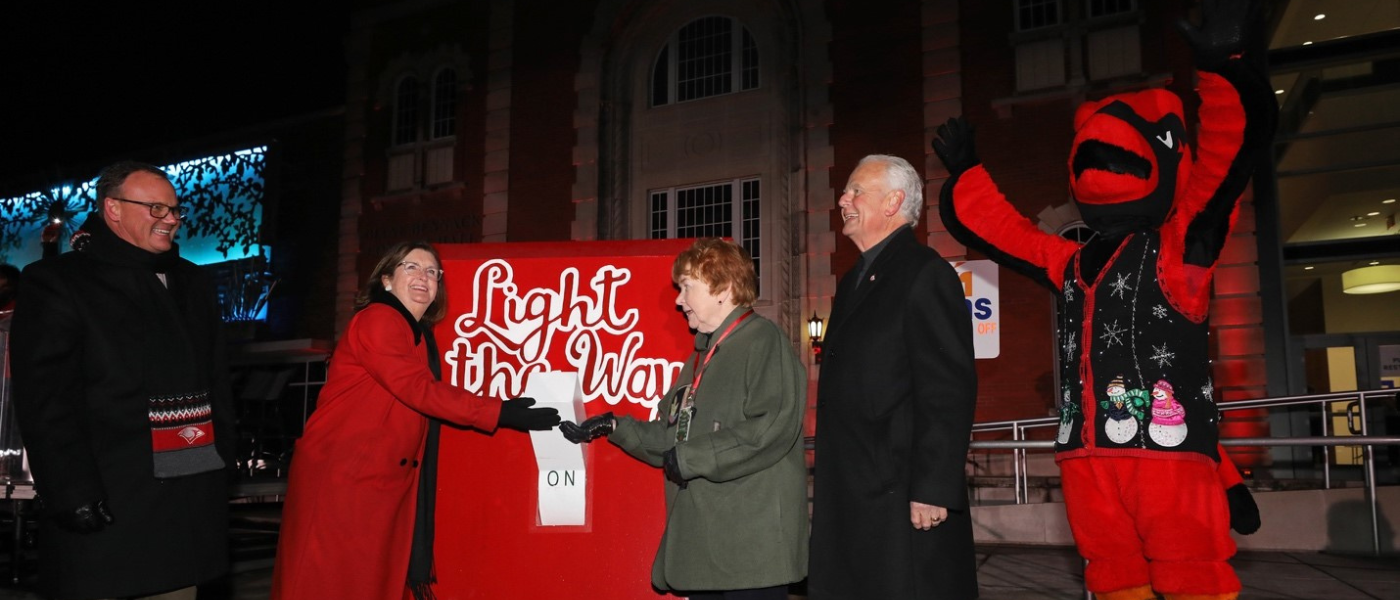 San Antonio – An overcast and chilly night did not dampen the spirits of the thousands who attended the University of the Incarnate Word's (UIW) 2022 Light the Way Holiday Festival. The event, presented by H-E-B, was held on Saturday, Nov. 19 on the UIW Broadway campus. This year's festival opened at 3 p.m., giving guests the opportunity to enjoy the campus, visit local vendors and enjoy the various activities prior to the start of the annual lighting ceremony, which began at 6 p.m.
A highlight of the evening occurred as UIW President Dr. Thomas M. Evans, Vice Chair of the UIW Board of Trustees Suzanne Goudge, former Chairman of the Board of Trustees Charlie Lutz and Sr. Kathleen Coughlin, CCVI, a member of UIW's founding congregation the Sisters of Charity of the Incarnate Word, flipped the switch illuminating the campus with over a million twinkling lights. A fireworks finale topped off the evening at 9 p.m. ending a day filled with holiday fun.
Evans welcomed the community and special guests, which included H-E-B Public Affairs Manager Julie Bedingfield and Sr. Kathleen, who opened the program with a prayer.
Guests were also treated to a holiday show featuring performances by numerous musical acts and various cheer and dance teams. Attendees also enjoyed a Food Truck Yard, which featured a variety of food and dessert options and a Holiday Shoppe with over 20 local vendors. Families stopped by the Kids' Corner where children took selfies with Santa, met Red the Cardinal and enjoyed activities and fun. Nearly 300 gallons of complimentary hot cocoa was provided to guests by Sodexo.
UIW Alumni and their guests also enjoyed an alumni-exclusive event, which included a special reception with food and drinks.
The campus will be open for self-guided tours through Jan. 6, 2023. For more information, visit Light the Way's website.