UIW Celebrates Successful Homecoming Weekend
November 10, 2022
Thousands Came "Back to the Nest" for Various Activities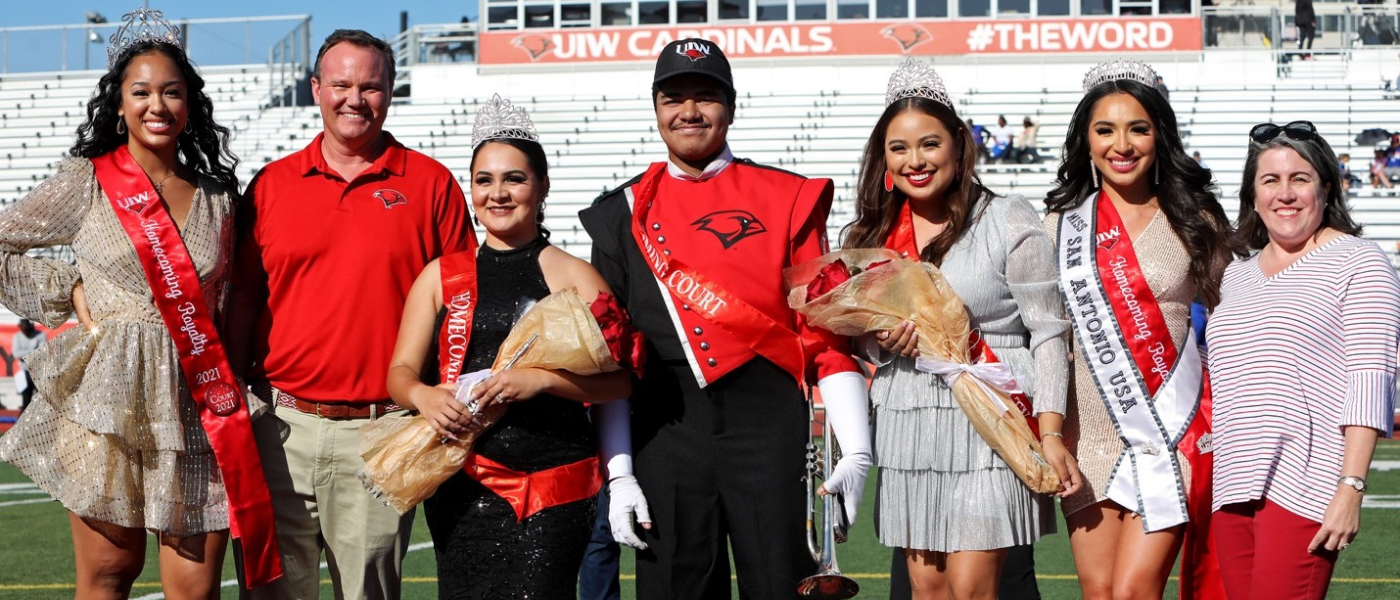 San Antonio – The University of the Incarnate Word (UIW) celebrated Homecoming Weekend from Nov. 3 – 6, 2022, with various events that brought together former and current students, families and friends. In all, nearly 4,000 people came back "to the nest" to take part in Homecoming activities.
"At UIW, Homecoming is a celebration of our community and the people who make it so special," says Dr. Thomas M. Evans, UIW president. "Whether they work and learn with us or have long since graduated and moved on, all members of our university family – students, parents, faculty and staff, alumni and friends – are always welcome home."
The weekend started off early with the annual Thirsty Thursday gathering. About 100 former Cardinals gathered at the Student Engagement Center for an evening of music, fun and fellowship. And while the threat of rain and wind caused the cancellation of this year's Nest Fest on Friday night, nothing could dampen the enthusiasm of the big Homecoming game played Saturday afternoon. Hundreds of Cardinals gathered early on Saturday for tailgating and nearly a dozen student groups filled the "fan zone" to treat the little ones to sweet treats during a "trunk and sweets" celebration.
"Homecoming is a time to welcome alumni back on campus to celebrate and reminisce," says Dr. Lisa McNary, UIW dean of Alumni Relations. "This year was no exception as alumni, students and friends enjoyed a multitude of events. This year's attendance was an indication that our Incarnate Word community was thrilled to connect and be back at more in-person gatherings."
The University also celebrated our student-athletes during the game. Several Sisters of Charity of the Incarnate Word, members of the founding congregation of UIW, gathered to bless an estimated 100 athletes during a blessing of the athletes service before the game. At halftime, the University marked the 50 th anniversary of Title IX by recognizing the efforts of all our female athletes as more than 100 of them gathered on the field. The crowd got a chance to congratulate the Men's Cross Country team who recently won the Southland Conference title and the University also crowned a new Homecoming court.
"An essential aspect of our 2022 homecoming weekend was the blessing of our athletes right before the football game," says Sr. Walter Maher, CCVI, vice president of Mission and Ministry. "The act of entrusting everything and everyone, past, present and future UIW community members to the care and protection of the Incarnate Word signifies our full commitment to continue embracing and embodying our corporate Catholic identity."
The UIW Cardinal football team capped Saturday's events by flying to big victory over Houston Christian and Homecoming weekend wrapped up the following day with a Sunday Brunch.