October 19, 2022
Welcome home, Cardinals!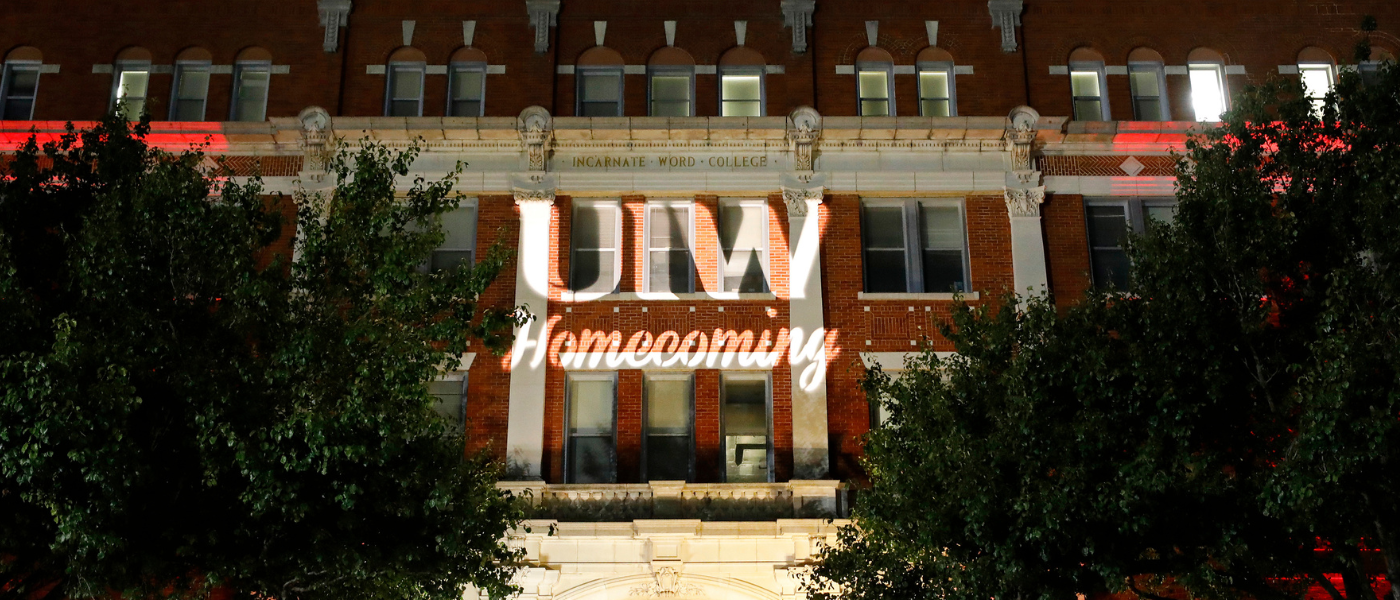 Are you ready for UIW Homecoming? Bring family and friends along to join your fellow alumni in revisiting campus, reminiscing about time spent at UIW, and enjoying food, drinks and lots of fun!
"Homecoming is one of my favorite times of the year!" said Dr. Lisa McNary, dean of Alumni Relations. "It's a time for alumni and friends to come back to campus and celebrate, meet new friends and reacquaint with old classmates. There is plenty of fun for the whole family, so come join us back in the Nest!"
"Homecoming is a reunion of friends," added Dr. Christopher Alvarado, president of the Alumni Association Board. "It's the time to revisit YOUR university and catch up on all the exciting changes happening!"
See below for a full list of events - there's something for everyone!
---
Homecoming Events
Thursday, Nov. 3
Homecoming Thirsty Thursday | SEC Mezzanine | 6 - 8 p.m. | FREE
Grab a drink and mingle with your fellow UIW alumni. This exclusive event is the perfect opportunity to network with UIW's finest graduates. Complimentary food and beverages.
Friday, Nov. 4
Women of Faith Luncheon | ICC Ballroom | 12 p.m. | $25/person
All men and women of UIW are invited to join the Sisters of Charity of the Incarnate Word and the newly selected Congregational Leader, Sr. Yolanda Tarango, in celebrating the heritage of our University and the legacy that we carry on.
NestFest Block Party | Front of Administration Building | 6 - 9 p.m. | FREE
Enjoy live music, food trucks, a beer garden and more! Our popular annual 'Trunk and Sweets' is a part of the festivities for your future Cardinals, too!
Saturday, Nov. 5
50th Reunion Coffee Klatch and Campus Tour | Starbucks Coffee | 10 a.m. - 12 p.m. | $5/person
Sit back and relax with a tasty cup of coffee from UIW's new Starbucks Coffee Shop on the main campus! After coffee and sweets, we will take a golf cart tour of main campus.
RedZone Cardinal Tailgate | UIW Tailgate Grounds | 10 a.m. - 1:30 p.m. | FREE
Come out and enjoy a tailgate, Cardinal Style! This family-friendly event is hosted in partnership with the Forever First Foundation. It is the official gathering place for alumni, parents, and friends before UIW's Homecoming game against Houston Christian University (formerly Houston Baptist University). Barbecue provided by Smoke Shack.
50th Reunion Dinner Celebration | Dubuis Hall Lounge | 6:30 - 8:30 p.m. | $30/person
Calling all 1972 graduates! Join us in the newly refurbished Dubuis Hall Lounge for wine and a three-course meal as we celebrate the class's 50th reunion!
Sunday, Nov. 6
Homecoming Memorial Mass | Chapel of the Incarnate Word | 11 a.m.
Join us for our annual Memorial Mass honoring the class of 1972 as we remember those who have touched our lives. After Mass, join us for a visit to the CCVI cemetery.
Homecoming Farewell Brunch | CHRISTUS Heritage Hall | 12 - 2:30 p.m. | $15/person
As Homecoming weekend comes to a close, we invite everyone to join us for a delicious champagne brunch honoring our 50th reunion graduates.