Theatre Earns Standing Ovation with 27 Globe Awards
October 25, 2022
2021 season earns 27 awards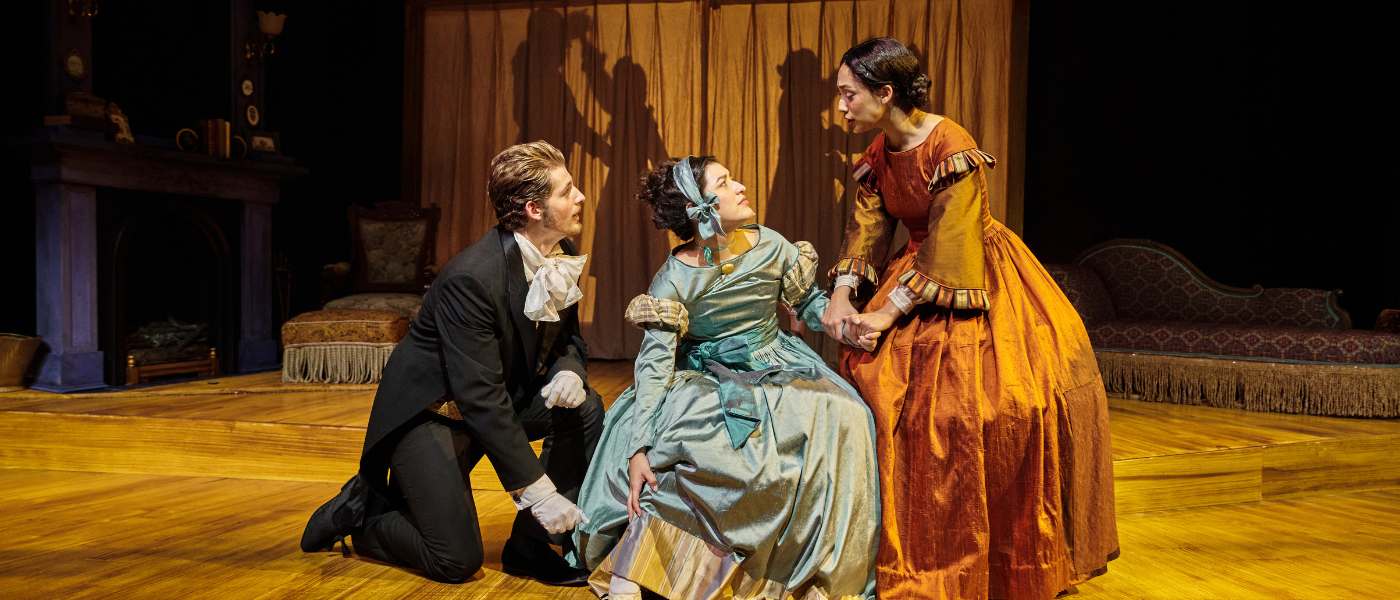 "It is always great to receive recognition from our community, and we hope it will bring an awareness to our larger goals."
Those are the words Mark Stringham, chair and producing director of Theatre Arts, shared about the recent awards the Department of Theatre Arts received from the Alamo Theatre Arts Council. After winning five awards in Fall 2021, the department brought home an astounding 27 honors from the 2022 Alamo Theatre Arts Council Globe Awards.
The 2022 awards, presented during a gala event hosted by the Public Theater of San Antonio on Oct. 16, recognize productions in the San Antonio area from Fall 2021 and Spring 2022, the first full production season following COVID-19. The UIW productions honored this year include Ordinary Days, Tartuffe, Little Women and All Hail Hurricane Gordo.
Stringham, who won several awards, said he "is proud to stand with" the theatre faculty in their efforts to provide a strong foundation in the performing arts as they help students pursue their educational and professional goals. Additionally, through each performance, UIW Theatre faculty hope to enrich the cultural, intellectual and spiritual lives of the community.
"The hope is to foster a lifelong appreciation for creativity and a deep sense of compassion, which is a vital part of the UIW Mission of developing the whole person," shared Stringham. "If our students walk out of our department as excellent practitioners, if our students become lifelong learners filled with compassion for others, and if our audiences begin to understand a little bit more about the human experience and thereby become a bit more empathetic, a bit kinder, a bit more loving to all, that is the greatest recognition we could ever receive."
Awards
Ordinary Days
Lead Actor in a Musical: Alex Montalvo as Jason in Ordinary Days 
Lead Actress in a Musical: Skyler Burnett as Claire in Ordinary Days
Supporting Actress in a Musical: Macie Lippke as Deb in Ordinary Days
Excellence in Choreography: Mark Stringham for Ordinary Days
Excellence in Costume Design in a Musical: Margaret Mitchell for Ordinary Days
Excellence in Scenic Design in a Musical: Christopher McCollum for Ordinary Days
Excellence in Lighting Design in a Musical: Kaitlyn Clayton for Ordinary Days
Tartuffe
Overall Best Comedy: Tartuffe
Excellence in Direction of a Comedy: David McTier for Tartuffe
Excellence in Choreography in a Comedy: Lilian Molina for Tartuffe
Lead Actor in a Comedy: Eric Sledge as Tartuffe in Tartuffe
Excellence in Sound Design in a Play: David McTier for Tartuffe
Little Women
Overall Best Drama: Little Women
Excellence in Direction of a Drama: Mark Stringham for Little Women
Lead Actress in a Drama: Iza Garza as Jo in Little Women
Supporting Actor in a Drama: Luke Stout as Laurie Laurence AND Chandler McKim as John Brooke in Little Women
Supporting Actress in a Drama: Aundria Nuncio as Meg March in Little Women
Excellence in Lighting Design in a Play: Kaitlyn Clayton for Little Women
Excellence in Sound Design in a Play: Mark Stringham for Little Women
All Hail Hurricane Gordo
Lead Actor in a Drama: Ty Price as Gordo AND Gabriel Hill as Chaz in All Hail Hurricane Gordo
Best Fight Choreography in a Play: Mark Stringham for All Hail Hurricane Gordo
Multiple Productions
Excellence in Costume Design in a Play: Margaret Mitchell for Little Women and Tartuffe
Excellence in Scenic Design in a Play: Christopher McCollum for Little Women and Tartuffe