St. Anthony Catholic High School Welcomes Auxiliary Bishop Gary Janak
September 2, 2022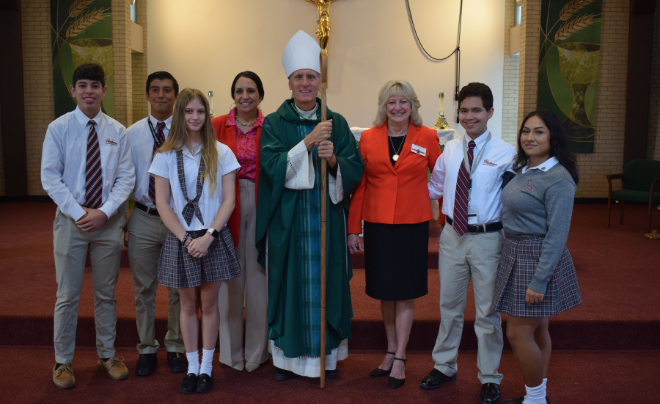 On Thursday, Sept. 1, the St. Anthony Catholic High School (SACHS) community proudly welcomed Auxiliary Bishop Gary Janak to campus. In 2021, Pope Francis named Father Gary Janak as the new auxiliary bishop of San Antonio. This was Bishop Gary's first time visiting SACHS, where he celebrated Mass and spoke to students on patience, trusting God and having courage in life.
"It is a vibrant school," shared Bishop Gary. "The teachers and administration are so dedicated, and the students are so attuned to the spirit of Jesus. The leadership and different student organizations are incredible. So many students came up to me and introduced themselves. This is impressive and a wonderful experience, and I hope to come back soon."
"It was important to bring Bishop Gary into our Yellow Jacket community, because Mission and Ministry, as well as our partnership with the Archdiocese, is such a strong part of our school," added SACHS Principal Dr. Kristina Vidaurri. "It was a great honor and blessing to have him here with us. He has never been to our school before, so I felt blessed that he took the time to be with us, meet with our students and witness all the amazing work we are doing here at St. Anthony's."
St. Anthony's Catholic High School is owned and operated by UIW and part of the UIW Brainpower Connection. The Brainpower Connection is a circle of support, influence, and collegiality established in connection with seven different institutions, their faculties and students, to share their brainpower. A shared vision, shared faculties, and shared facilities help break down the walls that traditionally separate elementary schools, high schools, and universities.