Annual Sr. Charles Marie Frank CCVI Endowed Lecture Set for Sept. 27
September 23, 2022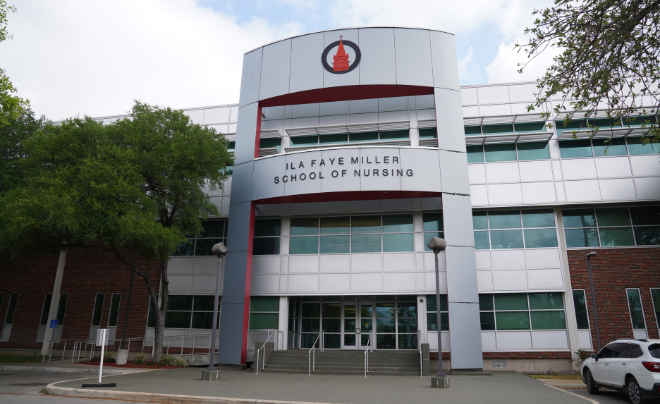 The UIW Ila Faye Miller School of Nursing and Health Professions will hold its annual Sr. Charles Marie Frank, CCVI Endowed Lecture at 4 p.m. Tuesday, Sept. 27, in the McCombs Center Rosenberg Sky Room. This year, guest speaker Athena Sherman, PhD, PHN, RN, CNE assistant professor at Emory University, will address deliver her lecture titled, LGBTQI+ and Health in Nursing: Creating Environmental and Curricular Change. An academic poster display will open at 2 p.m. prior to the event. Both the lecture and the poster display are free and open to the public.
"Dr. Sherman is a nationally known and dynamic speaker who deeply wishes to ensure the health care needs of all people, regardless of who they are or their beliefs," said Dr. Maureen Rauschhuber, professor of Nursing. "We are very fortunate that she is visiting to share her research with us."
Sherman is a first-generation, low-income college graduate, Ronald E. McNair Scholar, Robert Wood Foundation Future of Nursing Scholar and Nurse Faculty for the Future Fellow. She splits time between a tenure track faculty appointment in Atlanta and a clinical practice in end-of-life care throughout the San Francisco Bay Area in California.
During the lecture, Sherman will address the integration of LGBTQI+ content in nursing and health professional curricula to reduce discrimination and inequities in their care. The event organizers, Dr. Holly Cassells, dean of the Ila Faye Miller School of Nursing and Health Professions, and Rauschhuber, say addressing LGBTQI+ health in nursing is important to current and future nurses in the sense that there is a lack of knowledge and confidence necessary for serving members of the LGBTQI+ community.
"There are health issues unique to this population that student nurses need to be aware of and prepared to address when they provide care," Dr. Cassells explained.
Through raising awareness about particular health issues faced by members of the LGBTQI+ community, UIW can take a step towards assuring their students' future patients receive the optimal standard of care, delivered with a high degree of comfort and respect.
Developing the whole person, who has a heart for the community, is a crucial part of the UIW Mission. It is in fulfillment of this Mission that Cassells says events like this are needed to prepare the next generation of healthcare professionals.
"I hope that [during this event] we would look at potential biases in the way we present content in our curriculum," she shared. "And that we help students develop a sensitivity to the issues LGBTQI+ patients encounter when accessing healthcare."