UIW Welcomes Associate VP, Director, to Division of Strategy and Enrollment
August 19, 2022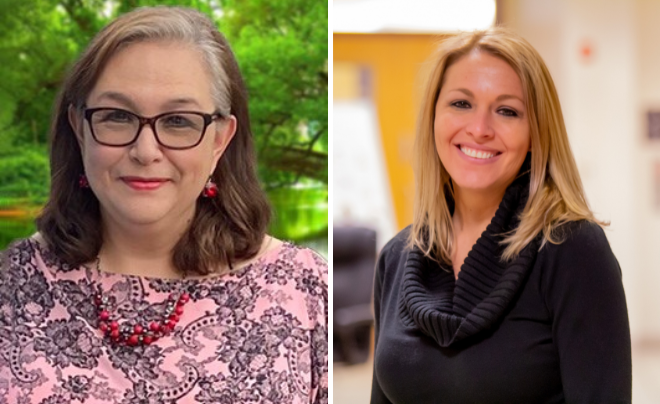 UIW is pleased to announce the addition of Dr. Brandy Finck as associate vice president of Enrollment Management and Student Experience, and Patricia L. Ramirez as the director of Brainpower Connection Programs for the Division of Strategy and Enrollment at UIW.
As a member of the enrollment team, Finck directly oversees and supports the Brainpower Connection, Admissions, First Year Engagement and Career Services. She is also responsible for the advancement of the division's efforts as they relate to UIW's enrollment goals, ensuring programming, policies and procedures are student-centered to help the University meet prospective and current UIW students' needs.
"I am thrilled to join UIW and be a member of the strategy and enrollment division that supports opportunities that maximize student success, beginning with matriculation through graduation," said Finck. "I look forward to helping ensure that UIW graduates are prepared for a meaningful life post-graduation."
Finck has worked in higher education admissions for over 15 years and comes to the University of the Incarnate Word from the University of Maine at Augusta where she previously served as the associate vice president of Admission and Student Financial Services. Prior to moving to the northeast, Finck was the director of Admissions and International Programs at UT Health San Antonio. Finck earned a B.S. and M.A. in Political Science, as well as a M.Ed. in Curriculum and Instruction, from Texas A&M University. She also holds a doctorate in Higher Education Administration from the University of Mary Hardin-Baylor.
Ramirez is the director of Brainpower Connection Programs. She has 25 years of experience in education as a teacher and administrator, most recently serving as principal at St. Anthony Catholic School. She has served on various educational committees to further the mission of Catholic education, including the Principal's Advisory Council with the Archdiocese of San Antonio. Ramirez holds a B.S. in Interdisciplinary Studies from the University of Texas at San Antonio and an M.A. in Catholic School Leadership from St. Mary's University.
The Brainpower Connection is a circle of support, influence and collegiality established in connection with seven different institutions, their faculties and students, to share their "brainpower." A shared vision, shared faculties and shared facilities help break down the walls that traditionally separate elementary schools, high schools and universities.