Triathlon Team Finds Success in Marble Falls Competition
August 18, 2022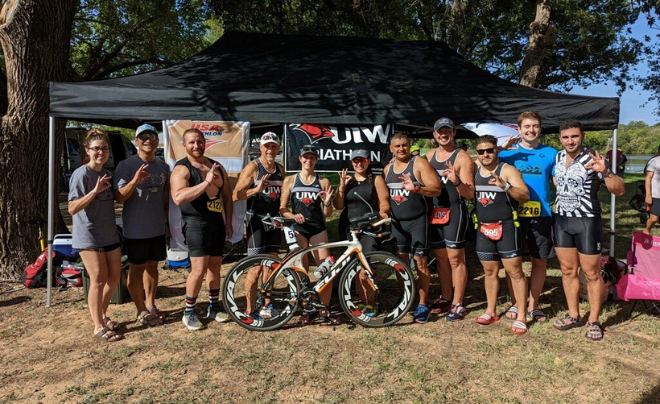 The UIW triathlon team, comprised of 11 students, faculty, staff and alumni, competed in the Marble Falls Triathlon on July 31. Eight members of the UIW team earned medals in their age group.
"I have been competing in triathlons since 1996," said Director of Sports and Wellness Scott LeBlanc, who has coached the UIW triathlon team since 2015. "I am proud of what we have developed in UIW Club Sports. I am most proud of our athletes and their accomplishments."
The triathlon competition included three opportunities for each age group: intermediate (1000m swim, 16-mile bike race and 4.4 mile run); sprint (500m swim, 12-mile bike ride and two-mile run); and relay, which featured each team member of a three-person team competing in one of the events (swim, bike or run). Relay teams participated in either the sprint or intermediate division.
Results for UIW participants in their age group are as follows:
Meagan Tao, intermediate individual, 1st place
Wade Tao (UIWSOM), sprint relay (bike), 1st place
Stephen Nemeth, sprint relay (run), 1st place
Denise Nemeth (UIWSOM), sprint relay (swim), 1st place
Scott LeBlanc, intermediate individual, 2nd place
Rebecca Sanchez (UIWSOM), sprint individual, 3rd place
Gabe Valdez, intermediate individual, 7th place
Andrii Nikishenko intermediate individual, 2nd place
Christopher Rosales, intermediate individual, 6th place
John O'Connell (UIW alumnus), sprint individual 5th place
Alex Flores (UIW alumnus), sprint individual, 3rd place
According to LeBlanc, the most rewarding part of working with the triathlon program is watching people set goals and train regularly to accomplish them.
"I love sharing the sport that I love," added LeBlanc. "It is awesome to see students, faculty, staff and alumni all gathering together to compete and represent the university we all love. We are here to serve all abilities and interests. I often say 'the most important aspect you can do for yourself, and your goals is show up; everything else will fall into place from there.'"
The UIW triathlon team is preparing for two additional competitions this semester: On Aug. 20, the team will compete in the Dam 09 Triathlon, and on Nov. 13, the team will participate in the Texas Tough Dualthon.
Faculty, staff, students and alumni who wish to become involved in the UIW triathlon team should contact UIW Club Sports at clubsports@uiwtx.edu.