July 29, 2022
By UIW Student Veterans and Veterans Affairs Staff Members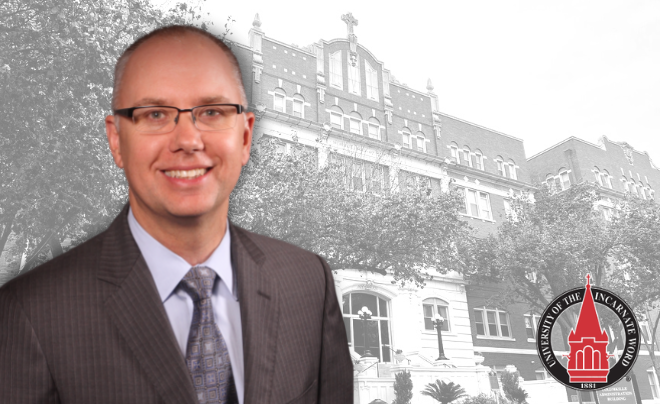 We've all heard the saying, "things happen for a reason." But we know there are individuals who make things happen. The University of the Incarnate Word is home to a large population of student veterans – individuals who chose to serve their country in the United States Armed Forces and later decided to pursue or continue their higher education at UIW. These veterans have been influenced and shaped by their military experiences, previous professions and multiple levels of leadership responsibilities. It takes a special person who can recognize this about student veterans to lead a team who serves this unique population and appreciate the culture of veterans and their families. It takes a person who has lived "the military life" and, through their various military experiences, has learned to make things happen. That person for UIW is Jonathan Lovejoy, senior director of Military and Veterans Affairs.
Leadership is the ability to influence individuals to accomplish a task or goal, but to us, it's much more. It's the ability of a leader to have a vision not only for themselves, but in service of the vision of the institution they serve. Given that definition, Jonathan excels as a leader while making all around him feel valued. Jonathan has served the University of the Incarnate Word community for nine years, fulfilling various roles and responsibilities. He is a retired Navy Commander and Aviator who has led many teams and has been recognized and decorated for his service. He oversees teams dedicated to processing military tuition assistance and VA educational benefits for hundreds of active-duty members, veterans, spouses and dependents each semester. It doesn't stop there. He is also a strategic visionary who brings innovative ideas to fruition that benefit the military-affiliated population at the University. Whether they're a veteran, family member or employee, if they've served our country, Jonathan works to support them in return.
Each year, Jonathan leads and coordinates the Veterans Day Remembrance Ceremony, works in partnership with UIW Athletics on events such as the Military and First Responders Appreciation football game, spearheads the UIW Veterans Day Parade and more. He welcomes new ideas that engage the veteran population, such as supporting and advocating for the "Cardinal Warriors Kevlar to Canvas" oil painting event. He is the champion for the Military Strategic Vision committee, Peer Advisors for Veterans Education (P*A*V*E), and the Student Veterans of America (SVA) student organization. He was instrumental in UIW being awarded Military Times Best for Vets Colleges 2021. Leading, planning, and supporting all of these efforts contributes to UIW's strategic priority of making the University the premier provider of educational opportunities to active-duty military members, veterans and their families. As stated by Phillip Rangel, P*A*V*E team leader and SVA president, "Jonathan has been one of the main catalysts at UIW in promoting the quality of the university education experience among veterans and their families."
Jonathan is well aware that many of UIW's student veterans have been leaders themselves. It's why he is affectionately called "a leader leading leaders." He is always looking out for the veteran and exploring new ways to improve the quality of education and campus life.
"Jonathan is an extremely genuine person who has the ability to serve everyone's needs," said student veteran SFC (R) Christopher L. Marmolejo. "That ability mixed with greatness is the perfect formula that molded the perfect leader for us."
Administrative Assistant Ashley Wysong shared, "Jon is not a boss. He's not someone who just gives orders – he works alongside you, to support and guide you when needed. He is a strong, caring, and empathetic leader. Anyone would be lucky to know him and work with him."
Jon is both a transformational and servant leader. Adriana Leal, director of the Military and Veterans Center said, "I've seen Jon's incredible passion and work ethic for serving our students firsthand. He works tirelessly to bring the well-deserved recognition and support to our military-connected students. I am grateful for his exemplary leadership."
"I'm now confident that we have the perfect team, guided by an amazing leader, Jon, who fosters respect, working together to fulfill the needs of our military-connected students and showing gratitude for their sacrifice," concluded Priscila Fiala, Military Programs coordinator.
Jonathan has had a transformational effect on UIW's student veterans, from their journey in the military to college life. In the military, leaders have a responsibility and tradition of recognizing individuals who stand apart from others and go beyond what is expected of them. Jonathan has done just that. We the student veterans of UIW would like to recognize Jonathan Lovejoy as an "Outstanding Performer" and say, "thank you for your service!"