UIW Provost Looks Forward to New Chapter in Life
June 28, 2022
Dr. Barbara Aranda-Naranjo set to Retire After More Than 30 years of Service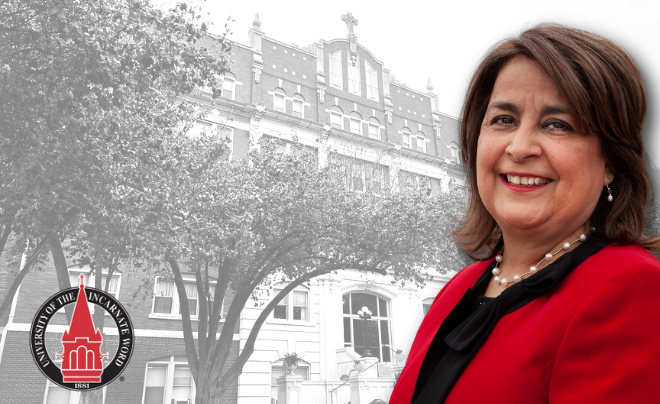 San Antonio – From being a student of Incarnate Word College to serving as Provost of the University of the Incarnate Word (UIW), you might say the career of Dr. Barbara Aranda-Naranjo has come full circle. The dedicated servant and educator announced she will retire from her position as Vice President for Academic Affairs and Provost at UIW at the end of July 2022.
"It has been such a blessing to get a chance to serve this great institution over the past several years," says Dr. Barbara Aranda-Naranjo. "I want to thank UIW President Dr. Thomas M. Evans, the Board of Trustees, our faculty, staff and students for inspiring me to always believe in a better tomorrow. Over the course of my career, I have been fortunate to be surrounded by the Sisters of Charity of the Incarnate Word's example of service, great mentors, co-workers and friends who all put the good of the community ahead of themselves and led by example. I plan to continue to follow that example and do what I can to fulfill whatever life has in store."
Dr. Aranda-Naranjo has had a remarkable career that has spanned more than 30 years, with many of those years dedicated to UIW. Here, she has served as General Dunlap Endowed Chair for Nursing Research, Associate Provost for Health Professions, Associate Provost for Civic Engagement, Director of Student Health Services and Vice President for Academic Affairs and Provost. In this role, she has been responsible for the quality of all academic programs and the development of the Academic Master Plan. As an alumna, Dr. Aranda-Naranjo has had a particularly keen insight into the lives of our Cardinals and a profound understanding of their needs throughout their UIW journeys and well after graduation. To help support students, she has led successful efforts to build collaborative academic, government, and community partnerships to meet the needs of those organizations and their workforce.
Outside of UIW, Dr. Aranda-Naranjo has served as a nurse, educator, administrator and leader overseeing teams and projects for the federal government, other universities, and local, national and international organizations. As a Senior Public Health Advisor, Office of Global Health Affairs for the U.S. Department of Health and Human Services in Washington, D.C., she led Texas, national, and global efforts in planning, establishing, directing, and evaluating HIV/AIDS disease prevention, care, and treatment efforts. Dr. Aranda-Naranjo also served as the first Robert and Kathleen Scanlon Endowed Chair for the School of Nursing and Health Studies at Georgetown University.
"This announcement comes with mixed emotions," says UIW President Dr. Thomas M. Evans. "Dr. Aranda-Naranjo has served the University of the Incarnate Word with deep dedication and a heart for Mission for many years and, as a result, she has made significant impacts on the lives of our faculty and students. I know that, while we will miss her daily presence and all that she has brought to UIW as an educator, leader and provost, we all wish her health, happiness and nothing but the best in this next chapter."
UIW has announced that Dr. Caroline Goulet, current associate provost of Health Professions, will step in as the interim provost. The University will select a search firm to help conduct a nationwide search with the goal of naming a permanent provost by the end of the fall semester.