UIW Hosts GearHeads San Antonio Summer Research Academy
June 30, 2022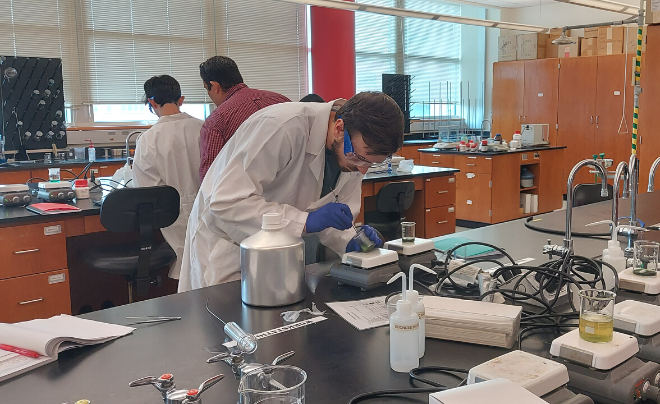 From June 20 - July 1, 12 high school students attended the GearHeads San Antonio Summer Research Academy (GearHeadsSA SRA), a project-based learning summer program provided by the UIW School of Mathematics, Science and Engineering (SMSE).
In the summer of 2021 and 2022, GearHeadsSA SRA has collaborated with UIW Brainpower Connection schools, as well as other local schools, to provide hands-on learning experiences that help students develop and cultivate a passion for science, technology, engineering and mathematics (STEM). The 2022 GearHeadsSA SRA program welcomed six students from St. Anthony Catholic High School, two from Providence Catholic School, and one each from TMI Episcopal, Incarnate Word High School, BASIS San Antonio Shavano Campus and MacArthur High School.
While the sessions were led by faculty members in SMSE, the camp also relied on UIW student assistants to help guide and mentor the campers.
"My role in this camp has been to assist professors during the lab sessions by setting up equipment and helping students with activities," said Kaelin Connolly, a rising senior biology Major with a concentration in Neuroscience. "I was also responsible for chaperoning students during lunch and accompanying them to different labs."
During the morning sessions, the attendees learned about concepts, theory and lab work in four core STEM fields: Biology, Chemistry, Engineering/CIS (Computer Information Systems) and Physics. Faculty members and student assistants led campers through experiments and shared their experiences in the college environment. Afternoon sessions focused on immersing the campers in current scientific research and discovery at UIW.
"Throughout this camp, I have had two main roles," shared Josh James, a rising senior majoring in Biology. "In the mornings, I acted as a chaperone, escorted the students around and helped out with lessons. In the afternoons, I was more of a mentor. The students and I would run reactions to synthesize possible cancer treatment drugs in Dr. [Rafael] Adrian's research program."
The program, which focused on recruiting students who are underrepresented in the sciences, such as first-generation students, females and minorities, concluded on July 1 with a variety of activities including a poster presentation, an oral presentation and an awards ceremony. As the academy neared its end, UIW students reflected on the lessons they gained from the experience. From being able to adapt to fluid situations to learning how to mentor high school students, the UIW camp leaders discovered skills that will be valuable as they continue their academic pursuits. 
"By taking part in this program, I was able to learn quite a lot," commented James. "I have taken on a lot of leadership or mentoring roles in the past, but I quickly learned how much different it is between mentoring adults and children."
"What I have learned from this camp is knowing how to mentor students in the field of science and research," added Ana Cristina Alvarez, a rising junior Biology major. "Also, I have learned new skills of leadership and how to assist others with what I have learned throughout my years at Incarnate Word."