Creating a Unified Space: UIW Hosts 2022 Amazing Race of Hope
May 5, 2022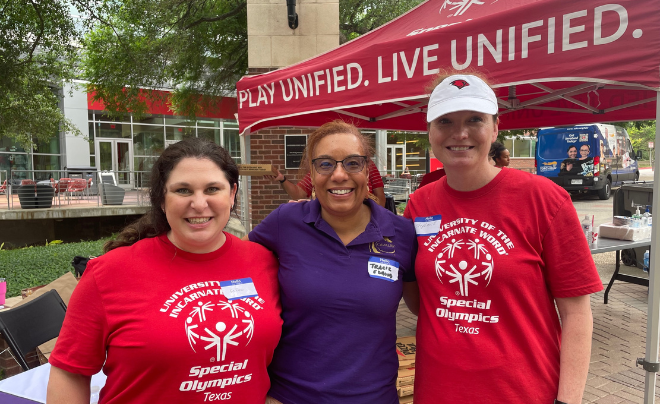 "[It was] fantastic because everybody came together and gave kindness out of their heart. We all worked together and learned how to overcome different situations."
Tim Taggart, a Special Olympics athlete, was one of 22 participants in the 2022 Amazing Race of Hope, held April 29 by the UIW Special Olympics Club and Calvary, a local nonprofit run by Dr. Traci Edmond from the UIW H-E-B School of Business and Administration. Several student organizations hosted stations throughout campus, most of which were service stations where participants created items to be donated to local charitable and health organizations.
"The goal of the UIW Special Olympics Club is to create a unified campus," said Dr. Stephanie Grote-Garcia, co-advisor of the UIW Special Olympics Club. "We have held several unified events such as picnics, a Christmas light walk, and several service projects. [Special Olympics] athletes enjoy visiting campus for the college experience."
"It truly was a great display of what inclusion and being unified mean," added Dr. Emily Dow, co-advisor of the club.
More than 200 people were involved in this event, with teams consisting of a mixture of UIW students and local athletes of the Special Olympics. Together, the teams used clues to find stations where they then completed tasks, such as making teddy bears to donate to a children's hospital or creating bracelets for refugee children.
"Special Olympics athletes enjoy coming to campus and do so often for our club meetings," added Grote-Garcia. "This is the first time that they were able to engage with the larger UIW community. All the athletes, as well as their coaches and parents, enjoyed meeting UIW students, and our students commented on how valuable the experience was and expressed interest in getting involved with Special Olympics."
This is the third year UIW has held the Amazing Race of Hope, but the first time the UIW Special Olympics Club has been involved. Sophie Taylor, a senior Psychology major and president of the club, planned and coordinated the event.
"Seeing the athletes smile and have a great time was worth all the stress," reflected Taylor. "They were out there having a great time. It inspired me to relax a little and have fun too."
"At the Amazing Race for Hope event, I witnessed first-hand how we learn and teach each other to be patient, to advocate, and to have fun with inclusivity," noted Kathryn Sullivan, a senior Elementary Education major who participated in the event. "As a future educator, this event and many future events help shape me to be a good teacher, keeping in mind the safe place I will create and the inclusion that will be my classroom."
The grand prize was a $500 donation to a nonprofit of the winning team's choice. The women's volleyball team won and elected to donate the money to the Children's Hospital of San Antonio.
Following the event, the men's basketball team held a meet-and-greet and signed posters; Red, UIW's mascot, also attended the event and took pictures with participants.
Special Olympics athlete Zach Schiferl summed up the general mood among all who participated following the event, commenting, "I had so much fun! I cannot wait for next time!"