Where Everybody Knows Your Name: Beloved Student-Athlete to Cross the Stage
April 29, 2022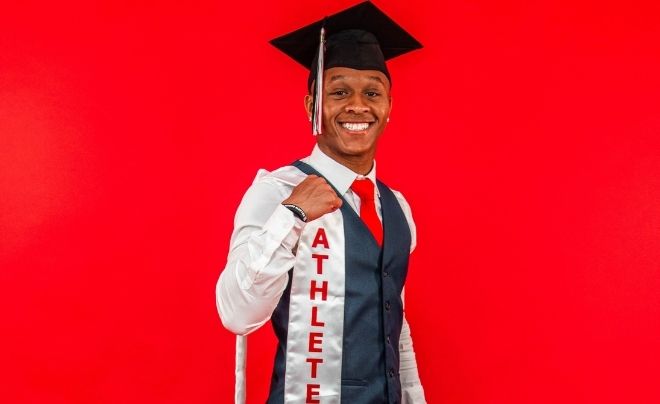 A walk around campus with soon-to-be graduate Kyle Lewis will take longer than the average stroll. A familiar face to friends and staff alike, it's hard to take more than a few steps without getting stopped as person after person says hello to him, asks how his weekend was, or congratulates him on his latest accomplishment. And the people who know and love Lewis at UIW are exactly the reason he loves to call the "Nest" his home.
"I think my favorite part of attending UIW has been being able to meet so many great people," Lewis shared. "UIW is such a diverse university. I've been able to meet people from all over the world and different walks of life."
Those people turned into friends and have been by Lewis's side as he's lived what many would consider an ideal college experience. His dedication to the UIW men's track team made him captain, a leadership role he held as the team took the Southland Conference Indoor Championship this year for the first time in program history.
"It's an amazing feeling," Lewis shared of the big win. "It felt like all the work put in all these years finally paid off. This was a great group of guys and being able to share the championship together was truly an amazing feeling."
His work on the track team never distracted from his work in the classroom. In addition to an impressive track record, Lewis has made the Dean's List seven times and will be graduating Magna Cum Laude with a Bachelor of Business Administration degree this spring. And he's not showing any signs of slowing down or taking a break, both in his studies and in the world of UIW Athletics. After an internship this summer, he'll return to UIW to pursue a Master of Business Administration while he works as a graduate assistant for the UIW track team.
Though he is proud of his many accomplishments, when Lewis looks back at his time at UIW, he is most grateful for the people who made his journey so memorable. At the top of his list is friend, teammate and mentor Alonzo "Zo" Woods, who Lewis will be crossing the commencement stage with this spring.
"Zo has been there since day one and has been a mentor and friend on and off the track," Lewis explained. "He for sure has helped me navigate through college and help me grow as an individual."
That's a gift that Lewis now wants to pass on to the next generation of Cardinals with valuable advice. While it may seem like he hit the ground running from his very first day, Lewis knows that to achieve their dreams, younger students must have patience and faith.
"As a track athlete, it takes time to adjust to training and a demanding schedule," he said as he reflected on what he wishes he had known as a freshman. "As a student, it takes time to get used to college living along with course loads, homework assignments and balancing a social life."
In a final word of encouragement and reassurance to young Cardinals, Lewis had this to say: "Don't stress if you don't get it all figured out right away. It takes time."