The Next Step Towards a Life of Service: UIWSOM Celebrates Match Day
April 1, 2022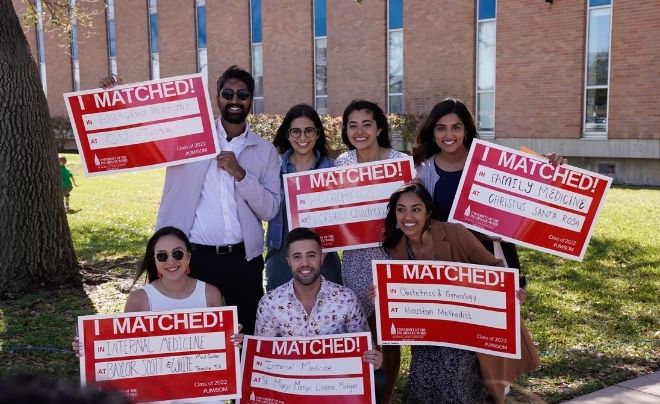 On Friday, March 18, the crisp, cool morning air was filled with anticipation as University of the Incarnate Word School of Osteopathic Medicine (UIWSOM) learners waited to see where they would complete their residency or fellowship training positions. Families waited, huddled together under a large outdoor tent due, repeatedly refreshing the National Resident Matching Program webpage that would reveal their matches.
Anticipation changed to excitement, tears and hugs as, one-by-one, learners received their long-awaited results. This day, second only to their impending graduation in May, is the culmination of four years of long study sessions, hard work and sacrifice.
Proud faculty and staff members celebrated with learners, who are just the second UIWSOM class to enjoy Match Day. UIWSOM employees have helped lead the journey, guiding not only classes, but community relations efforts throughout San Antonio as well.
"When applying to residency, the factors that were integral to my success were the mentors I met through the school, the leadership experiences offered, and the help of our amazing career counselor, Dr. Martin Timoney," shared Komal Sharma, a UIWSOM learner who matched with Obstetrics and Gynecology at Houston Methodist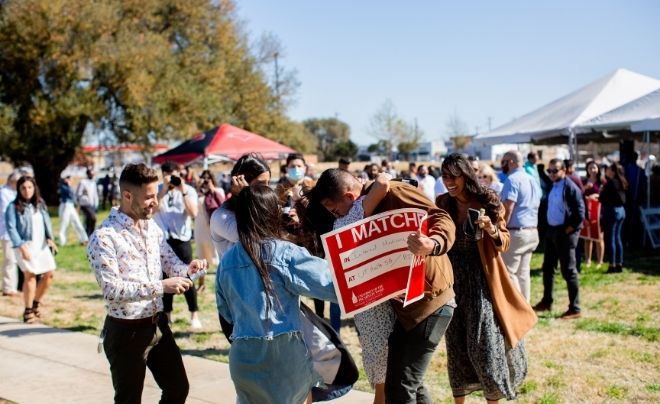 Hospital, her top choice.
"I think the most impactful way that SOM has helped me prepare for residency is by creating several settings where I could work on the simple act of listening," added Armando L. Moreno, who matched Emergency Medicine at John Peter Smith Hospital in Fort Worth. "One of my favorite quotes about medical care says something along the lines of, 'Just listening to the patient will tell you 90% of what is wrong with them.'"
Elroy R. Martinez Jr. matched into Family Medicine at his top choice, the Christus Santa Rosa Family Medicine Residency program in San Antonio. He agrees that UIWSOM has prepared him for the next step.
"UIWSOM's emphasis on stewardship, social justice and service has taught me how to be an effective advocate for my patients and leader for my community," said Martinez. "I am hopeful that this will allow me to effectively serve the medical community in addressing health disparities and overcoming barriers to care, allowing for a better quality of life in those that we treat and care for."
After spending time rotating with Christus Santa Rosa, Martinez Jr. is excited to continue learning from the faculty there. He was impressed by the quality of education the program offers, as well as the passion the faculty has for educating and advocating for its residents. He also loved the family-like atmosphere, noting the faculty and residents "support and celebrate one another."
"I was reminded by this program's leadership that no dream is too ambitious when you are working with the right team," he added. "The culture and camaraderie fostered by this program are ultimately what convinced me it was the perfect place to call home for the next three years."
With his match, Moreno looks forward to moving closer to his hometown of Wichita Falls, Texas, located less than two hours north of the DFW metroplex. He commented that he already has many friends and family in that area.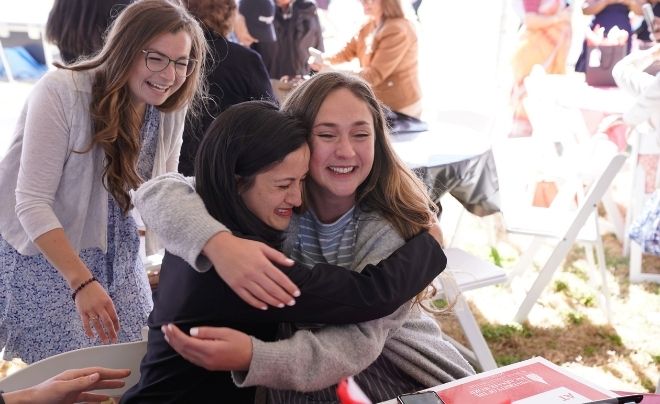 "I've honestly always planned to go back there, and to be able to do so early on for my graduate medical education is something that has me truly thrilled."
Sharma is also excited that she will be close to her hometown of Austin, but in a new city that is large and diverse. Overall, though, she looks forward to applying what she learned at UIWSOM.
"With the curriculum being self-directed, I feel more confident researching and studying Ob/Gyn topics and practicing evidence-based medicine," she noted. "I believe that the emphasis our school places on leadership and professionalism will be the best preparation for the next four years of residency."