Student Government and Sisters of Charity Partner for Ash Wednesday Fish Fry
March 4, 2022
By Abigail Velez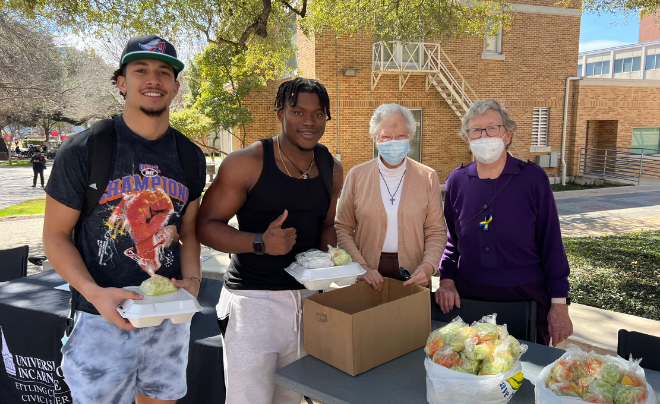 The Student Government Association (SGA), alongside the Sisters of Charity of the Incarnate Word, hosted its inaugural Junior Class Fish Fry this Wednesday in observance of Ash Wednesday with the University's Catholic community.
The event took place from 11 a.m. to 1 p.m. at the UIW Westgate Circle, where students from the junior class, SGA representatives and members of the Sisters of Charity of the Incarnate Word volunteered to pass out plates of fish to the UIW community. Each plate included a full meal of fried fish with a side of coleslaw and fries, and was free to anyone who wanted to practice the Catholic tradition of fasting from meat on Ash Wednesday. To students behind the effort, the event also served as a way for the junior class to create a legacy on campus.
"This is the first time we've done this, so when creating this event, we intended on making it a tradition for years to come," said Tiana DeVaugh, SGA attorney general and the event coordinator. "Not only is this a great way to have students interact with the Sisters on campus, but it is a unifying activity to reflect on our faith."
The junior class passed out over 100 plates of food during the Fish Fry. In addition to the Sisters of Charity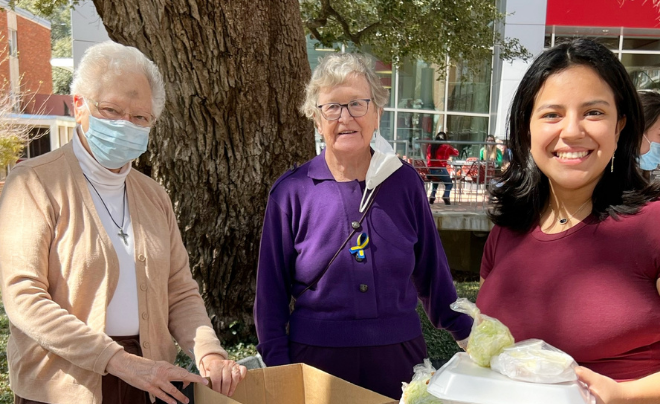 and students, faculty and administrators also stopped by to pick up a plate and enjoy a moment of fellowship on campus. Students, and other members of the community like Associate Provost Monica Jimenez and Athletic Director Richard Duran were seen enjoying their fish plates in the spring-like weather Wednesday afternoon, or stopping to pick up lunch after receiving their ashes during the noon Mass in Our Lady's Chapel.
"SGA is passionate about collaborating with key organizations and members on campus to host events for the student body," commented SGA President Eva Davila. "The Sisters of Charity founded this institution and we want to make sure the students of UIW know these women and acknowledge the work they do to make this a top-tier university."
To keep up with events hosted by the Student Government Association, follow them on social media at @uiwsga for weekly announcements.