Brainpower Connection Celebrates Rededication Ceremony
February 18, 2022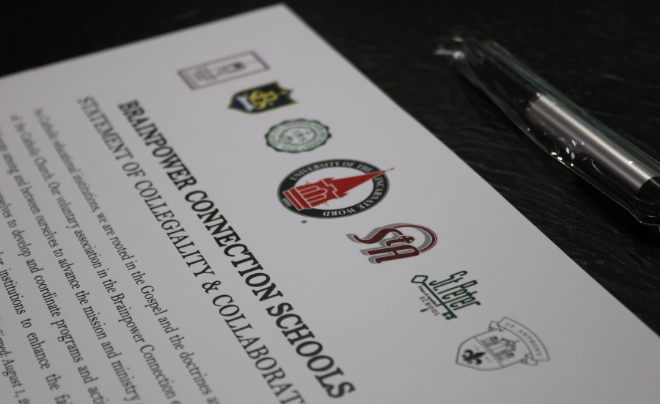 The University of the Incarnate Word welcomed home the schools that make up the Brainpower Connection for a special rededication ceremony on Wednesday, Feb. 16, on the University's Broadway campus. UIW President Thomas M. Evans, PhD, Dreeben School of Education Dean Denise Staudt, EdD, and Assistant Dean for High School Programming Brother John R. Paige CSC, PhD, spoke at the event.
"Individually, each of our institutions form and transform students at critical stages in their lives," said Evans. "Through exceptional Catholic education, we guide them for a few precious years, nurture them in mind and spirit, and give them the tools to, hopefully, continue building upon the foundation set before them.
"Together, we connect each of these important legs in their journeys, creating a seamless pathway from pre-kindergarten to Ph.D. Through our Brainpower Connection, we can fully support our students to continue growing as people of faith, integrity and intellect throughout their schooling. And we know that, as they grow, they do so at an institution with shared values and faith at the heart of their Mission."
During the ceremony, representatives of each Brainpower Connection member school signed a Statement of Collegiality and Collaboration. Representatives included Dr. Darrell Haydon, UIW CFO and vice president for Administrative Services; Anna Downy, Incarnate Word High School principal and CEO; Dr. Kristina Vidaurri, St. Anthony Catholic High School principal; Gabriel Duarte, St. Peter Prince of Apostles School principal; Patricia L. Ramirez, St. Anthony Catholic School principal; Michael Fierro, Blessed Sacrament Catholic School principal; and William Daily, St. Mary Magdalen School principal.
"The signing of the Brainpower Connection documents between UIW and the Brainpower elementary and secondary schools marks an important milestone towards strengthening the pre-K-Ph.D. Catholic school pathway," said Staudt. "It is also a tangible sign of the strong and long-lasting partnerships between UIW and the schools."
Established in 1989, the Brainpower Connection is an association of Catholic Schools that collaborate to promote the mission and ministry of Catholic education. Each school incorporates cooperative learning to lower grade levels, as well as access to accelerated programs from one level to the next. Students benefit from curriculum alignment, integrated resources, Brainpower scholarships and access to UIW's state-of-the-art facilities.
The Brainpower Connection commits itself to academic excellence grounded in the Catholic tradition and directed toward developing the whole person from pre-school through graduate school.