UIW Graduates Fall Class of 2021
December 14, 2021
University Returns to Freeman Coliseum for Commencement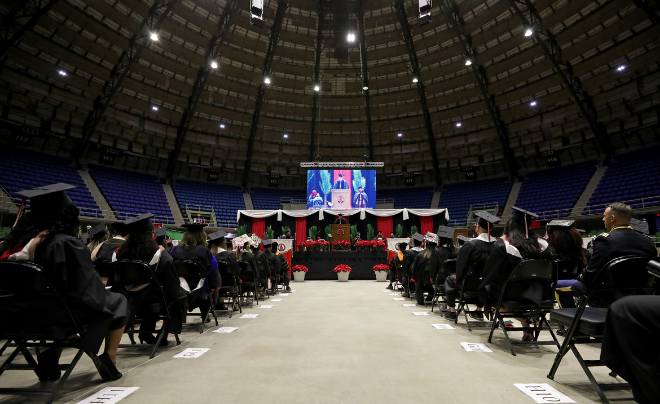 SAN ANTONIO – On Saturday, Dec. 11, the University of the Incarnate Word (UIW) celebrated its Fall 2021 graduates. Nearly 900 graduates of UIW's bachelor's, master's and doctoral programs crossed the stage at two ceremonies held at the Freeman Coliseum. Two ceremonies were held to ensure the safety of graduates and their guests and to adhere to University COVID protocols.
UIW is proud to share that the Fall Class of 2021 completed 24,121 community service hours, providing an economic impact of more than $688,413. In any year, these are phenomenal accomplishments. During these years of pandemic challenges, they are extraordinary.
In his closing remarks, UIW President, Dr. Thomas M. Evans shared a final piece of advice: "When you reach a fork in the road and feel unsure about your next steps, know that you are not lost," he said. "Graduates, no matter where your journeys take you, I hope that you will always consider this your home and we your family. As you go on to new adventures, carry the University's Mission in your hearts. Continue to love UIW as you have and cherish it as we will always cherish you."
A highlight of Fall Commencement is the introduction of the Moody Professor as the Commencement speaker. Dr. Sandra Guzman Foster, associate professor in the UIW Dreeben School of Education, is the 2021-2022 Moody Professor. She has held the Sister Theophane Power Endowed Chair in Education and has been nominated for the Minnie Stevens Piper Award and the Presidential Teaching Award. She holds a Doctorate in Educational Leadership and Policy Studies from Arizona State University in Tempe, Arizona, a Master of Arts in Developmental and Adult Education from Texas State University in San Marcos and a Bachelor of Arts in Psychology from St. Mary's University.
In addition to her work in academia, Dr. Guzman Foster also serves as an executive board member of the SoL (Source of Light) Center at the University Presbyterian Church in San Antonio and is a member of Compassionate San Antonio, a grassroots movement that promotes, supports and celebrates San Antonio's commitment to be a world-class compassionate city.
The professorship, established in 1971 by the Moody Foundation, reflects the recipient's level of scholarship, teaching excellence and community service. This is the highest faculty honor bestowed by the University. The Commencement address given by the Moody Professor is traditionally considered the students' "last class."
The San Antonio Pipes and Drums performed their traditional processional and recessional music at the Fall 2021 Commencement ceremonies held at Freeman Coliseum.
A Baccalaureate Mass was celebrated on Friday, Dec. 10 in Our Lady's Chapel Center on the UIW Broadway campus. Lena Gokelman, director of Campus and Liturgical Music, lead the musical direction.