Graduate Spotlight: Like Mother, Like Daughter
December 7, 2021
Nicole Pfaff's mother taught her to love music. Now, as she prepares to graduate, Pfaff has plans to use that love to help others.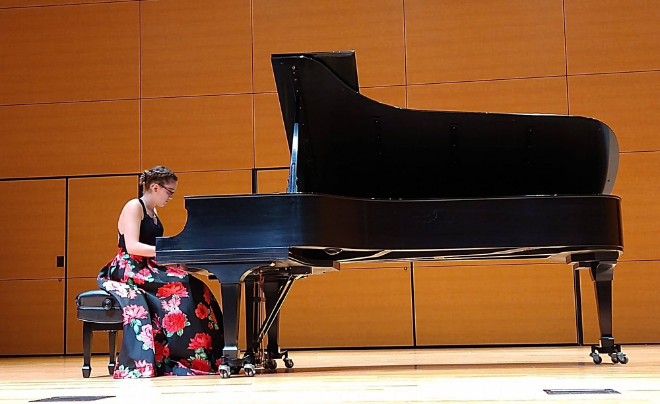 "My mom is one of the most talented pianists I know, and she started teaching me to play when I was four years old."
Nicole Pfaff graduates on Saturday, earning a Bachelor of Music with an emphasis in Performance (piano). She comes by her love of the art honestly, as her mother is a talented music teacher. Pfaff has always loved playing, with her first memories of piano occurring around six or seven years old.
"I think my first memory is playing in one of my mom's Christmas recitals," recalls Pfaff. "I don't really remember myself performing, but I know I did. I mostly remember just being there and having all my mom's other students there too."
As she grew older, she continued to learn from her mother. The elder Pfaff can sight-read extremely well, a skill that has been passed down from mother to daughter.
"My mom got a degree in piano performance, and she has been teaching ever since," said Pfaff. "I always forget how good she is at sight-reading until I see her sit down and pick up a piece of music she either hasn't played at all or hasn't played in years. I'm not quite as good as she is yet, but she has a lot more experience."
As she grew older and started thinking about her career path, her love of music remained. For a brief time, following an injury in high school, Pfaff considered a major in physical therapy. But through discussions with her mother, she realized how hard it would be to study as a science major and continue playing music.
"I realized that I couldn't give up music because it had been a part of my life for so long," said Pfaff. "I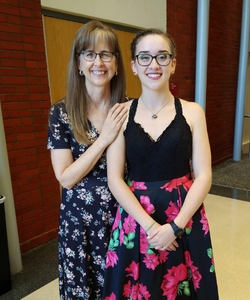 decided against physical therapy and was 100% sold on being a music major. I've always loved playing piano, and my mom helped me see that I could make it a career."
As a San Antonio native who was home schooled through high school, Pfaff was looking for a specific type of school.
"I didn't want to jump into a class of 75 people, or more," said Pfaff. "I also didn't want to go out of town because I had never lived on my own before, and I couldn't afford to pay for housing. Also, the UIW campus is really pretty, especially during Christmas!"
While at UIW, in addition to her traditional classes, Pfaff has helped her classmates as an accompanist. She learns extra music, practicing both the piano music she needs to learn and the piano part that accompanies a vocalist. But she would not have it any other way.
"I wanted to accompany because I love to just play the piano," said Pfaff. "When I accompany, I get to play, but I also get to help the vocalists get into their character because they can hear what is happening in the music instead of being stuck by themselves."
Like her mother, Pfaff has plans to use her music degree to help others when she graduates.
"I would love to teach private piano lessons and be an accompanist," said Pfaff. "I have that little bit of accompanying experience with voice and instrumental students, and I really enjoy it."
But Pfaff has not waited until graduation to help others. She says that is what she wants to be remembered for at UIW, too.
"I want to be remembered as someone who always encourages those around me. I want people to remember me as someone who was willing to help out and was kind to everyone."