Service Spotlight: Madison Tulaba
October 8, 2021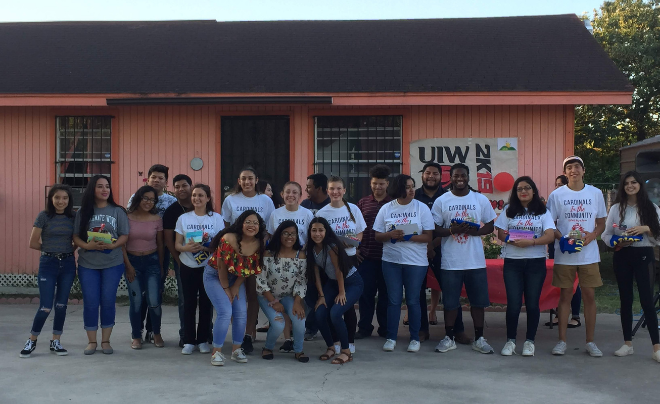 Madison Tulaba, a senior Theatre Arts major with a minor in Education, is a work study student (student employee) with the Ettling Center for Civic Leadership and Sustainability. She assists with the Cardinals' Cupboard Food Pantry, the UIW Blood drive and other events hosted by the Ettling Center. Tulaba says the Ettling Center has great volunteer opportunities available and encourages the UIW community to take advantage. With a heart for service, Tulaba is looking forward to several upcoming opportunities to give back.
"As the holiday season is coming up, I'm excited to go deliver meals to the elderly with Meals on Wheels San Antonio, donate canned goods, donate toys, possibly volunteer at the San Antonio Food Bank – there's a lot of opportunities there: organize and sort, work in the kitchen, work in the garden, etc. – and volunteer at Elf Louise as a Santa's Helper, where I get to pack presents for families in need," said Tulaba.
Taluba was introduced to service at a young age, because both parents emphasized giving back to the community. She has always loved learning and helping others, and her time volunteering has introduced her to different needs and organizations in the community.
"I feel like community service allows you to see a world you don't usually see," said Taluba. "Sometimes that can be scary, but it can also be exhilarating. You never know where service can take you. I have always said that if I had a job helping others, I would be happy."
Though she has volunteered for many projects across various organizations, her favorite experience was the Arise Summer Immersion Experience. During the Summer 2019, Tulaba and a group from the Ettling Center traveled to San Juan, Texas, to promote STEAM activities and spend time with children from the Colonias.
"This trip was special," said Taluba. "I met a lot of different people and heard so many stories that I will carry with me forever. Those kids have a special place in my heart. I made friendships that will last a lifetime."
Taluba plans to continue her acts of service, even after her time as a UIW student has ended.
"I have a lot of aspirations when it comes to service," added Taluba. "I want to continue to give back to my community in any way I can, and I want to go on more mission trips. One of my big goals has always been to join the Peace Corps. I have always wanted to travel the world, and to be able to help others while doing so would be a dream come true."