UIW Alum Receives Teaching Honor
September 23, 2021
First-Year Teacher Wins Statewide Award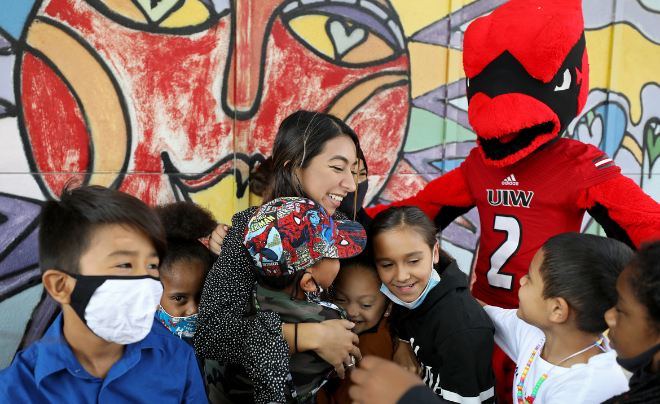 San Antonio – "I wasn't expecting this. I am just overwhelmed with so many emotions.  This year has been stressful as a first-year teacher, but I wouldn't change anything. It's all been worth it."
Visibly stunned and wiping away confetti, it was smiles and tears that came much more easily than words to Yesenia Covarrubias. The first-year teacher at Walzem Elementary in the Northeast Independent School District was greeted with a surprise celebration on the morning of Wednesday, September 22, 2021 after being named the 2020-21 Texas Clinical Teacher of the Year.
Covarrubias, who graduated from the University of the Incarnate Word (UIW) in May of 2021, was celebrated in her classroom by a group of her fellow educators and a contingent from UIW that included Dr. Denise Staudt, dean of the Dreeben School of Education and the UIW Cardinal Mascot, Red. But it was the chance to celebrate with her students that meant the most to Covarrubias.
"I love their minds," says Covarrubias. "[I love] just opening that up and watching them succeed, not only academically, but emotionally, and being with them every step of the way. To me, that is what it is all about: to have a relationship with them."
"I am more proud of Yesenia than words can articulate," says Staudt. "Not only did she receive this prestigious award, but her outstanding teaching skills were recognized during unprecedented circumstances where teachers were holding classes online. I am honored to have a UIW clinical teacher win this award, and I know that Ms. Covarrubias is headed for great success in her teaching career."
According to the Texas Directors of Field Experience, the Texas Clinical Teacher of the Year award recognizes clinical teachers who have demonstrated, during his or her clinical teaching experience, an outstanding ability to plan and develop a repertoire of classroom management skills and instructional strategies that support the needs and curriculum of all students. Also, that they have established effective interpersonal relationships with students, parents, faculty, and staff.
It is those relationships that Covarrubias says she cherishes the most.
"Thank you to everyone who has supported me," says Covarrubias. "All my teachers from the past and all my professors from UIW, my family, my friends. I would not be able to do it without you. Teachers can make a huge impact. I know they made a big impact on my life."