UIW Selects New Dean of School of Physical Therapy
July 6, 2021
Dr. Stephen Goffar Selected after National Search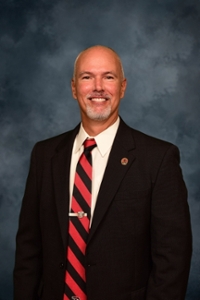 San Antonio – After a national search, the University of the Incarnate Word (UIW) is pleased to announce that Stephen Goffar, PT, DPT, PhD, has been selected as the next Dean of the UIW School of Physical Therapy (SoPT). Goffar joined UIW in July 2014 as the Associate Dean for Academic Affairs after retiring from the U.S. Army, where he served as a combat arms officer and physical therapist for 25 years. While in the Army, he also served as the Director of Clinical Education and faculty in the U.S. Army-Baylor University Doctor of Physical Therapy program.
"Over the course of his career, including seven years here at UIW, Dr. Goffar has proven himself to be a dedicated teacher, scholar and leader," says Dr. Caroline Goulet, associate provost of UIW Health Professions. "We are thankful that he has agreed to take on this new role and we look forward to the continued success of the UIW School of Physical Therapy. Our sincere thanks goes out to the search committee co-chaired by Drs Timothy Wingert and Holly Cassels and to all who participated in the interview process."
Goffar has a BS in Biology from Ripon College, an MPT and transitional DPT from Baylor University, an MS in Strategic Studies from the U.S. Army War College, and a PhD in Education from the University of Hawaii. Dr. Goffar, a Board-certified Clinical Specialist in Orthopedics, has practiced in Hawaii, the Republic of Korea, Germany, Iraq, and the U.S.
As an active researcher, Goffar has published in the Physical Therapy Journal, Journal of Orthopedic and Sports Physical Therapy, Clinical Biomechanics, Archives of Physical Medicine and Rehabilitation, Journal of Strength and Conditioning Research, and the Journal of the American Academy of Orthopedic Surgeons His research focus is prediction and prevention of musculoskeletal injury as well as foot type and plantar pressure analysis. As a member of a prolific research team, he has received more than $2.8 Million in extramural funding.
Dr. Goffar is married to his wife of more than 30 years, Kim, and they have two sons, Joseph and Nicholas.