UIW Names New Dean for Ila Faye Miller School of Nursing and Health Professions
June 18, 2020
Dr. Holly Cassells moves from Interim to Permanent Dean Post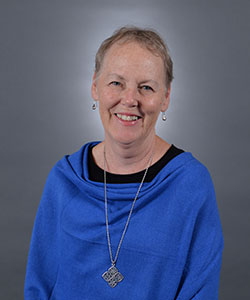 San Antonio – The University of the Incarnate Word (UIW) is proud to announce that Dr. Holly Cassells has been selected and elevated to the post of dean for the Ila Faye Miller School of Nursing and Health Professions. Cassells has been acting as the interim dean since August 2019 and has been a UIW faculty member in the nursing program since 1982.
"I would like to congratulate Dr. Cassells and I look forward to her leadership and collaboration within the Provost Deans Council and across our UIW community," says UIW Provost Dr. Barbara Aranda-Naranjo. "In these uncertain times we are fortunate to have strong, experienced leadership with Dr. Cassells to guide our faculty, staff and students to become the next leaders in nursing and health professions to serve those in need. I ask that we all continue to pray for one another, for Dr. Cassells in her new role and for all of our students as we continue to live our UIW Mission in educating and serving others."
"Assuming the dean's role is a wonderful opportunity to advance the university's Mission, and those of our school's diverse health professions programs," says Cassells. "Our school has a long tradition of educational excellence which we will sustain. We have a fabulous cadre of hard-working faculty and staff. Our students are engaged in the community; they are dedicated to compassionate service and prepared to deliver the highest quality professional care. My goal is not only to keep our programmatic momentum going, but to create a learning environment that is stimulating and relevant, and also welcoming for everyone."
The goal of the Ila Faye Miller School of Nursing and Health Professions is to provide an excellent student-centered education that will promote leadership development among students in each of the health disciplines. The mission of the school is to extend the healing ministry of Jesus Christ, the Incarnate Word, through the educational preparation of health professionals. The school offers outstanding programs in Athletic Training, Community Health Education, Kinesiology, Nuclear Medicine Science, Nursing, Public Health (Minor), Rehabilitative Sciences, and Sport Management.