New Building. New Labs. New Future Nurses.
September 2, 2020
UIW to offer Accelerated Bachelor of Science in Nursing Degree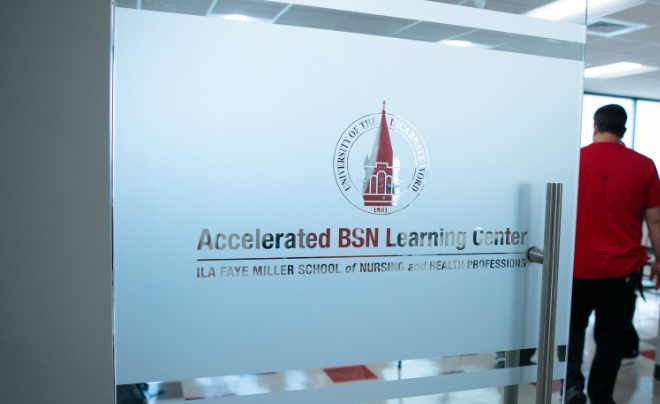 San Antonio – The University of the Incarnate Word (UIW) is proud to welcome its first cohort of Accelerated Bachelor of Science in Nursing (ABSN) degree students in a new, interactive learning environment. The interactive approach is part of a hybrid learning model that combines an e-learning platform and simulations with clinical rotations at top San Antonio hospitals and local clinics.
"Our goal is to train the next generation of nurses in the art and science of administering compassionate evidenced-based care while helping to fill positions in demand," said Holly Cassells, professor and dean of the UIW Ila Faye Miller School of Nursing and Health Professions.
On Aug. 31, students started their 16-month program at an 18,868-square-foot site on San Antonio's near Northside that includes two state-of-the-art simulation labs, an eight-bed clinical skills lab and two testing rooms. Students will also utilize a room that simulates a home healthcare setting. There is also a student lounge, and administrative and faculty offices. The new space can accommodate up to 200 students.
The National Center for Health Workforce Analysis notes that Texas is second only to California as states hit hardest by the nursing shortage. By 2030, the number of unfilled registered nurse positions will swell to 60,000, based on projections by the Texas Center for Nursing Workforce Studies.
In greater San Antonio, there are approximately 1,300 live postings for open positions for registered nurses.
"The new accelerated BSN program will enable the University to work hand-in-hand with local health providers to plan for their workforce needs and then deliver a pipeline of talented, work-ready nurses," says Cassels.
Although accelerated, the program curriculum, learning objectives and outcomes mirror UIW's traditional BSN program. Prospective students must have a bachelor's degree in a field outside of nursing for the program which has three start dates per year.
For more information, visit absn.uiw.edu