UIW Welcomes First Group of Admitted Students to the Class of 2024
August 1, 2019
College Visit takes Surprise Turn for High School Seniors and their Families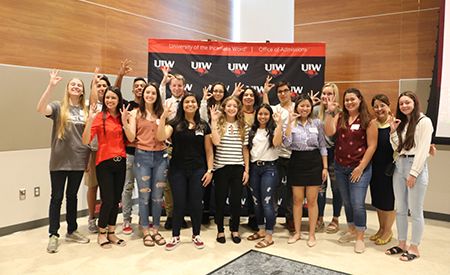 San Antonio – A day of learning about college life turned into a real-life college acceptance for a group of local students who are just entering their senior year of high school. The University of the Incarnate Word (UIW) held its annual "Rising Senior Day" on Tuesday, July 30, 2019.  The event brought together dozens of students from across Texas for a day of fellowship and information gathering. At the end of the event, 19 students got the unexpected news that their applications to UIW have been accepted.
"Excited and definitely surprised!" That is how Devon Hernandez described the feeling after he found out that he is one of the first students to be admitted as freshman to the Class of 2024. Hernandez, who will be a senior at Central Catholic High School this year, plans to one day be a pharmacist and attend the UIW Feik School of Pharmacy. He says he has always liked helping people and his family is thrilled that he will be able to stay in his hometown and follow that dream.
As part of "Rising Senior Day," students visited with faculty at various UIW schools learning about everything from drone technology to meteorology to fashion and business. They even got hands-on in the nursing department learning about how to handle allergic reactions. Also, for the first time, students took part in a workshop to learn how to best prepare a college application.
"This is the best part of my job," says UIW Interim Provost Dr. Barbara Aranda-Naranjo, who had the privilege of informing the select students of their admission. "I'm always humbled to see the future leaders in so many areas take their first big step and it is so great to see their parents who are also having their dreams realized."
UIW "Rising Senior Day" is one of many summer events hosted by the University to promote higher education and the unique opportunities offered by UIW. It also serves to encourage local students to focus on the next stage of their life goals.