UIW Opens Black History Month by Honoring Notable African American Alumni
May 3, 2019
San Antonio – On Wednesday, January 31, the University of the Incarnate Word (UIW) kicked off Black History Month with a dinner recognizing Rev. Dr. Trevor Alexander '96 and the dedication of the All Faiths Reflection Room in the Student Engagement Center in honor of Incarnate Word's first black graduate the late Adell Ferguson Polk '56.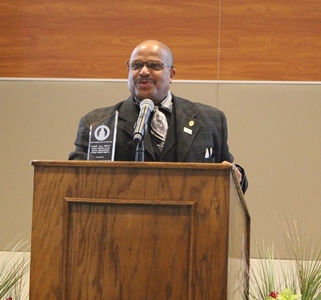 Alexander was presented with the 2018 Alumni Award for his tremendous service to UIW and San Antonio community for nearly two decades. Born in Romford, Essex in England to Caribbean parents, Alexander later joined the U.S. Army retiring after 20 years of service. In 1996, he graduated from UIW with a Bachelor of Arts in Psychology and Religious Studies and continued his education earning a Master of Arts in Pastoral Ministry from the Oblate School of Theology and a Doctor of Divinity from St. Thomas Christian College and Seminary. As Pastor of True Vine Church and UIW's Protestant Chaplain, Alexander serves the San Antonio and campus communities through service, mentorship and spiritual guidance.
Polk was the first black graduate from then Incarnate Word College earning a Bachelor of Science in Education in 1956.  She went on to earn a degree in pharmacy from Texas Southern University and led a successful career as a pharmacist at Santa Rosa Hospital.  Polk was a true pioneer and her success paved the way for approximately 1,700 African American students to complete their degree at Incarnate Word. In addition, Polk was an active member of Bethel AME Church and the San Antonio community. She passed away in October 2015. Members of the Polk family attended the reception with her sister, Zelma Bolsen, cutting the ribbon to acknowledge the room dedicated in Polk's honor.
Sr. Walter Maher, CCVI, vice-president of UIW Mission and Ministry and a member of the university's founding congregation, the Sisters of Charity of the Incarnate Word, announced the dedication of the All Faiths Reflection Room as a permanent legacy to Polk in honor of her achievements in education and healthcare, the cornerstones of the Sisters' ministry. 
"Mrs. Polk lived a life of faith, love and service. It is our goal to preserve and honor her legacy.  Her attendance at Incarnate Word College is part of the long tradition of inclusion. The first three sisters welcomed everyone, and Mrs. Polk modeled love of God and love of neighbor as she lived a life of service and love," said Maher.
UIW will continue to celebrate Black History Month with a series of programs and events.  For a complete schedule of events, visit www.UIW.edu.
###UIW###
CONTACT:    Margaret Garcia, associate director of communications & marketing, (210) 829-6001 or mlgarci2@uiwtx.edu