UIW celebrates the Fall Class of 2015
December 6, 2015
San Antonio – On Sunday, Dec. 6, UIW President Dr. Louis J. Agnese, conferred degrees to nearly 1000 professional, doctoral, graduate and undergraduate students making it the university's largest fall commencement to date. The ceremony was held Sunday, Dec. 6, 2015 in the Joe and Harry Freeman Coliseum.
The commencement address delivered by Moody Professor, Dr. Elda Martinez stressed the importance of education noting that in the UIW Fall Class of 2015 60 percent were Hispanic, of those 33 percent earning a bachelor's degree were first-generation and 24 percent of graduate degrees conferred were to first-generation students.  Martinez, a professor in the Dreeben School of Education is a first generation college graduate.
The professorship, established in 1971, by the Moody Foundation reflects the recipient's level of scholarship, teaching excellence and community service. The Moody Professor is the faculty member chosen to lead the faculty and carry the University Mace. The Commencement address to the December graduates is traditionally delivered by the Moody Professor whose address is often considered the students' "last class." 
Martinez serves as Director of Teacher Education and Professor of Education in the UIW Dreeben School of Education. She earned her Ed.D. in Organizational Leadership from Columbia University's Teachers College and her M.A.T. and B.A. with a special education concentration and teaching certification from Trinity University. Prior to UIW, Martinez taught elementary and middle school students in the San Antonio Independent School District. Martinez was the UIW 2011-2014 Sister Theophane Power Endowed Chair in Education and is the recipient of the 2015 Ben E. Coody Distinguished Service Award presented by the Texas Association of Teacher Educators.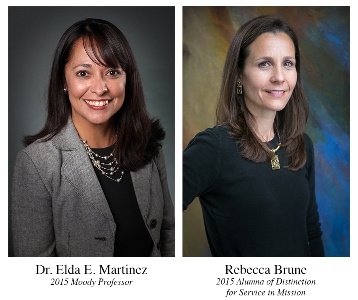 The 2015 Alumna of Distinction for Service in Mission was Rebecca "Becca" Brune. In 1991, Brune earned a Bachelor of Arts in Political Science from UIW, graduating magna cum laude. She was an international exchange student in Kumamoto, Japan, attending Kumamoto University and attended Carnegie Mellon University, School of Public Policy and Management. After graduation, as a Woodrow Wilson Fellow, Brune earned a master's degree in public affairs from the Maxwell School of Citizenship and Public Affairs at Syracuse University, graduating with honors. In 2009, as a Bill Greehey Scholar, Brune earned a master's degree in business administration from the Bill Greehey School of Business at St. Mary's University in San Antonio, Texas, commissioned as a distinguished graduate.
A Baccalaureate Mass was held for all graduates Saturday, Dec. 5 in the Alice P. McDermott Convocation Center on the UIW campus. Processional and recessional music for both events was performed by the San Antonio Pipes and Drums with musical direction provided by UIW Professor William Gokelman.
-30-
Photo cutline:  UIW celebrates the Fall Class of 2015.  Nearly 1000 students participated in the university's commencement ceremony held Sunday, Dec. 6 in Freeman Coliseum.
CONTACT:    Margaret Garcia, associate director of communications and marketing, (210) 829-6001, mlgarci2@uiwtx.edu