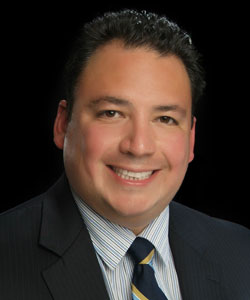 Dr. Javier E. Lozano is a native Texan, born in Houston, raised in El Paso, and has been living in San Antonio for the past 24 years. Traveling to Juarez, Mexico, each weekend to visit his grandparents was the beginning of his unofficial training in cross-cultural competence.
Due to his early experience, Dr. Lozano earned a bachelor's degree in international business and marketing from St. Mary's University, followed by a master's in business administration and a doctorate in international education and entrepreneurship from the University of the Incarnate Word. 
For the past 16 years, Dr. Lozano has served the University of the Incarnate Word in two main capacities. Currently, he is the Director of International Affairs as well as a business instructor in the School of Professional Studies. Since 2009, Dr. Lozano has taught over 70 undergraduate and graduate business courses. For the past six years, he has taught graduate level business courses that focus on effective team and change management theories and practices. Dr. Lozano's teaching philosophy is based on collaborative learning, which has promoted understanding through respectful dialogue and healthy debate among his students and colleagues.
School of Professional Studies