Professional tax preparation experience meets community support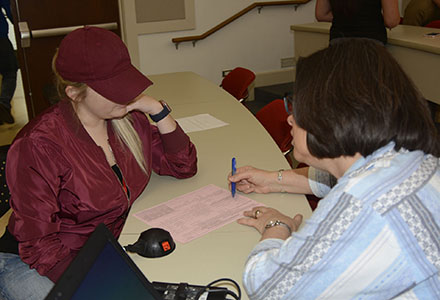 Since 1984, the H-E-B School of Business and Administration at the University of the Incarnate Word has proudly offered the Volunteer Income Tax Assistance (VITA), a free tax preparation service available to qualifying households.
VITA offers tax help from IRS-certified volunteers to most households with incomes of $60,000 or less and helps working families take advantage of all of the tax credits they are eligible for including the Earned Income Tax Credit (EITC), Child Tax Credit (CTC), and education credits. Volunteers from HEBSBA and the university community help prepare basic, current-year tax returns for these eligible taxpayers at no charge.
The UIW site operates every Saturday from 10 a.m. to noon, during the tax preparation season, which begins the first Saturday in February. Returns are prepared for those with appointments first and then drop-ins. Although, by law, priority services are offered to seniors.
Preparation for 2022 Tax Returns
The UIW VITA clinic is open for preparation of 2022 tax returns starting the first Saturday in February. Volunteers are available to assist previous clients and members of the UIW community. Visit VITAsa.org for additional tax preparation resources in San Antonio.
Schedule an appointment
If you would like help preparing your 2022 tax return, please schedule an appointment by emailing vita@uiwtx.edu. We have a limited number of appointments available on any given Saturday.
UIW VITA Clinic Address:
Joyce Building, Room 126
4301 Broadway
San Antonio, TX 78209
Clients must bring the following items to the appointment:
Driver's license or photo I.D. for the taxpayer and spouse (if applicable)
Social Security Card or Individual Tax Identification Number (ITIN) for all household family members (copies are accepted)
All W-2 Forms and 1099 tax forms
Other tax forms received (if applicable)
Copy of prior year tax return (if applicable)
If filing jointly, both spouses must be present when the tax return is signed.
Documentation for any deductible expenses
Volunteers can email the necessary forms for clients to fill out prior to arriving at the UIW campus. Clients can also fill out the forms once they get to campus.