Professional tax preparation experience meets community support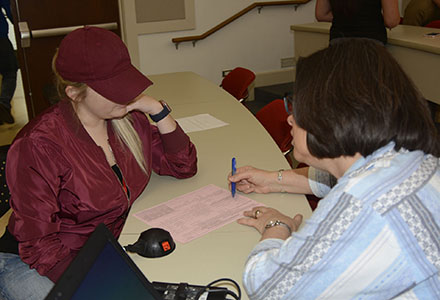 Since 1984, the H-E-B School of Business and Administration at the University of the Incarnate Word has proudly offered the Volunteer Income Tax Assistance (VITA), a free tax preparation service available to qualifying households.
VITA offers tax help from IRS certified volunteers to households with incomes of $55,000 or less and helps working families take advantage of all of the tax credits they are eligible for including the Earned Income Tax Credit (EITC), Child Tax Credit (CTC), and education credits. Volunteers from HEBSBA and the university community help prepare basic, current year tax returns for these eligible taxpayers at no charge.
The UIW site operates every Saturday from 10 a.m. to noon, during the tax preparation season. Returns are prepared on a first come, first served basis. Although, by law, priority services are offered to seniors.
2020 VITA Clinic closed in response to COVID-19
In light of the developing situation regarding COVID-19, the UIW VITA clinic will be closed for the remainder of the 2020 tax season. You can visit VITAsa.org to locate additional resources for tax preparation in San Antonio. For the latest updates on UIW's response to COVID-19,visit the UIW Coronavirus/COVID-19 Updates page .
Taxpayers must bring the following to receive assistance:
Driver's license or photo I.D. for the taxpayer and spouse (if applicable)
Social Security Card or Individual Tax Identification Number (ITIN) for all household family members (copies are accepted)
All W-2 Forms and 1099 tax forms
Other tax forms received (if applicable)
Copy of prior year tax return (if applicable)
If filing jointly, both spouses must be present when the tax return is signed.
Documentation for any deductible expenses