Investing in student entrepreneurs at UIW
The Startup Challenge at the H-E-B School of Business and Administration invests in the entrepreneurial aspirations of students at the University of the Incarnate Word.
The 13-week competition, held each fall semester, allows students to develop a business model from idea to actualization. The winning team is awarded $10,000 in seed money through the generous sponsorship of HOLT Ventures.
Cultivating Big Ideas
We are looking for students with new and creative solutions to real-world problems that support economic growth. This competition is specifically looking for ideas that:
Solve social problems on a global scale (health care, healthy food, electricity)
Offer value and wealth creation for people living below the poverty line in the U.S. and abroad
Explore international or cross-border opportunities
Offer and sell products/services to businesses rather than individual consumers
Big ideas require a wide knowledge base. That is why the Startup Challenge encourages participants to build their teams with students with diverse areas of expertise. Marketing students teamed with engineering, or pharmacy students paired with communication arts – these teams can achieve more together than they could as individuals.
Professional Mentoring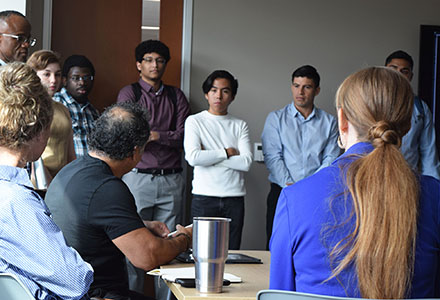 Each team is assigned a mentor to serve as a professional source of feedback and advice throughout the challenge. Mentors are local business leaders, entrepreneurs and professionals in their respective fields.
The mentor relationship is vital to the success of each team. Each mentor will share a practical point of view on the team's business idea based on his or her experience and knowledge. Each team will be assigned a mentor by challenge administrators based on the expertise of each mentor as it relates to the team's business idea.
In additional to professional mentors, the faculty of the H-E-B School of Business and Administration provide guidance to students as they work to develop their business models. Workshops are held throughout the competition to allow participants to learn design-thinking skills including brainstorming, team building, networking and business model innovation.