Jefferson Bank Investor Challenge
Empowering high school students with financial literacy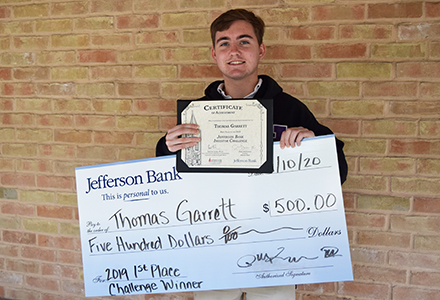 The Jefferson Bank Investor Challenge teaches San Antonio-area high school students the fundamentals of investment strategy and financial literacy in a weeklong summer program.
Students attend a week of instruction in the H-E-B School of Business and Administration's state-of-the-art Financial Markets Lab where our faculty introduce the concepts of investment planning and portfolio management. At the end of the course, students begin an online investment challenge during which they buy, sell and trade stocks to grow a simulated portfolio. The student who grows his or her portfolio the most wins $500.
Program Outline
The Investor Challenge course meets 9 a.m. to 1 p.m. daily for one week in June for a total of 20 hours of instruction. The course is designed as follows:
8 hours: Financial literacy and planning
8 hours: Understanding the stock market
2 hours: Financial aid for college
1 hour: Tour of UIW campus
1 hour: Financial discussion and student feedback
Curriculum
Fundamentals of Financial Literacy
To increase financial literacy, students will be taught how to use basic budgeting and cash flow management software such as Mint.com. Students will be shown how even small changes in lifestyle can result in huge amounts of wealth through the power of compound interest. We will also stress the importance of using the mainstream financial system to save money and have greater access to credit. Students will determine their unique money personality and how to leverage it for increased saving and investment while avoiding the pitfalls of their personality. Most importantly, students will learn that the more they understand personal finance, the more successful they can be in reaching their goals.
Portfolio Management
Students are taught the basics about stock symbols, the various exchanges, risk and diversification. After a brief training period, they are each given a simulated portfolio that mirrors the U.S. stock market. They will then research companies and buy and sell stocks in a competition to see who can increase the starting portfolio the most. The challenge will last for approximately 20 weeks so the students can experience some of the natural ups and downs associated with the stock market. The winner of the challenge will receive $500 and a plaque with their name engraved that will be prominently displayed in UIW's Financial Markets Lab.
Summer 2021 – Virtual Jefferson Bank Investor Challenge
The 2021 Jefferson Bank Investor Challenge will be held virtually with students meeting on Zoom a total of six times over two weeks. A timeline of the 2021 challenge is below.
June 21 - July 1, 2021 – Virtual classes meet from 10 a.m. - 12 p.m. on June 21, 23, 25, 28, 30 and July 1.
June 25, 2021 – Simulated online investment challenge begins.
August 27, 2021 – Investment challenge ends and the winner of the $500 first prize is announced.
Please complete the registration form below if you would like to participate in the 2021 Virtual Jefferson Bank Investor Challenge. The deadline to register is June 14, 2021. A $25 registration will collected after you are notified via email of acceptance to the program. Scholarship opportunities are available to help cover the cost of participation.
If you have any questions about this form, please contact the H-E-B School of Business and Administration at hebsba@uiwtx.edu.