Experience the global reach of international commerce.
Study abroad promotes the Mission of UIW by developing enlightened citizens engaged in the human condition across the world. It offers students the opportunity to immerse themselves in diverse cultures while gaining new perspectives on people and commerce.
The study abroad opportunity detailed below is made possible by the Liza and Jack Lewis III Lewis Center of the Americas, the Office of the Provost and the H-E-B School of Business and Administration.
Guanajuato, Mexico – Universidad Incarnate Word Campus Bajío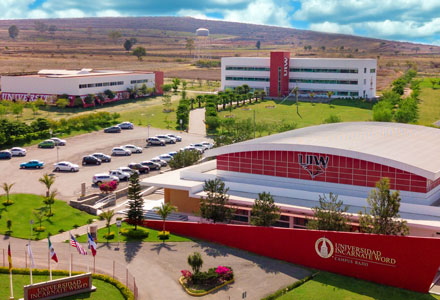 Startup Models Beyond Borders – HON BINT 4360
What are the steps and processes involved in creating, funding and operating a startup in emerging markets? This course seeks to answer this question by developing in students an understanding of global business models, market innovation and the ethical considerations of managing a cross-border startup business.
This course is offered in the spring semester on the UIW main campus in San Antonio. As part of the course, students travel to historic Guanajuato, Mexico, over Spring Break for a cultural immersion experience in partnership with Universidad Incarnate Word Campus Bajío in nearby Irapuato.
Quick Facts
Learn more about the Startup Models Beyond Borders (HON BINT 4360) course.
This is an honors course open to all students at UIW.
There are no prerequisites.
The course is only offered in the spring semester.
Course Outcomes
This course explores entrepreneurship as it relates to building a business to operate in the marketplaces of multiple countries, specifically the United States and Mexico.
Students will work in teams to create mentor-supported startups in emerging markets. The course will use institutional framework, variations of the lean startup framework, global business model innovation framework and real-world case studies to explain startup creation and institutional challenges in emerging markets. Students will develop entrepreneurship skills, design-thinking skills and intercultural competence skills.
Virtual Study Abroad
The Startup Models Beyond Borders class was held virtually during the Spring 2021 semester as students were unable to travel to Mexico due to the ongoing pandemic. The course brought together students from UIW in San Antonio and UIW Campus Bajío in Irapuato, Mexico, with students attending class together online.
With help from local organizations and mentors, students established working relationships with the indigenous Chicimeca people, who reside in the present-day Bajío region of Mexico, in order to acquire, transport and sell their handmade artisan goods in the United States. This innovative experience introduced new methods that will enhance the study abroad experience for years to come, even after students can once again travel to Mexico.
Student Experience
Cardinals who make the trip from San Antonio to the Bajío region of Mexico are introduced to students from UIW Campus Bajío in Irapuato, who serve as guides and became local friends throughout the trip.
Through tours of local companies, such as food producers and industrial manufacturers, and in roundtable discussions with mentors and business leaders, students learn about operating a business in the region and the increased emphasis on professional relationships that exists in the Mexican marketplace.
Students also experience the unrivaled culture of the Bajío region of Mexico first-hand by visiting local markets, museums and restaurants while touring Guanajuato and San Miguel. The Startup Models Beyond Borders course and study abroad excursion offers students a unique opportunity to learn the fundamentals of entrepreneurship with a special emphasis on the bountiful possibilities of Mexico-United States commerce.