Bexar County Community Venues Program
The University of Incarnate Word (UIW) proposed a competitive fencing facility in Bexar County to provide a high-quality US Fencing club to the community as well as host regional, national and local US Fencing competitions annually.
San Antonio will immerse young people from every background in an Olympic sport that instills self confidence and personal discipline, and provides access to, and scholarships from, many of the best universities in the U.S.
Dr. Timothy W. Henrich
April 24, 1946 - October 4, 2014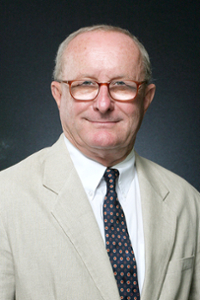 The Henrich Center for Fencing and International Sports is named in honor of Dr. Timothy "Tork" Henrich, Professor of Sports Management and Kinesiology. This fencing center, considered the premier facility of its kind in this region, is part of Dr. Henrich's legacy. Dr. Henrich's vision and passion helped formulate the idea for the Center and the Grant between UIW and the Bexar County Community Venues Program. This establishment ensured the growth of fencing in San Antonio for the next 40 years. He was a University of the Incarnate Word faculty member for 22 years and was a driving force behind the Sports Management undergraduate and graduate degrees and served as the program's founding director from 1993 until 2011.
Dr. Henrich successfully coached youth, high school, university and Olympic swimmers during his career. Prior to starting his coaching career, Henrich swam competitively and was a Pentathlete in the U.S. Army. At the 1975 World Modern Pentathlon Championships, the U.S. Modern Pentathlon team won a silver medal under his tutelage as the Swim Coach for the team. He was an internationally recognized swimming expert who coached swimming programs in Denmark and Egypt. He was instrumental in the planning and building of UIW's Natatorium. He also helped start the swimming program at UIW and was the first coach of the swimming program from 1999-2002.
Dr. Henrich held several positions in many different professional organizations and was a prolific researcher, writer and presenter. He also served as a senator and chair of numerous UIW faculty committees. His future vision for UIW included an NCAA UIW Men's and Women's Varsity Fencing Team (which was created and began competition in the Fall of 2015) and this fencing center. Dr. Henrich's contributions as a campus leader, researcher, professor, mentor, colleague and friend were numerous, and his impact will always be remembered at University of the Incarnate Word.