Interfaith Literacy and Service Events
Primary sacred times for world religions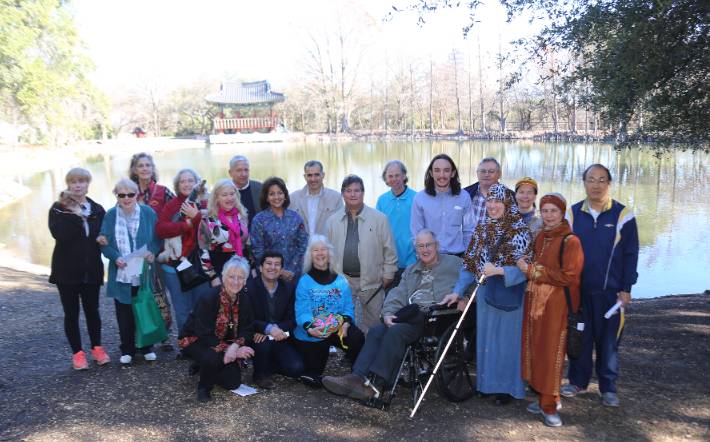 See a report about our previous World Interfaith Harmony Week, "TOGETHER Caring for Creation" pictured above.
Interfaith Projects generously funded by the Interfaith Youth Core are enriching the UIW campus and the city.
Interfaith Leadership Projects at the University of the Incarnate Word

550th Celebration with the Sikhs
On November 17th, the Sikh Center of San Antonio celebrates the 550th Birthday of Guru Nanuk, a founder of this religious tradition, the fifth largest in the world.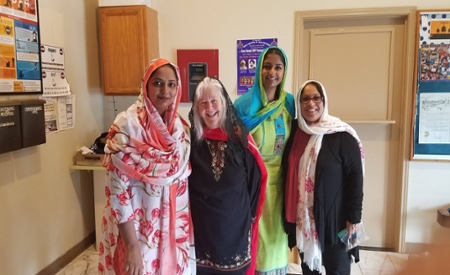 Parminder Kaur (third from the left), a student at the UIW School of Osteopathic Medicine, and Charanjit Kaur, her mother (left) hosted Dr. Sandy Guzman-Foster (right) and Sister Martha Ann Kirk (second from the left), leaders in the UIW Interfaith Innovation Grant from the Interfaith Youth Core.
Warm hospitality and shared food are part of the Sikh tradition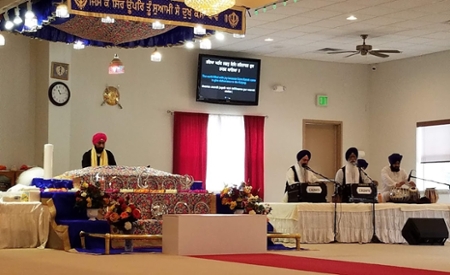 Harvinder Singh, Parminder's father (on the left) and Amarjeet Singh, her grandfather (third from the left) were leaders in the service of prayer and chanting
Sister Martha Ann Kirk in 1995 had the opportunity to visit the Golden Temple, the main Sikh center in Amritsar, India, and learn some of their traditions of respect for all and care for the needy. After a hate crime at Sikh temple in Wisconsin in 2012, she spoke at a service in solidarity with the Sikh community.
At Temple Beth El in San Antonio, Catholic, Hindu, Jewish, Presbyterian, Muslim, Evangelical Christian, Jain, Parsi, Bahai and Ismaili community members came together with the Sikh community to offer condolences and to pledge to work together to overcome hatred and promote respect for all faiths.
Interfaith San Antonio Alliance Uniting Efforts for Affordable Housing and the Homeless in San Antonio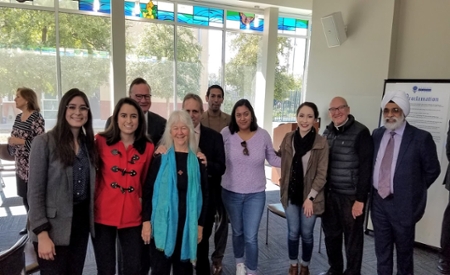 Second Row: Mr. Lukin T. Gilliland, Jr. , ISSA Board, Rabbi Steve Gutow, initiator of ISSA, Suhail Arastu, Director of Advancement of Musical Bridges Around the World. Front Row: Yesenia Caloca, ECCLS Campus Coordinator,  Andrea Del Valle Soriano, UIW Student Government President, Sr. Martha Ann Kirk, UIW and participant in ISSA, Selena Casanova, UIW Cardinal Community Leader, Aly Escobar, UIW Psychology graduate student, Father Jim Schellenberg, Oblate School of Theology, Dr. G.P. Singh, innovator, entrepreneur, and civic leader in San Antonio.
UIW leaders united with Interfaith San Antonio Alliance members for a luncheon and press conference at Haven for Hope, November 15, 2019, during National Hunger and Homelessness Awareness Month.  Selena Casanova noted "the diversity of the religions that were present and cooperative in helping the homeless."
Interfaith San Antonio Alliance (ISAA) is faith leaders and their congregations seeking to make San Antonio a more just and livable city ISAA began in 2018 through the invitation of Rabbi Sam Stahl, a friend of Rabbi Steve Gutow who works with New York University's Religious Leadership and Civic Engagement Project.
During the civil rights movement faith leaders in San Antonio worked together to teach their congregations to move beyond racism and integrate school and businesses. With this history of cooperation and potential for good, Rabbi Gutow invited San Antonio as a pilot city which might be a model for other cities. Faith leaders reflect on the common good and try to motivate their networks to action.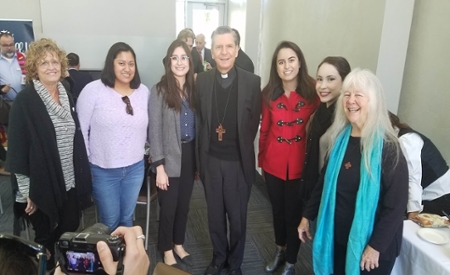 Archbishop Gustavo Gonzalez Siller (center) chatted with UIW community members, some of whom had been with his cousin, Incarnate Word Sister Leonila in Peru, and with Rev. Ann Helmke, leader of the City Faith Based Office (left).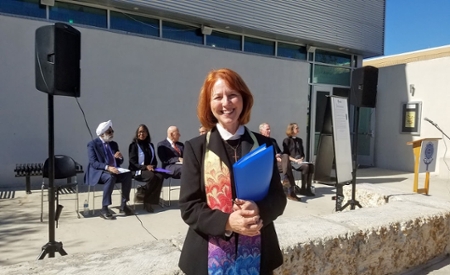 Rev. Wyndee Holbrook, the ISSA Executive Director, watches for the Mayor Ron Nirenberg to complete panel participants in front of the Haven for Hope Chapel. Speakers included Archbishop Gustavo Garcia-Siller, Pastor Max Lucado, Imam Omar Shakir, Rev. Mignon Jones-Spann, Rev. Ann Fraser, Dr. G.P. Singh, and Rabbi Samuel M. Stahl.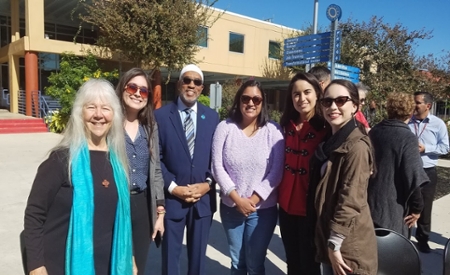 Imam Omar Shakir (center), a main Muslim leader in San Antonio, ministers at Masjid Bilal Ibn Rabah and serves as a Chaplain for the Texas Department of Criminal Justice.
Over the years he has been in dialogues with Sr. Martha Ann Kirk and they have both been recognized by the peaceCENTER
WHEREAS, we, who are members of the Interfaith San Antonio Alliance, join together as religious leaders representing a diversity of creeds and practices in order to make a difference in our city,
WHEREAS, we are united in our belief that all human beings are children of God and are entitled to lives of dignity,
WHEREAS, we affirm that adequate housing is a basic human right,
WHEREAS, we celebrate progress made in addressing this need, we also confess that homelessness and unaffordable housing remain a severe, widespread community blight in San Antonio,
WHEREAS, we acknowledge that homelessness diminishes one's self-worth and security, that our homeless population is susceptible to physical and mental illness and that they are frequently a target of abuse and victimization,
WHEREAS, we accept our role as faith leaders, being the one force in San Antonio that can bring together all the city's various parts and people, whatever one's ethnicity, education, gender, occupation, age, location, politics or status,
WHEREAS, we accept our critical responsibility in helping provide shelter as a primary human need and in advocating for justice for all inhabitants of the city,
THEREFORE, on this 15th day of November 2019, we commend Mayor Ron Nirenberg and the San Antonio City Council for addressing this issue of homelessness in a bold and generous way with the Mayor's Housing Policy Framework and encourage them to continue to explore ways to deal with the root causes of homelessness in our community. We also urge our constituents to support the need for affordable housing and to end homelessness in every neighborhood of our beloved city. 
Aly Escobar spoke of the gathering as "deeply inspiring and touching. We got to witness ISAA expand its efforts on building San Antonio into a truly compassionate city. I have complete faith that their proclamation will achieve much more than advocating for affordable housing for all. I believe it will help everyone involved grow despite adverse circumstances that attempt to rob all motivation."
As the City Council was considering if it should adopt a plan for affordable housing, Sister Martha Ann actively participated signing up to speak at open meetings for the plan. Mayor Ron Nirenberg got to know her. They could rejoice together that more and more groups are uniting in this.Read more at  San Antonio's Housing Policy Framework (pdf) page.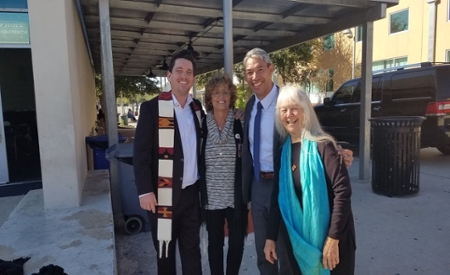 Rev. Gavin Rogers, Travis Park Church, Rev. Ann Helmke, City Faith Based Office and a founder of the peaceCENTER, San Antonio Mayor Ron Nirenberg, and Sr. Martha Ann Kirk, UIW.
Andrea Del Valle Soriano said "It was eye opening to see how all the world religions work together for one goal, which is love your neighbor as yourself. Amongst all the wars and hate around the world, we unite ourselves."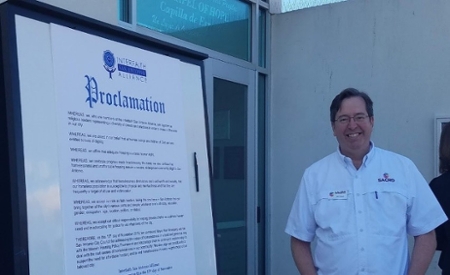 Bill Neely is the director of the San Antonio Resource Directory which connects hundreds of groups in San Antonio trying to work together compassionate to respond to needs such as housing, food, education, medical care and more.
ISAA has an extensive Resource List and invites all to participate in education, advocacy, and action
"The Sultan and The Saint, a PBS documentary, dinner and interfaith dialogue"
October 24, 2019, drew about two hundred people to St. Francis of Assisi Catholic Church Hall. People delighted making new friendships. They learned that in 1219 during the raging conflict of the Crusades, the Muslim Sultan Malek al-Kamil and the Christian Francis of Assisi courageously entered into dialogue paving a path that eventually led to ending the Crusades. Learn more about the film. In light of this 800th anniversary, Pope Francis and The Grand Imam of Al-Azhar Ahmad Al-Tayyeb met and shared the "Document on Human Fraternity for World Peace and Living Together."
Buddhist Service Project
Below is a little story of serving and learning at the Tibetan Buddhist Center for World Peace (about a 25 minute drive north of UIW). Please consider attending their events or doing community service there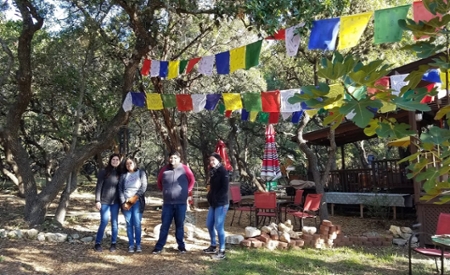 "Are those Fiesta flags?"  "No, Buddhist prayer flags." On October 4, 2019, our group did volunteer service had the joy of a new adventure at the Tibetan Buddhist Center for World Peace.
This image of the Buddha has many arms as a sign of reaching out with many acts or service, kindness and compassion.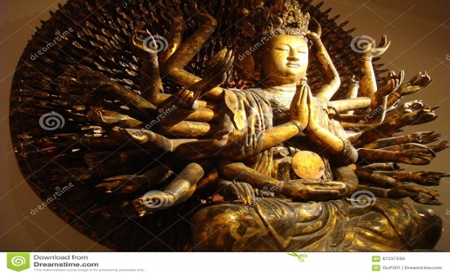 That might describe our UIW group reaching out in kindness to help clear the grounds of branches and debris.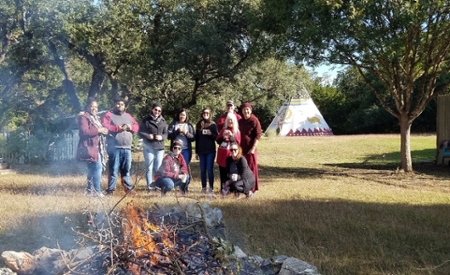 For most of us, this was a first experience meeting a Buddhist monk and having a chance to learn a little about Buddhism.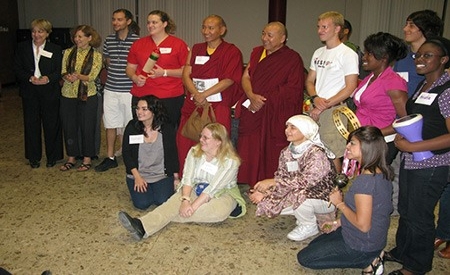 Ten years ago, Lama Passang came to UIW and spoke about compassion. UIW Religious Studies students and interfaith friends, inaugurated the Charter for Compassion in San Antonio on Nov. 9, 2009. Through efforts of the peaceCENTER and others, San Antonio was proclaimed a "City of Compassion" by the City Council in 2016. Sr. Martha Ann Kirk was very happy to visit with him again.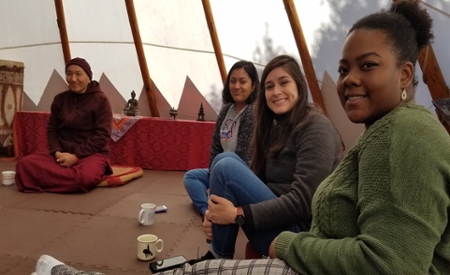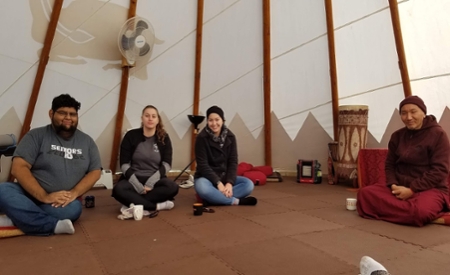 Students of the Social Justice Leadership class.
All Faiths Reflection Room
An "All Faiths Reflection Room" in the Student Engagement Center Building was named in honor of Adell Ferguson Polk, the first Black graduate of Incarnate Word College in 1956. Read more about Adell Ferguson Polk. She was a woman of faith and dedication. Please help spread word of the "All Faiths Reflection Room" which has texts from some of the major faiths, prayer rugs, chairs and a quiet peaceful atmosphere.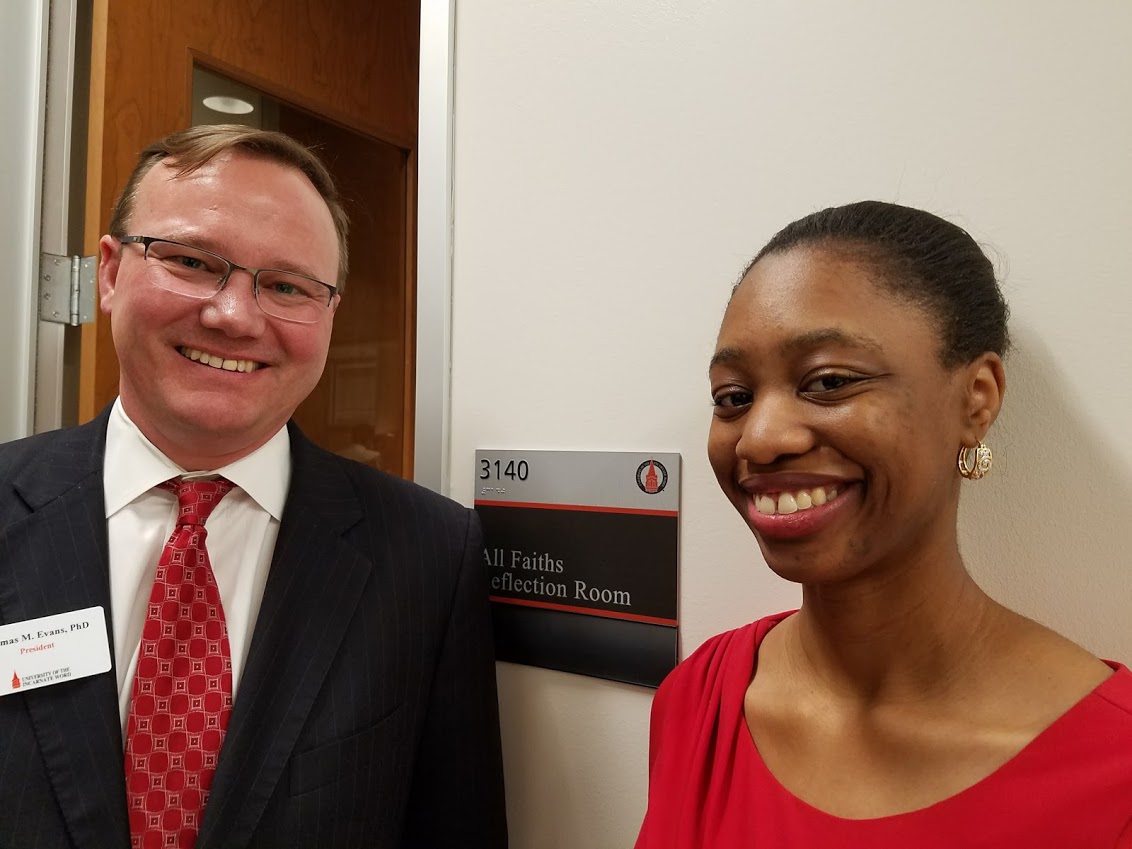 UIW President Thomas M. Evans, Ph.D., assisting in the dedication of the "All Faiths Reflection Room" in the Student Engagement Center, Room 3140.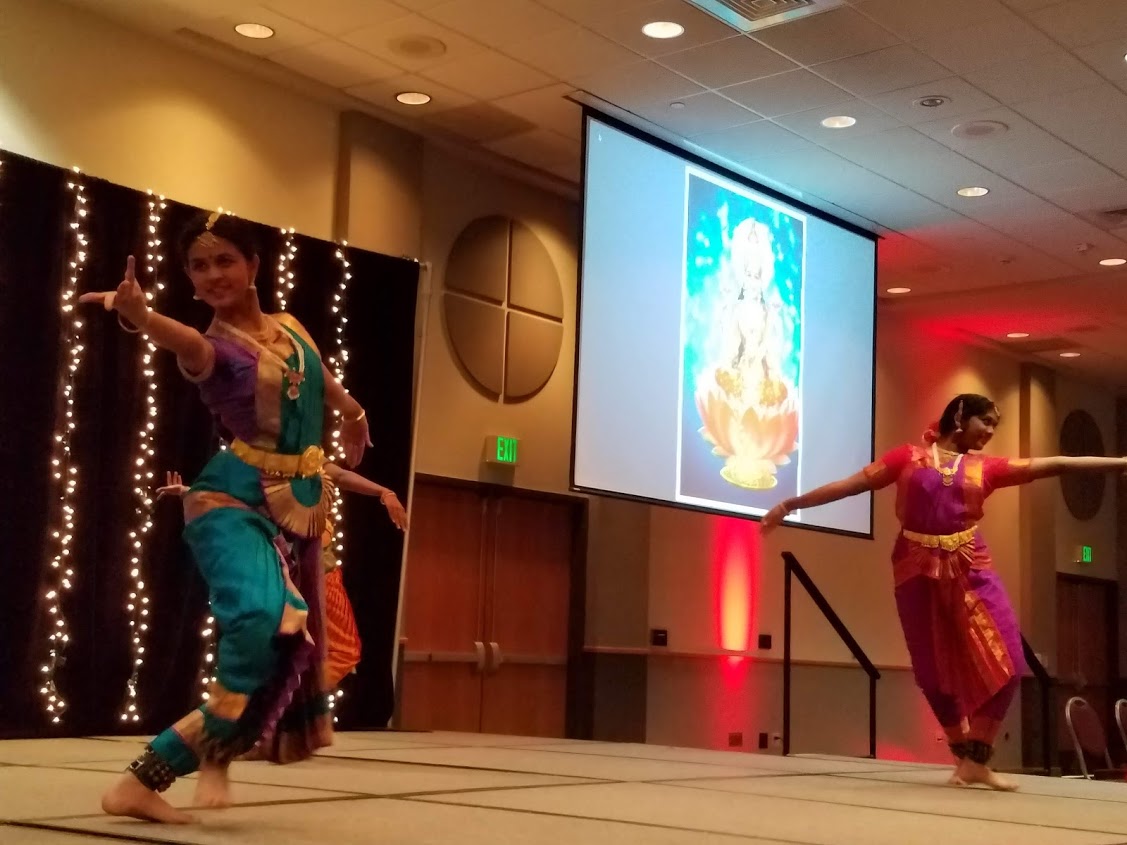 Many families attended the UIW Diwali Festival of Lights on Nov. 12, 2018, in the Rosenberg Sky Room, for a social hour and henna, Puja, dinner and entertainment. It was a celebration of the South Asian global festival, showcasing the symbolism, culture, art and cuisine of this festival that is now celebrated worldwide.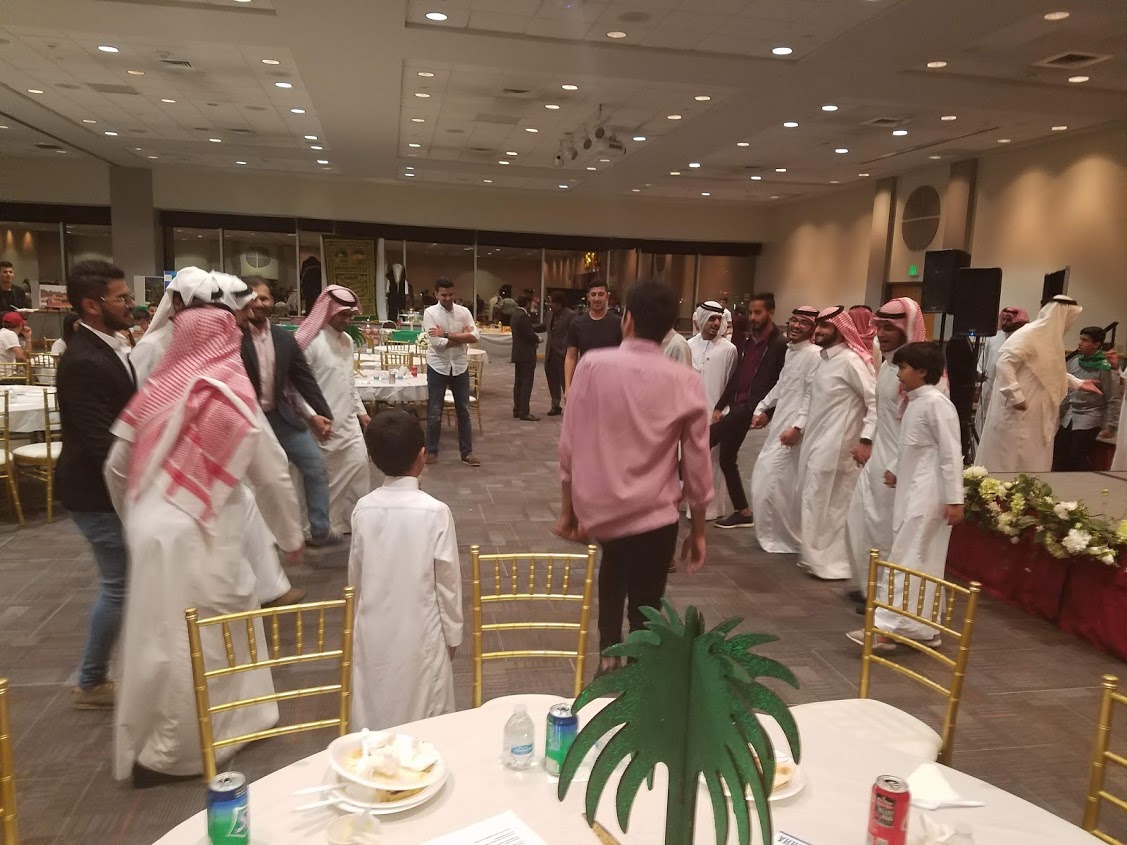 Mecca, the main city and place of pilgrimage for Muslims, is located in Saudi Arabia. In 2018, UIW Saudi students hosted a festival for their religious holiday with both information on their culture and religion and fun for all.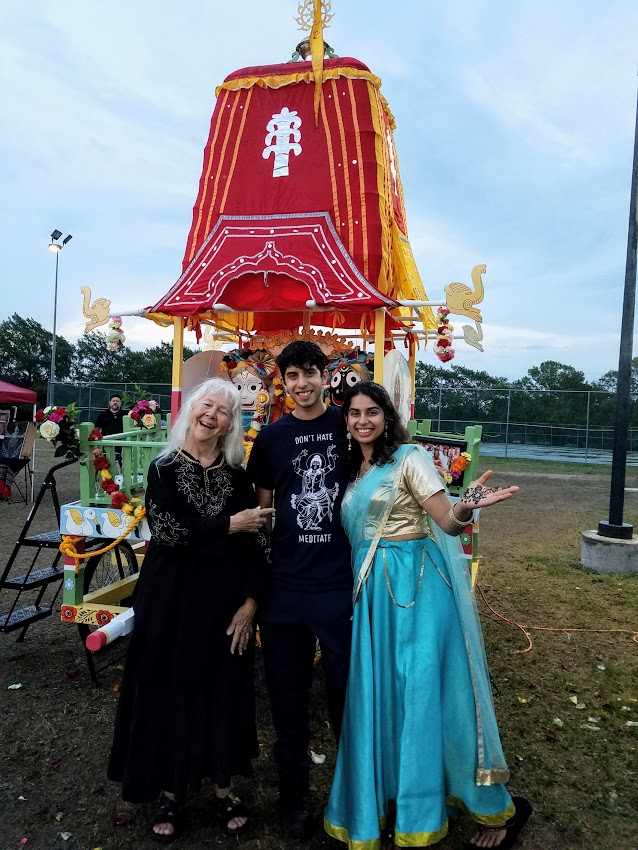 Sr. Martha Ann Kirk, Jay Mijagiri and Jahnavi D. Mijagiri, a UIW student, enjoy the Festival of Chariots, July 7, 2018, at Woodlawn Lake in San Antonio. Ratha-yatra, or the Festival of Chariots, is a joyous event that has been celebrated for over 3,000 years in the ancient holy city of Puri in Orissa, India, making it the oldest street festival in the world. The cultural festival consists of a procession when devotees pull huge festive chariots carrying Deities of Krishna while chanting and dancing joyfully, culminating in a "Festival of India" with entertainment, free-feast booths and a variety of cultural displays and exhibits.
Members of the UIW community attended the Ramadan Dialogue Dinner hosted by the Raindrop Foundation, May 26, 2018. UIW has its first class of students in the new School of Osteopathic Medicine. Some of these students and their Dean attended. The dinner commemorated Muslims' holy month of Ramadan focused on fasting, works of charity and prayer. Participants had opportunities to make friends, listen to live Sufi music and to learn more about the practice of fasting during the holiest month. Donations to help the San Antonio Food Bank were encouraged. After sunset, a delicious dinner of Turkish foods was served.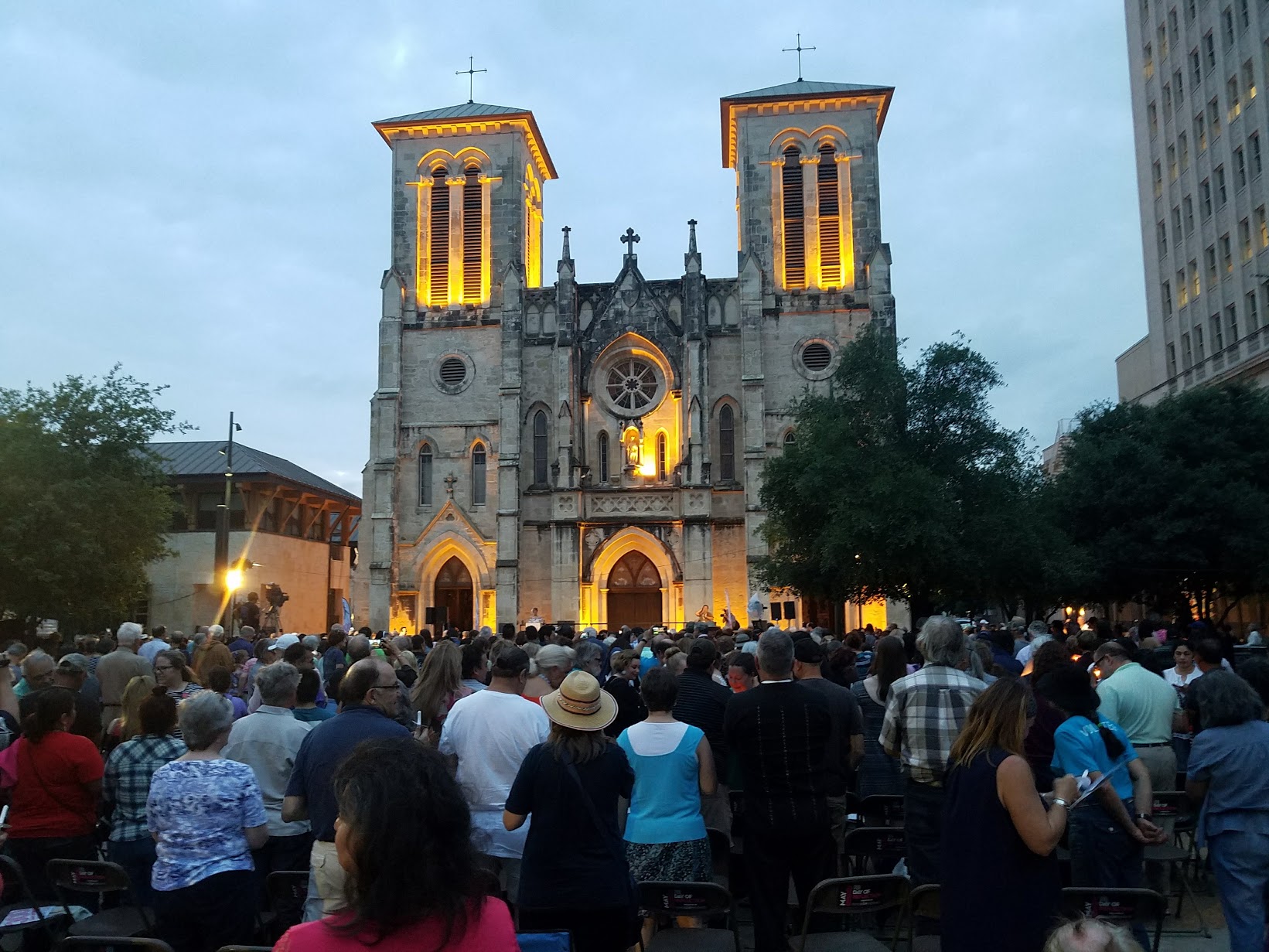 Leaders of over twenty different faith groups in San Antonio spoke at a gathering to remember the 300th Anniversary of the city of San Antonio, May 3, 2018. Native peoples began. Franciscans bringing stories of Christianity were remembered. Major religious traditions from throughout the world are now part of the fabric of the city. San Fernando Cathedral seen in the background is the oldest cathedral sanctuary in the U.S.
Faculty members participating in the Interfaith Youth Core Innovation Grant this past academic year focusing on Interfaith Literacy, Fluency and Service presented how they, and students, learned and were engaged in service, April 24. Ideas for continuing and deepening interfaith engagement were discussed.
" Peacebuilding in the Modern World" a panel discussion with Fulbright Scholars: Dr. Damira Sikhimbayeva from Kazakhstan, Dr. Sona Manusyan, Armenia, Dr. Emre Hatipoglu, Turkey, Dr. Kacper Tomasz Gradon, Poland, moderated by Congressman Charles A. Gonzalez, was held on April 19, 2018.
" Interplay of Ethnic Nationalism and Islam in post Soviet Kazakhstan" was presented April 18 by Dr. Damira Sikhimbayeva, a Research Fellow at the Institute of Philosophy, Political Science and Religion Studies, Department of Political Science in Kazakhstan. She is currently a Fulbright Scholar at the Department of Anthropology, Texas A&M University. Dr. Sikhimbayeva obtained her PhD in Political Science at Al Farabi Kazakh National University in 2014. Her research interests include the impact of religion on the modern world, interethnic relations and ethno politics.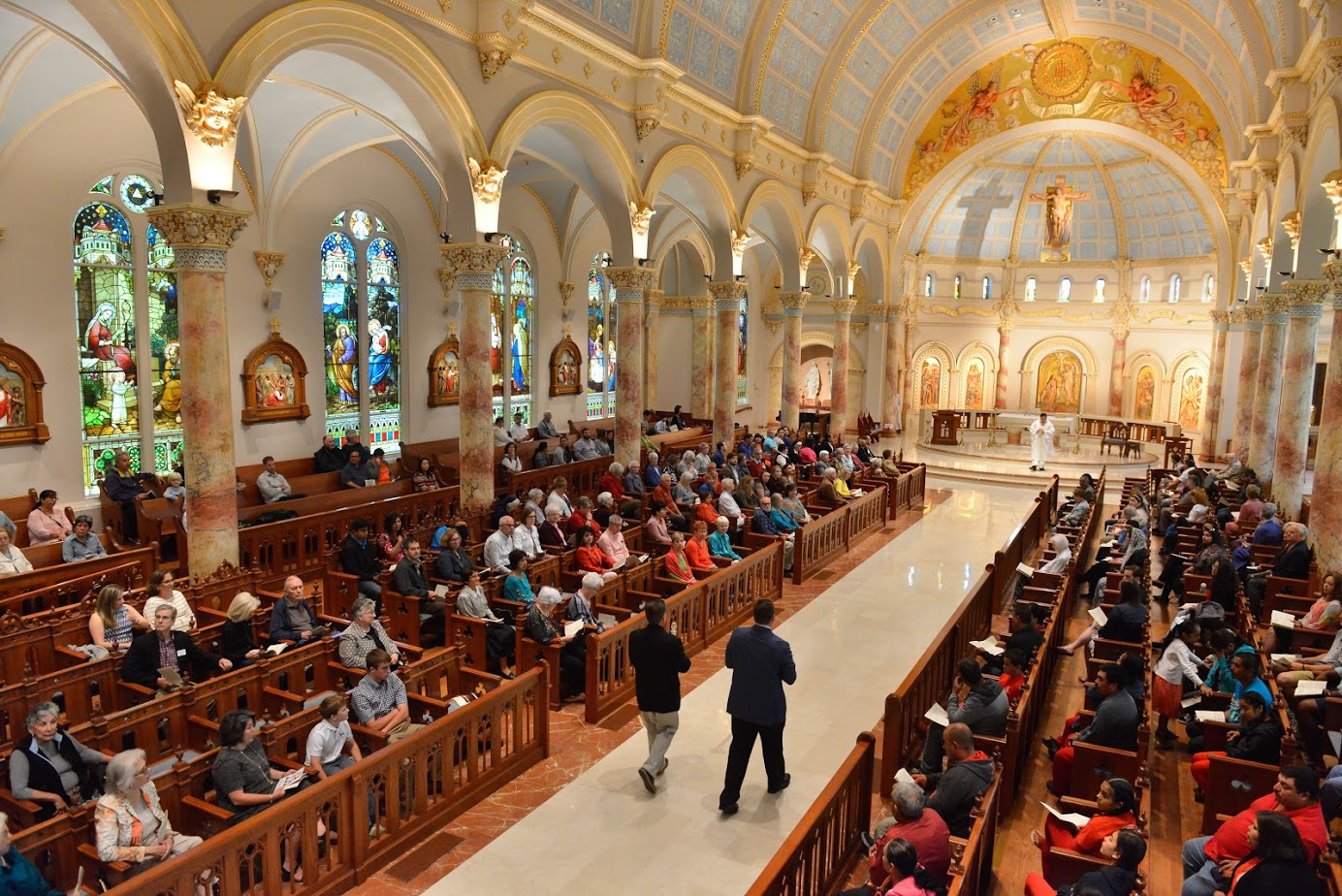 Dr. Dennis Gonzales, Vice-President of CHRISTUS Santa Rosa Health Care, and Dr. Thomas Evans, UIW President, carry the gifts in a Christian Eucharist for the Tricentennial Celebration.
"Mi Casa Es Su Casa," an Incarnate Word Festival on April 15, 2018, during the San Antonio Tricentennial Year included interfaith and intercultural exhibits and activities. The American Indians shared information on the meaning of the Medicine Wheel.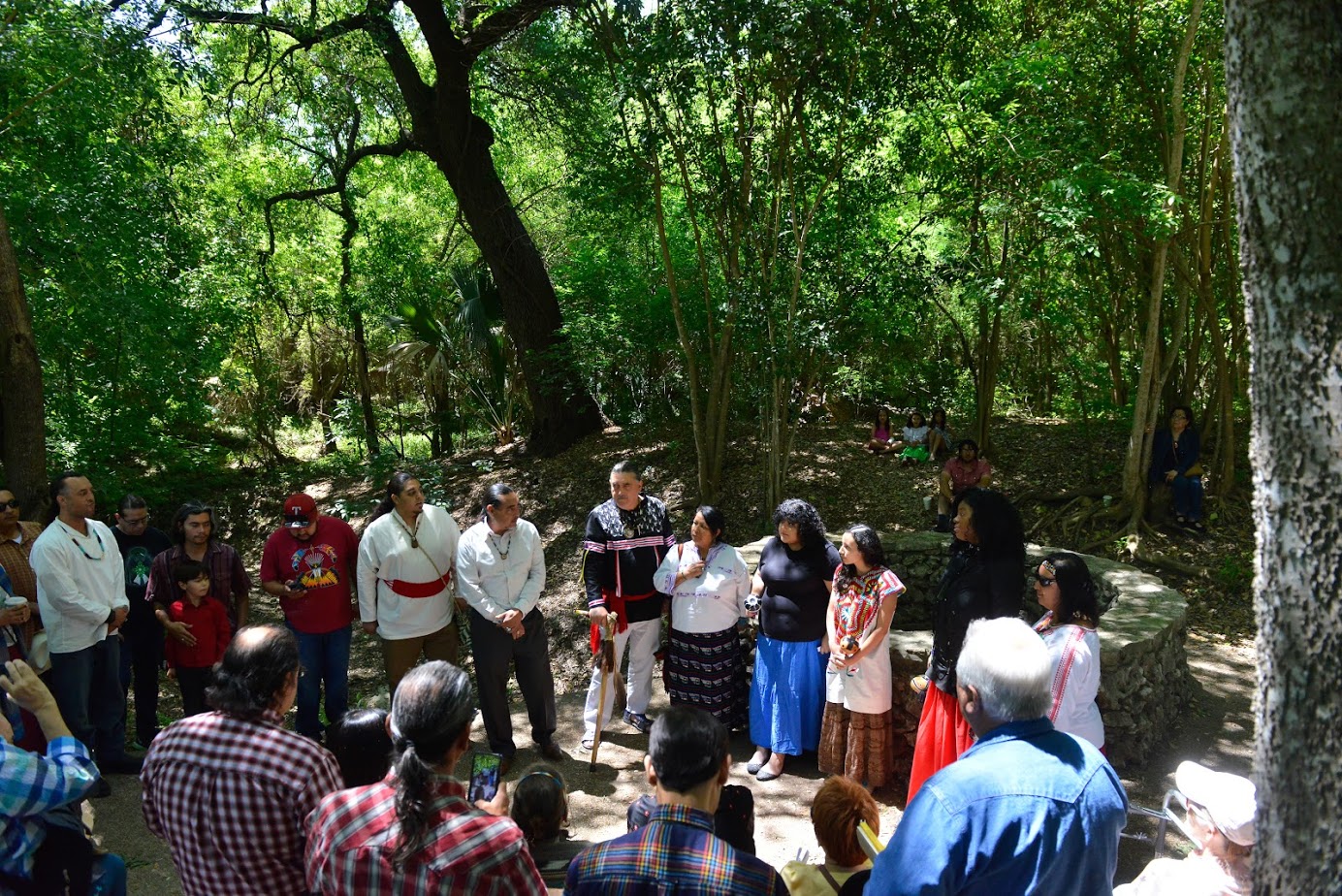 The "American Indians in Texas" shared a ceremony expressing gratitude for creation at the Blue Hole which is the place of the San Antonio Springs, the Headwaters of the San Antonio River.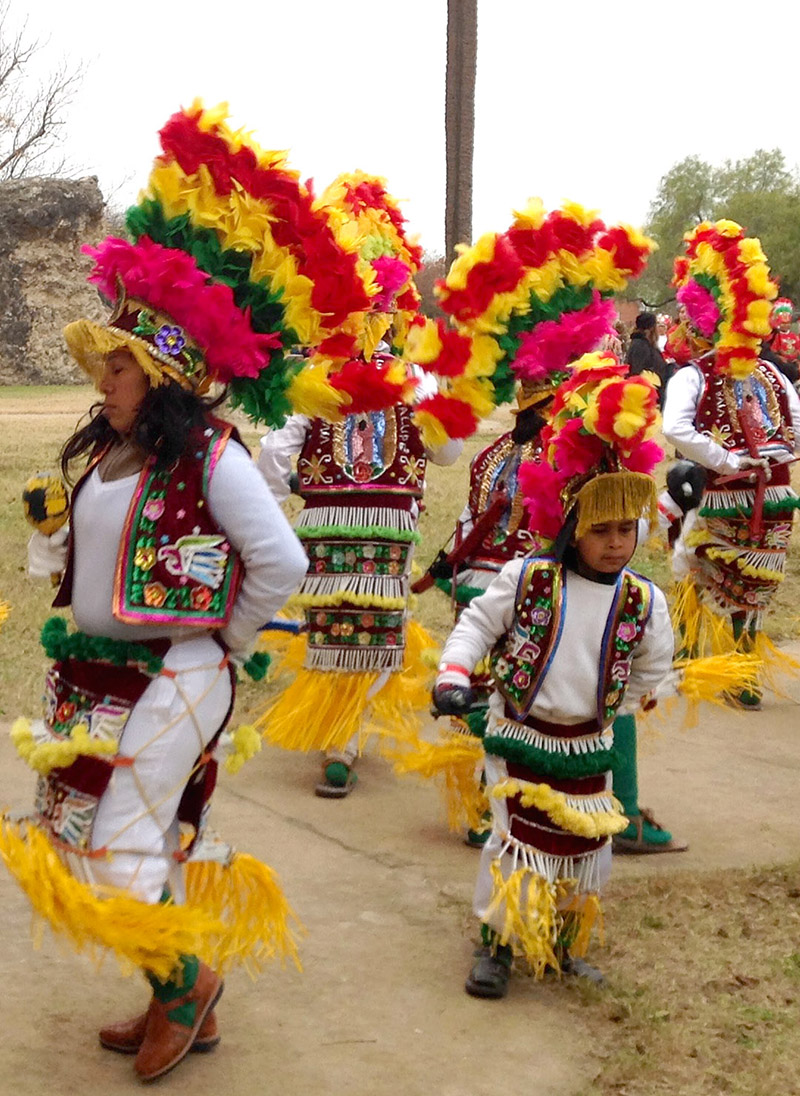 Matachines Led Prayer in Dance, April 15, at Our Lady's Grotto. The day included many intercultural and interfaith exhibits and activities including the "Interfaith Music Ensemble" from the Turkish Raindrop House. This group of Jewish, Muslim and Christian musicians performs with Middle Eastern instruments and song. Turkish Folk-Dance was shared by students of the Harmony School of Excellence.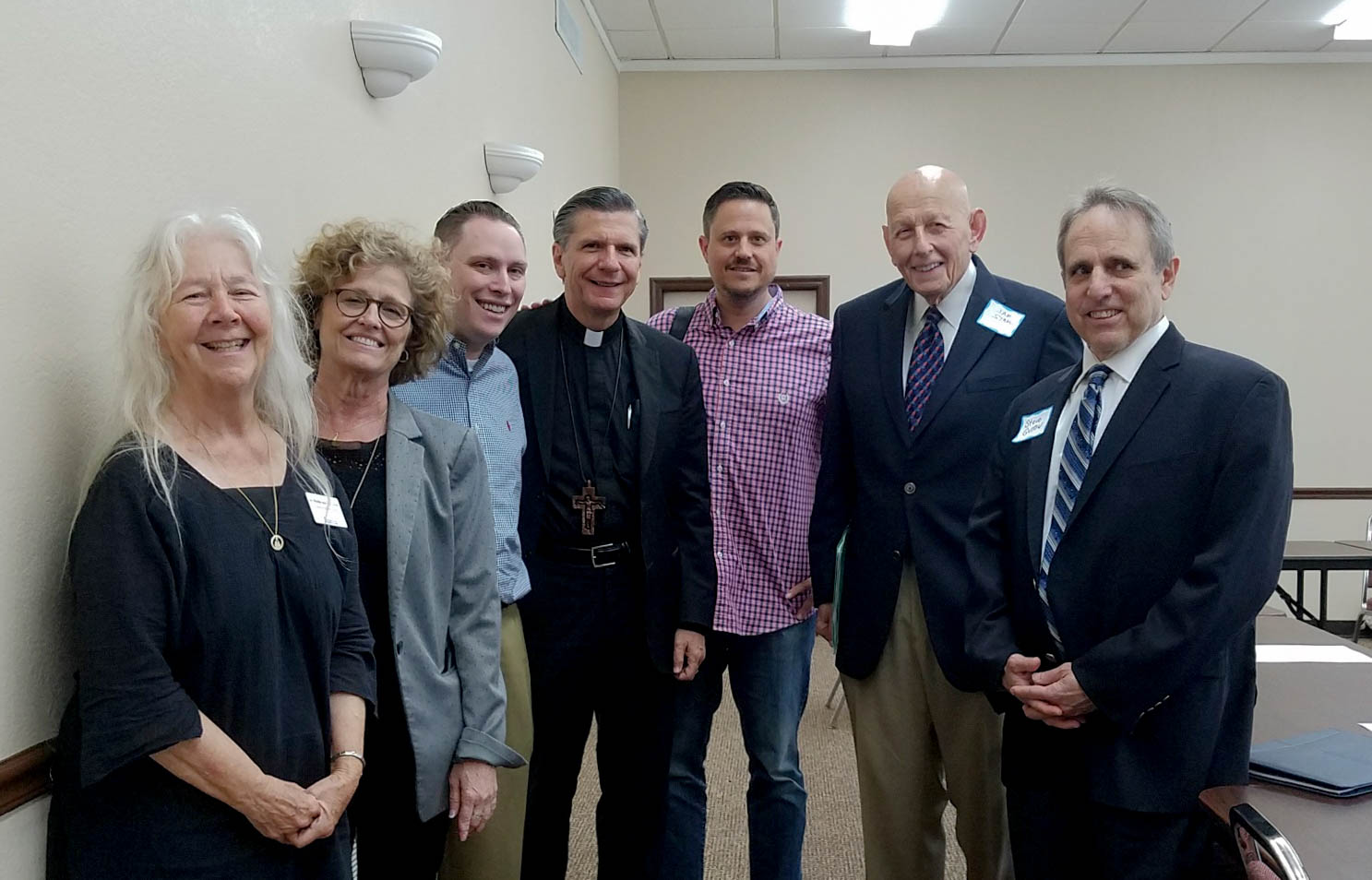 Interfaith San Antonio Alliance (ISAA)
Sister Martha Ann Kirk, UIW Professor, Rev. Ann Helmke, City Faith-based Initiatives Office, Rabbi Jeffrey Abraham, Congregation Agudas Achim, Archbishop Gustavo Garcia-Siller, San Antonio Archdiocese, Mr. Mike Oakes, Oak Hills Church, Rabbi Sam Stahl, Rabbi Emeritus of Temple Beth El, Rabbi Steven Gutow, New York University, and other Muslim, Protestant, Sikh, and Catholic leaders met as part of the Interfaith Leadership and Civic Engagement efforts. UIW is joining in circles of interfaith advocacy and service for "Affordable Housing, Homelessness, and Gentrification" with Jewish, Muslim, Sikh, Protestant, and Catholic partners. Rabbi Gutow is associated with the NYU program promoting local engagement in the face of needs. A strategic plan for united efforts is being developed in light of the Mayor's Task Force on Affordable Housing. Both National Catholic Reporter and Religion News Service featured the story of this growing interfaith initiative, "After 50 years, clergy work together again in San Antonio, for affordable housing." Read more about the clergy working together for affordable housing.
The New York Jewish Week, one of the top three Jewish press in the U.S., published an article by Rabbi Steve Gutow about his work and what is developing in his article, " Faith Takes A Stand In San Antonio." Rev. Wyndee E. Holbrook has been selected as the executive director and Alamo Heights United Methodist Church has provided office space.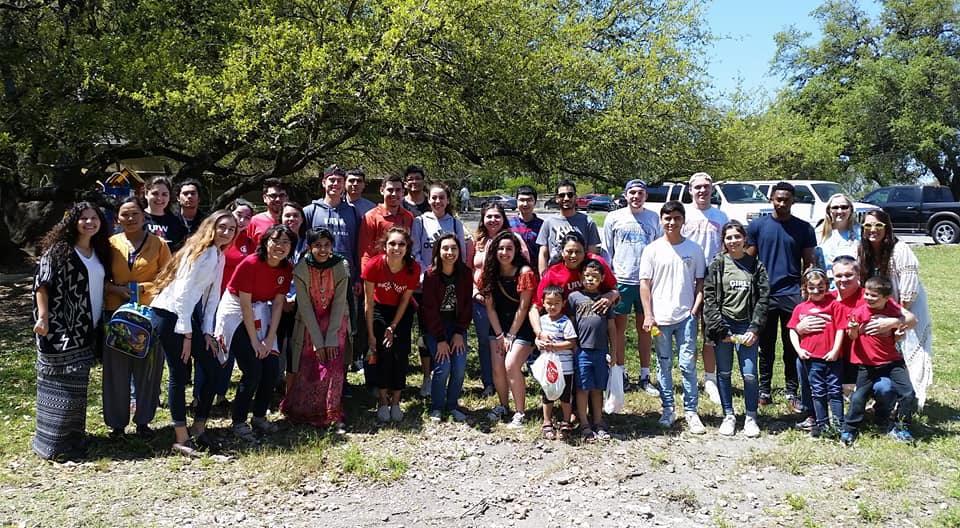 Celebrate Spring UIW Students, faculty, and friends hosted refugee children and their families for the 8th annual gathering with arts, crafts, music, stories, and games about Passover, Easter, Narouz, and Holi, spring traditions of different faiths. Friday, March 30, 9:30 a.m. to 1 p.m., St. Francis Episcopal Church Pavilion, 4242 Bluemel Rd, San Antonio, Texas.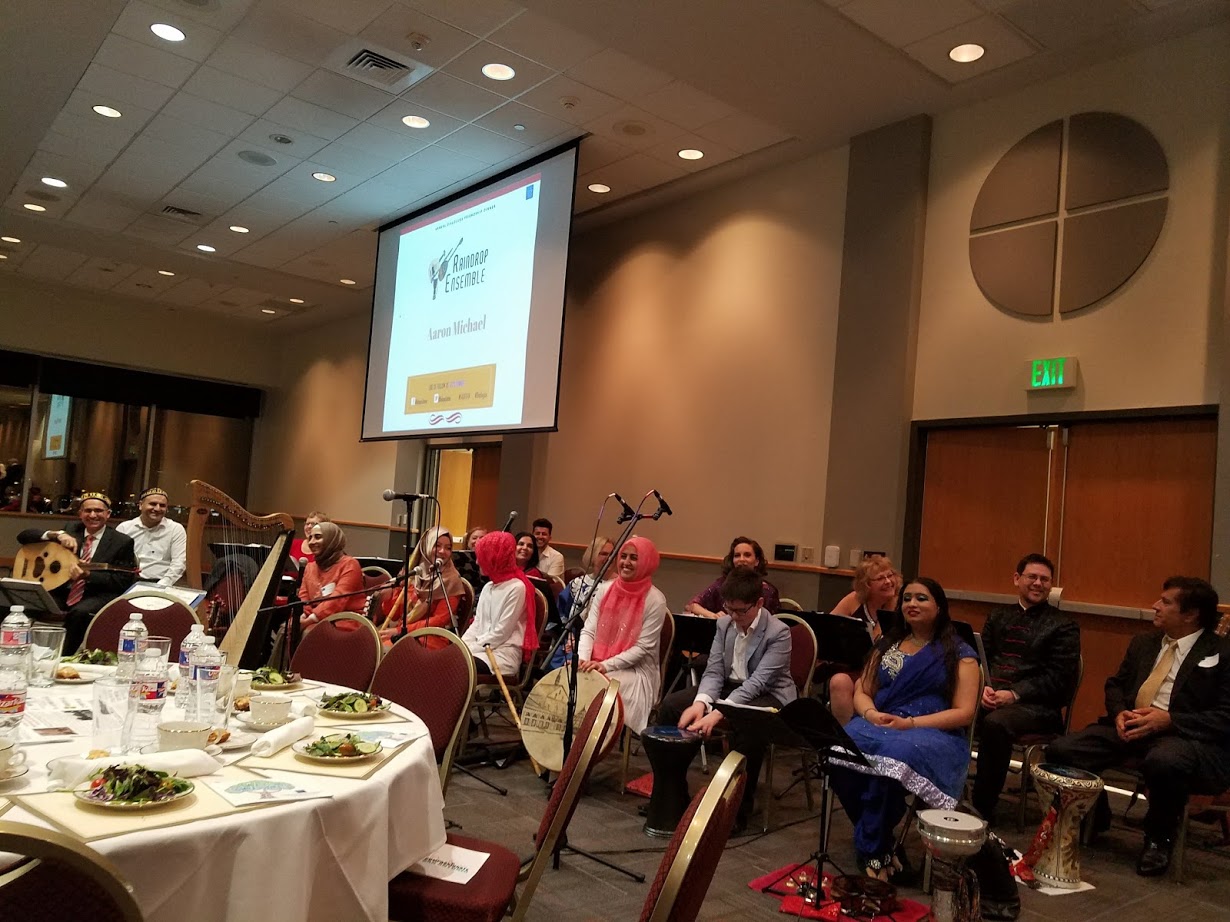 " Teaching Compassion and Making a Difference," the 13 th Annual Dialogue and Friendship Dinner and Award Ceremony was held March 3, 2018 in the UIW Rosenberg Skyroom. Acclaimed writer John Phillip Santos was the keynote speaker. Awards were presented to civic leaders and groups. Music was provided by the Raindrop interfaith ensemble of Jews, Muslims, and Christians,The evening was hosted by the Dialogue Institute of the Southwest and co-sponsored by UIW.
Sikh Art and Film Festival was held Feb. 24, 2018 at Trinity University, Laurie Auditorium. It provided an opportunity to learn about the vibrant Sikh community and to meet inspiring leaders such as Lt. Col. Kamal Singh Kalsi.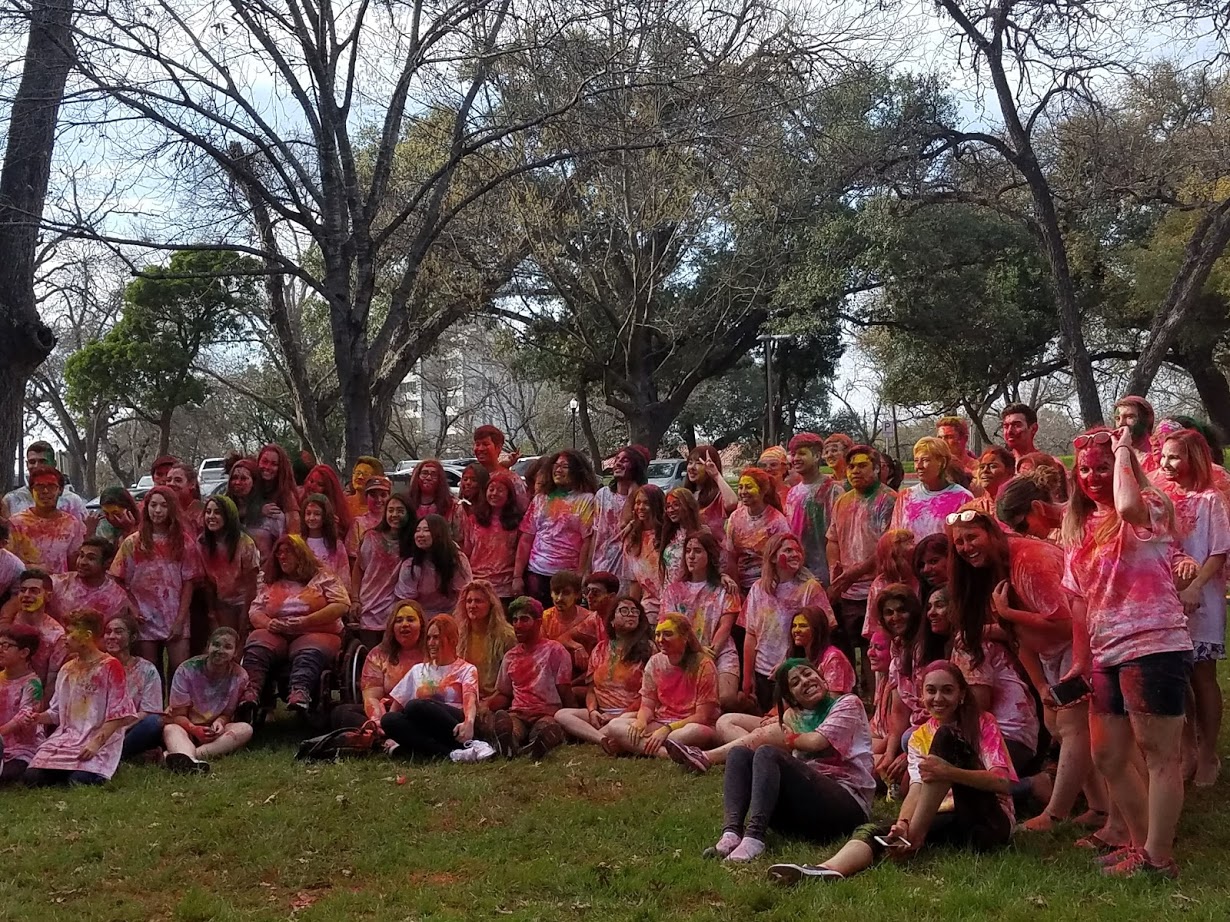 Festival of Colors. The South Asian festival of Holi was celebrated at UIW on Thursday, March 1 from 11:30 a.m. to 5 p.m., on Dubuis Lawn. The Festival of Colors included not only the Holi color throwing, but also a World Market, cultural activities, live DJ, musical and dance performances from around the world, and free food provided by Pasha Express. This was co-hosted by Campus Life and Pasha Express.
World Interfaith Harmony Week, Feb. 1-7, 2018
The University of the Incarnate Word joins communities around the world observing this special time designated by the United Nations. Thursday, Feb. 1, 2018, an opening dialogue and reception was held in the UIW Library Special Collections.
The week included opportunities to join Muslim friends, Friday, Feb. 2, 1 p.m., Muslim Children Education and Civic Center, 5281 Casa Bella, San Antonio, Texas 78249. The UIW Alumni of Distinction Sarwat Husain who is a leader in CAIR hosted.
Jewish friends, Friday Feb. 2, 6:15 p.m., Congregation Agudas Achim, 1655 Huebner Road, San Antonio, Texas 78248 UIW Music faculty Dr. Orit Eylon cantored.
Learning to serve together - Saturday, Feb. 3, 11 th Annual Community Service Learning (CSL) Conference , "Health Where We Live: The Role of the Neighborhood," Health care as a collaborative effort. Prabhjot Singh, MD, PhD, Vice Chairman of Medicine for Population Health and Director of the Arnhold Institute for the Mount Sinai Healthcare System, presented wisdom gleaned from his global and domestic experiences in community health. He discussed his recent book Dying and Living in the Neighborhood: A Street-Level View of America's Healthcare Promise.
Hindu friends, Sunday morning, Feb. 4, Hindu Temple 18518 Bandera Road, Helotes, Texas 78023 
Buddhist friends, Sunday morning, Feb. 4, for the ceremony and lunch, Wat Dhammabucha, 6201 Sawyer Road, San Antonio, Texas 78238, Phone (210) 520-5011
Christian friends, Monday, Feb. 5, Noon for Catholic Eucharist, Our Lady's Chapel, UIW Administration Building
Join Buddhist friends, Tuesday, Feb. 6, 7 p.m. for meditation instruction. The Shambhala Meditation Center, 257 E. Hildebrand San Antonio, Texas 78212 
Asian New Year 2018,  Feb. 12, 11:30 a.m. - 1:30 p.m., the University of the Incarnate Word Student Engagement Center Ballroom. Free wonderful performances and great cultural experience! Learn of Asian religious traditions. If you are interested in the city celebration.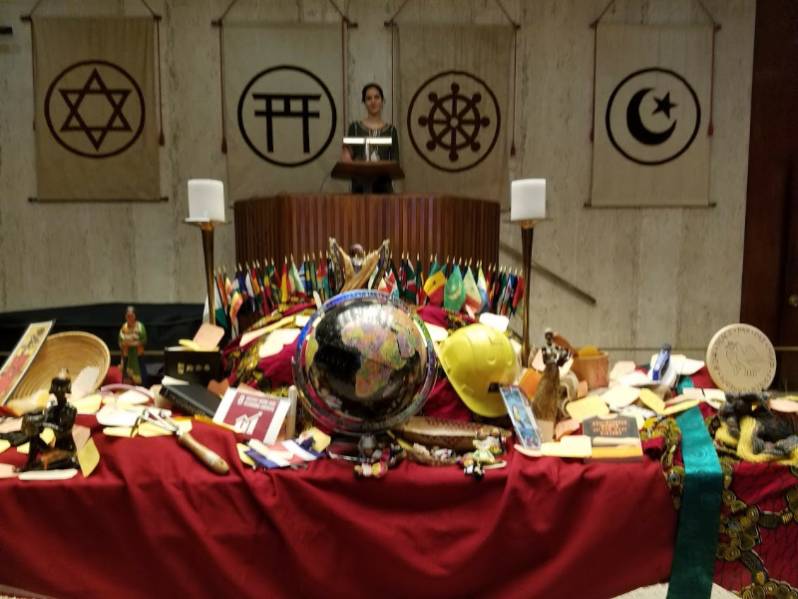 Read and view photos of past events in 2017:
Interfaith Literacy for All UIW Employees, Sept. 15, Friday, 12:30 - 1:30 p.m., AD 365 or attend by ZOOM. Repeated Sept. 20, Noon - 1 p.m., Library Special Collections. See the 50 minute film of the introduction presented by Sister Martha Ann Kirk (Religious Studies, Ettling Center for Civic Leadership and Sustainability), Dr. Lopita Nath (History) and Dr. Susan Hall (Center for Teaching and Learning).
Interfaith Accommodations on College Campuses. The Interfaith Youth Core three-part webinar Interfaith Accommodations on College Campuses. The series will explore what it takes to create welcoming spaces for growing worldview diversity. We'll cover:
Common interfaith policies and accommodations
Assessment options for determining need
Campus-specific steps for implementation
Facilities, Policies, Meal Plans, Oh My: Determining Your Campus Accommodation Needs (Oct. 10, 2017, Gorman Building 120, Noon - 1 p.m.)
So, Here's the Plan: Taking Steps to Establish Interfaith Accommodations (Nov. 7, 2017, Gorman Building 120, Noon – 1 p.m.)
The Difference it Makes: Communicating Positive Impact of Interfaith Accommodations (November 28th, Gorman Building 120, Noon – 1 p.m.)
Mystical Arts of Tibet, Sunday, Oct. 1, 2017, 1 p.m. Tibetan Buddhist monks from the Drepung Loseling Monastery visit the Institute of Texan Cultures for a four-day residency to construct a magnificent Green Tara Buddhist mandala sand painting and lead rituals closing at the San Antonio River. Join Sister Martha Ann Kirk and Incarnate Word friends kirk@uiwtx.edu
Interfaith Understanding and Support presented by Dr. Lopita Nath and Sister Martha Ann Kirk for International Student Ambassadors, Friday, Oct. 13, 6 p.m. Sponsored by the International Student and Scholar Services.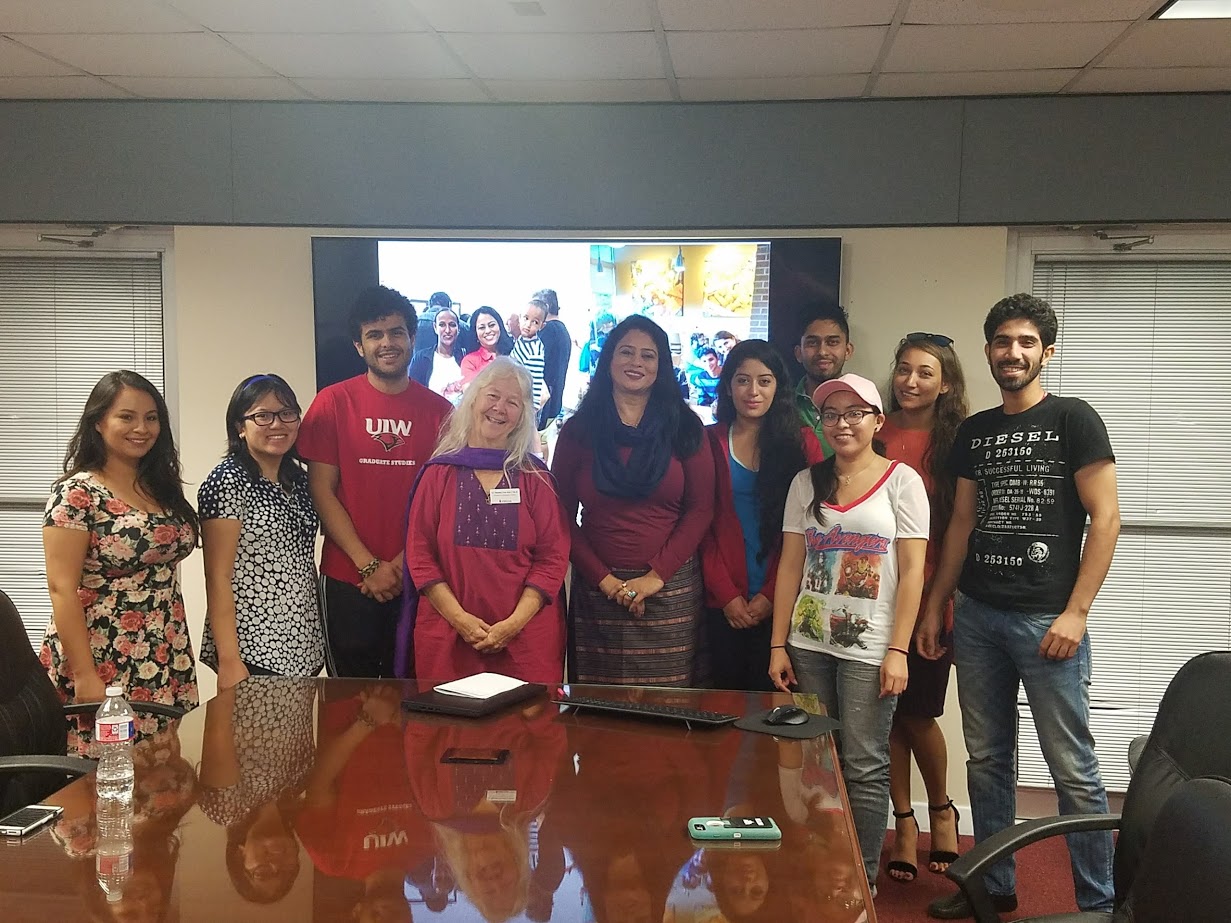 UIW Interfaith Conference sponsored by UIW Mission and Ministry
Friday, Oct. 13, 2017, Tynman Hall, Oblate School of Theology. Contact Rev Trevor Alexander and Brenda Dimas, dimas@uiwtx.edu, (210) 829-3128.
The first panel was shared by UIW students, Norah Al-Ladhal, a Nursing student from Saudi Arabia, David Rodriguez, Business Management student, Deju Keys, a Criminal Justice student, and Zane Alsareinye, a Psychology student who is president of the UIW Interfaith Student organization.
Peace Day, Peace Day, Oct. 25, Noon - 1:15 p.m., UIW Student Engagement Center 2030-2, Nazi Racial Policy, 1933-1945: From Persecution to Extermination by Dr. Roger Barnes, UIW Professor of Sociology, examined Nazi policies on Jews and other "undesirables" before and during WW II. He explored how stereotyping, stigmatization, and hate fueled the Holocaust. The audience considered how some of these forces are manifest in today's society. Contact: barnes@uiwtx.edu
Peace Day, Oct. 25, 3 – 4:15 p.m., UIW SEC 2030-2, Would you have tried to stop the Jewish Holocaust? What are you doing in the face of Rohingya Crisis now? An outbreak of violence against a Muslim group called Rohingyas in Burma (Myanmar) started in 2012. Many have been killed or displaced and this has led to more than 500,000 terrified Rohingya refugees fleeing and going to Bangladesh. Dr. Lopita Nath, Assistant Professor of History, led a panel considering this crisis and the call to respond. Contact: nath@uiwtx.edu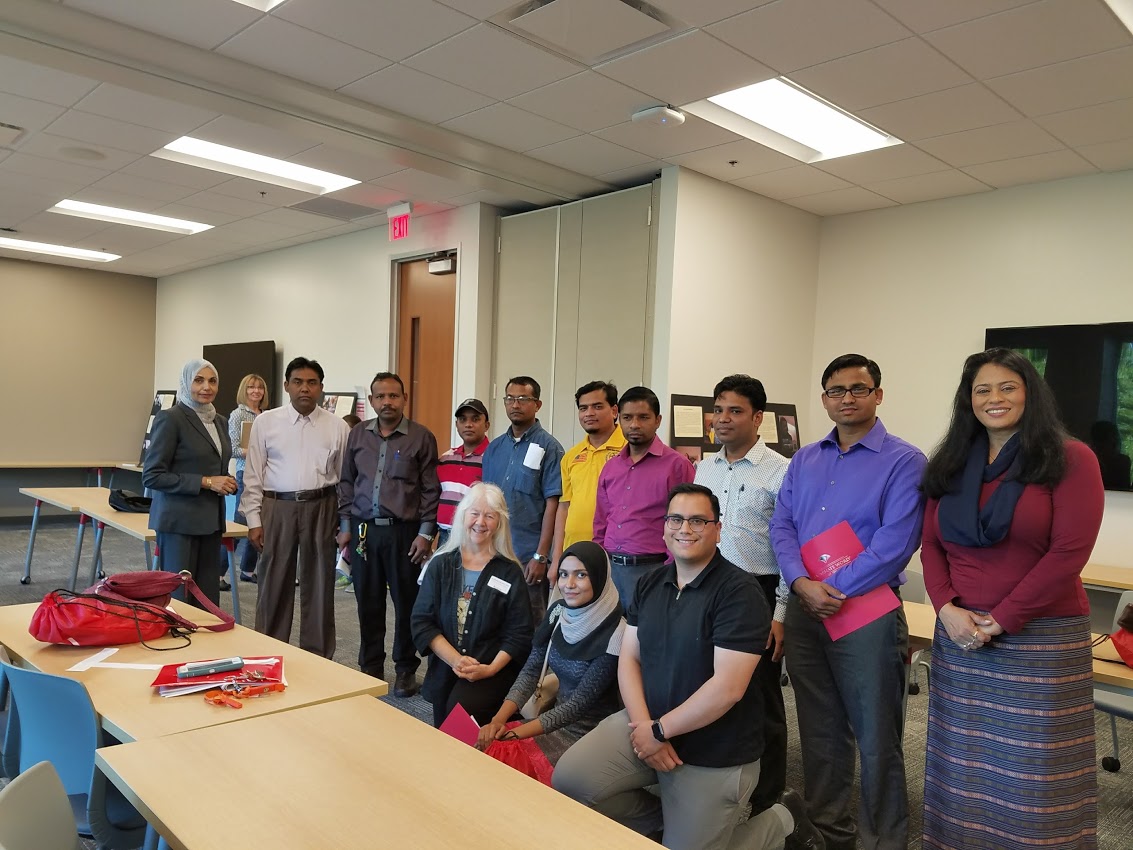 Peace Day, Oct. 25, 6:30 p.m., Raindrop Turkish House
Journey of Hope: From Violence to Healing
Presentations led by murder victim family members who conduct public education speaking tours and addresses alternatives to the death penalty. Over a delicious dinner, Turkish hosts helped all know a little about the respect for life in Islam. Raindrop Turkish House. 4337 Vance Jackson. Ste. 203. San Antonio 78230. sanantonio@turkishhouse.org phone (210) 337-1114 Contact: Mehmet Oguz oguz@thedialoginstitute.org (713) 277-5044
The UIW Saudi Student Club sponsored the Saudi National Day celebration with live traditional music, a Heritage fashion show, a documentary film about the history of the Kingdom of Saudi Arabia, photographs, and traditional food. Information on the center of Islam in Mecca. Monday, Oct. 30, 2017, 6 p.m. to 10 p.m. UIW Rosenberg Skyroom at UIW. Contact (210) 400-0755. Email: sscs.uiw@hotmail.com 
Celebrating the South Asian holiday of Diwali: Festival of Lights at UIW!
Friday, Nov. 1
5 p.m., Photobooth and Henna
6 p.m. Dinner, Puja and Performances
Rosenberg Skyroom, International Conference Center, Hildebrand at 281
Featuring South Asian cuisine, dance and musical performances, information on Diwali, and festivities! Cohosted by International Affairs, Campus Engagement. Special thanks to Dr. Sushma Ramsinghani and Dr. Lopita Nath. UIW students free.