UIW's Music Therapy and Health Professions Programs Collaborate to Prepare Students
November 10, 2023
UIW's Music Therapy program is one of only five such programs in the state of Texas. A degree in music therapy trains students to combine the use of musical skills and therapeutic techniques to help support clients' health and wellness goals. The program is housed in the College of Humanities, Arts and Social Sciences, but faculty at the University of the Incarnate Word's health professions schools understand the healing power of music in treating stress, anxiety, and depression, as well as supporting immune function.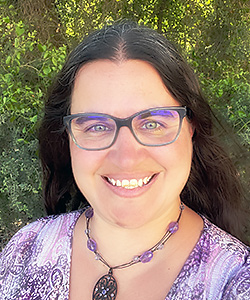 The program's director, Catherine Befi-Hensel, explained that the coursework students complete includes music fundamentals, psychology, anatomy, statistics, human development, and music therapy theories, methods, and research. In addition to students improving their skills in their primary instrument, they develop proficiency in piano, guitar, percussion, and voice, all skills which ultimately help them treat future patients.
Befi-Hensel noted that a standout aspect of UIW's Music Therapy program is the hands-on experience and training students receive, both through an on-campus music therapy clinic, and through collaboration with the University's health professions programs.
"Under the supervision of board-certified music therapist faculty, students provide pro bono music therapy sessions for members of the greater San Antonio community who might not otherwise have access to music therapy services. I love that our students learn and grow through service, and that everyone benefits," she shared. 
The Music Therapy program is working to build collaborative relationships with each of the University's health professions programs – so far, they have worked with the Physical Therapy, Occupational Therapy and Athletic Training programs to provide more educational value to students. Faculty from each of these programs recently provided workshops as part of a wellness seminar for music therapy students. The programs' leaders are planning another seminar in the spring, this time focusing on music and wellness for students in the Occupational Therapy program. Faculty are also exploring a joint cotreatment clinic for local clients that includes services in Music, Physical and Occupational Therapy.
This collaboration is vital to the education of future music therapists, but the opportunity to work with up to five health professions programs all in the same University system is unique to students at UIW. As Befi-Hensel explained, music therapists are allied health professionals who work closely with medical professionals across disciplines. Getting this collaborative experience at the undergraduate level will only better equip UIW's music therapy students for their future careers.
"The opportunity to collaborate with students and faculty from the other UIW Health Professions will provide our students with valuable interdisciplinary experience and help better prepare them to work as members of a treatment team," Befi-Hensel noted.
As the Music Therapy program and profession continue to grow, its faculty hope to prepare students and alumni to become leaders, researchers, and innovators in the continuously expanding field.