UIW Ranked #1 in the Nation for Military Veterans
November 6, 2023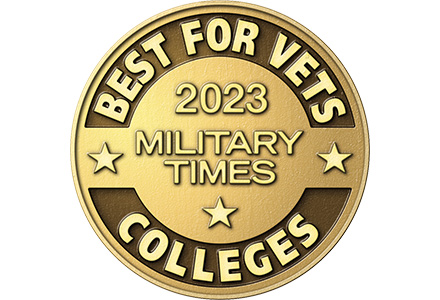 San Antonio – November 6, 2023 – The University of the Incarnate Word (UIW) is proud to announce that it has been ranked #1 in the nation in the "2023 Best for Vets" rankings put out by Military Times magazine. The publication recognized UIW's commitment to veterans, current members of the military and their families. Specifically, the Military Times "Best for Vets" list is based on a survey of 325 schools and rated them in several different categories including range of resources and financial aid. Student success metrics (completion, retention, persistence, GPA) were the most important factors in ranking the schools.
"We are proud and honored not only to receive the No. 1 spot in the Best for Vets ranking but for the opportunity to serve the military and veteran students who serve our country," says Dr. Thomas M. Evans, UIW president. "Providing exceptional education to our military, veteran and military-affiliated students is an institutional priority. I would like to thank the faculty and staff throughout UIW for working on their behalf and making our university one where they feel valued, seen and supported."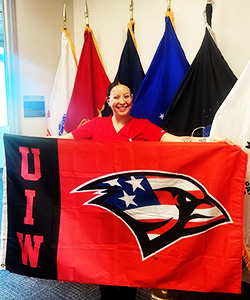 Students like Belinda Guerra and Christopher Marmolejo who are both veterans who served our country and then found their way to the University of the Incarnate Word and its highly regarded Military and Veteran Center. The Center is a type of one-stop-shop for all veterans and military-affiliated students to get information, academic and financial counseling and much more.
"Being here at UIW is a literal dream come true for me," says Guerra, who is currently a Petty Officer Second Class in the U.S. Navy Reserves and served 5 years active duty as a Hospital Corpsman. "I am a first-generation college student who is in the Nursing program here. The Military and Veteran Center here at UIW has made the transition from service member to student incredibly easy with their resources and knowledge for using my benefits. They provide a warm environment to all the veterans attending which creates an amazing support system and friends, just like the military did."
"Having people who care about your success is heartfelt," says Marmolejo, a retired U.S. Army combat veteran. "It makes me want to do better, not just for yourself, but for the betterment of your support network. I'm currently a full-time student working to earn my doctorate degree. From my start at UIW, earning my associate degree to now, the veteran support system on campus has only gotten stronger with resources and personnel because of the Military and Veterans Center. Being in leadership positions in the Army and in student leadership positions on campus has always had me advocating for others."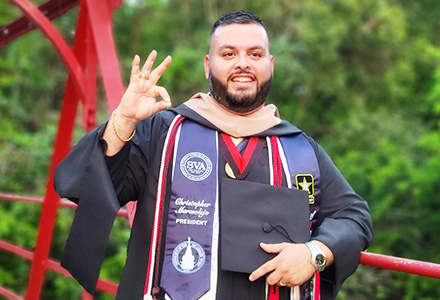 Military Times also acknowledged another innovative way that the Veterans Center engages the UIW community. In 2018, a training course known as "Military 101" was created by military connected faculty and staff members to educate UIW administrators, staff and faculty on military specific issues and military culture. The course material was updated in 2022 and, although the course is not mandatory, more than 125 faculty and staff have taken part. That includes UIW Student Disability Services Manager, Michelle Beasley.
"The Military 101 course has proven to be a fun and engaging way for the entire UIW community to become better educated about the military experience from enlistment to discharge and beyond," says Beasley. "Student, faculty and staff veterans energetically participated in the video production and all other aspects of the course. Upon course completion, I was left with a greater knowledge, understanding and an even deeper appreciation for our student veterans. In addition, the course fueled a renewed commitment for our team to provide the highest level of service to our student veterans with disabilities."
Through providing all these services, it is the goal of the University to not just show our appreciation for the service our veterans have given to our country, but to allow our military and military-affiliated students to fully succeed as they proceed through a transformational time in their lives.
"Being located in San Antonio, Texas, known as Military City USA, the University of the Incarnate Word knows the meaning of honoring our service members and their families," says Jonathan Lovejoy, UIW senior director for Military and Veterans Affairs. "At UIW, we make a concerted effort every day to make sure our veterans and their families feel welcome and supported. Today, we are proud to say that approximately 21% of UIW students are military connected. UIW is constantly striving to better serve our amazing military and veteran student population and better serving students has always been a part of the UIW Mission."
"The Military and Veteran Center is such an incredibly valuable resource to all service members past and present," adds Guerra. "The faculty and staff that are there give their absolute all to help every student. They host many events and socials to get veterans involved with fun activities and support groups. I am so thankful to attend a university that has open arms to service members."
And Marmolejo has this bit of advice for any veterans or their family members who are considering the University of the Incarnate Word as the next step in their careers.
"I'd say, Burn the Ships! Don't look back and keep advancing forward. UIW is number one for a reason. The military and veteran community has already paved the way and sustaining the fight. We are waiting for your innovative strategies to take us to the next level. Go Cards!"
---
MEDIA CONTACT: Michael Valdes, Media and Public Relations Manager, Office of Communications & Brand Marketing, (210) 829-6001, (210) 422-4052 or michael.valdes@uiwtx.edu