Alumna Carries UIW's Impact to South Pole
November 7, 2023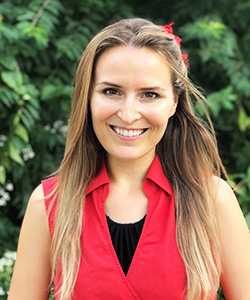 With campuses in Texas, Mexico and France, a Global Online program that welcomes students from around the world, and alumni whose endeavors have carried UIW's Mission to various countries and continents, the University of the Incarnate Word's reach knows no bounds. Thanks to alumna Angela Mahoney, the University can now add the South Pole to its list of places its alumni have made their mark. Mahoney has just begun a new role on the continent's Amundsen-Scott South Pole Station, a U.S. Antarctic Program (USAP) scientific research station funded and managed by the National Science Foundation (NSF). 
According to the NSF's website, approximately 3,000 Americans are involved in the efforts that take place as part of USAP each year – efforts that include research "to understand the region and its ecosystems; to understand its effects on (and responses to) global processes such as climate; and to use the region as a platform to study the upper atmosphere and space." Mahoney will serve as an inventory data specialist on the logistics and supply team, a role in which she will complete receipt transactions when shipments of supplies arrive and ensure that those precious resources go where they need to go. As she described it, she'll "be helping to keep the station running for the science to do the science."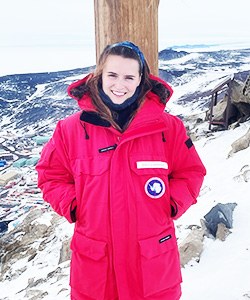 Mahoney's journey to the South Pole has been anything but conventional. While it would be easy to assume that she studied biology or data science while a student at UIW, she graduated from the Interior Design program in 2014, a field she chose because it offered her the opportunity to exercise her passion for creativity in a career that would also provide stability. But Mahoney soon learned that, to her, the beauty of life lies in the unknown and in experiencing new things in new places.
"As a person, I just love variety," she explained. "Thinking of doing one thing for the rest of my life isn't as appealing to me. I want to do things and gain experience, and from that experience, move on, and do other things."
There's no better way to put into words what Mahoney's path has been like.
UIW's emphasis on community service left its impact on her, and she soon found herself not working in interior design, but on a volunteer trip to Ethiopia with VIDES+USA, a Catholic volunteer mission program. There, she taught Communications and English to locals, and assisted the Salesian sisters of St. John Bosco with a youth-centered school.
"Here in the mission, when sitting at the dinner table, I can look around and see the world coming together in unity," Mahoney shared of her volunteer experience in a 2015 Global Sisters Report blog post. "There are sisters from Korea, Poland, the Philippines, Ethiopia, India and Sudan. They are all here, sharing a common goal: to help the people … It is a tangible symbol of how a world, which sometimes feels big and other times small, can be brought together if they share a common goal."
It was this experience that ultimately inspired her to adjust her path and set her sights on a career in international humanitarian work. Initially unsure how to apply her education in interior design to humanitarian aid, she quickly learned that both the hard and soft skills she gained during her time at UIW were not only applicable, but critical to the work of nonprofits. Her degree had required her to fine tune her graphic design skills and quickly learn new design softwares, capabilities that made her the perfect candidate for an internship in the marketing and communications area of Children's Emergency Relief International (CERI). This experience, combined with work in Alaska researching nonprofits and other international travels, eventually led to a fulltime role with CERI as the organization's sponsorship and communications coordinator. It was this position and organization that she recently bid farewell to take on her next adventure in Antarctica, where she carries her passion for making a difference in the world.
She was pleased to learn that just like her background at UIW helped her land a job in marketing for a nonprofit, it also equipped her with the skills she needed to make her dream of working in every continent a reality. Mahoney looks back on her journey to this moment as a sort of domino effect, with each step contributing to the next, even when she couldn't see it at the time. She looks ahead to this next step with excitement, eager to keep her passion for making a difference alive.
Mahoney's path is a testament to the transformative power of education, the lasting impact of service and the value of a versatile education that UIW provides. Though her journey has been full of twists and turns, her desires to understand, grow, and contribute to the greater good have remained consistent.
"I've lived in Ethiopia, volunteered in the Philippines, lived in Australia and Ireland, and I feel like every place I've lived for an extended period of time gives me a sense of knowledge and connection," she explained when asked what she hopes to gain from her time in Antarctica. "I want to gain more understanding of the world we live in." 
Her words today are reminiscent of those she wrote in 2015 during her time in Ethiopia: "A world, which sometimes feels big and other times small, can be brought together if people share a common goal."