November 15, 2023
Class of 1973 alumna reflects on her life's connection to Incarnate Word
It was at one of his bleakest moments when Ralph Evans found God. A U.S. soldier during World War II, he devoted his life to faith and family upon returning from the war.
"My father was not a church-going person," his daughter Jeanette Evans Wyland '73 remembered. "He had never been baptized. He made a promise to God that if he got out of the war, he would find a church and go to church."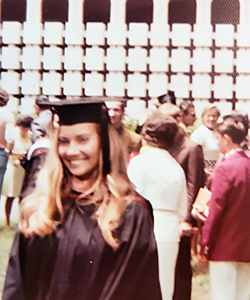 And so, he did. Back in the U.S., he met Jeanette's mother Charlotte Wurzbach, a devout Catholic. He officially joined the Catholic church prior to marrying her.
"He told me once, 'your mother knows everything about being a Catholic.'"
It was no surprise then that Jeanette and her siblings – three sisters and one brother – were raised in a home that prioritized faith. They each attended Catholic schools, and when it came time to choose where to pursue a higher education, her mother and father more than encouraged Jeanette to attend Incarnate Word, where she chose to study Nursing. Her older sister, Barbara Evans Hickok '71, had paved the way, beginning her Incarnate Word journey just two years earlier.
At this year's UIW Homecoming festivities, Jeanette celebrated the 50th anniversary of her graduation from then Incarnate Word College in 1973. The milestone event provided the opportunity for her to take pause and reflect on her life during an interview with UIW's communications team. It was then when she realized that her family's history with Incarnate Word, and every moment that led her to where she is today – from her veteran father finding God during the war, to her time at UIW, to her children continuing the legacy of her family and the Sisters of Charity of the Incarnate Word as healthcare professionals – was nothing short of divine intervention.
Though she didn't fully understand it at the time, her years at Incarnate Word solidified the foundation of faith she would need to get through the years ahead. A student of the Sisters of Charity of the Incarnate Word, she looks back at the blessing it was to learn from these amazing women of faith, both in and out of the classroom. Jeanette's best friend Mary O'Brien's aunt just happened to be Sr. Margaret Patrice Slattery, Incarnate Word College's academic dean at the time. During Jeanette and Mary's time in college, Sr. Margaret was appointed the school's president. But to the two young students, she was just "Aunt Patsy." They spent many afternoons in Sr. Margaret's office chatting between classes, memories that Jeanette cherishes to this day.
"It was so unique," she shared of her experiences connecting with her. "She was such a generous, gracious lady." 
"I remember at the end of my freshman year, we actually had her over for dinner one night at my house, and how excited my parents were that she was my friend and the aunt of my girlfriend," Jeanette remembered with a laugh.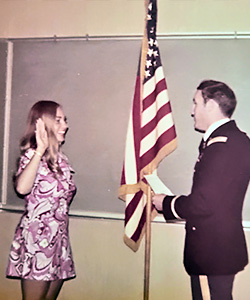 After her time at Incarnate Word, Jeanette once again followed in her big sister's footsteps and joined the U.S. Army Nurse Corps, completing basic training in San Antonio. As a first lieutenant, her first assignment took her to the Colorado Fitzsimons Army Medical Center, where she worked in the neonatal unit, followed by an assignment as an operating room nurse at Fort Campbell, Kentucky. After two years in the Army and shortly after being promoted to captain, Jeanette left the military when she fell in love with and married a pilot. Their journey together took them to various places across the country as he gained more flight experience – at each new home, Jeanette tried her hand at different nursing specialties. But the call to serve her country still tugged at her heart, and while living in Kansas, she joined the Army National Guard before relocating back home to San Antonio, where she and her husband grew their family.
In 1991, as a lieutenant colonel, Jeanette was serving as Assistant Chief Nurse of the 217th Evacuation Hospital, Texas Army National Guard, and was mobilized for Operation Desert Storm.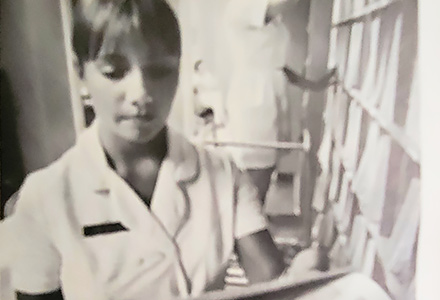 "I had a four-year-old, a seven-year-old, and a 12-year-old, and I didn't want to go," she remembered. "The hospital was deployed to care for casualties of the war in Riyadh, Saudi Arabia. It was a unique experience – they sent Scuds at night. Patriot missiles intercepted, but you never knew if it was going to hit where you were living."
Just like her father's faith was set ablaze during his time in the Army, so was Jeanette's during Desert Storm.
"I said a lot of prayers. I was very much a prayerful person when I was over there," she recalled.
Her prayers answered, Jeanette returned to her family after several long months. Back home, she was selected as Chief Nurse of the evacuation hospital, and soon thereafter, promoted to colonel. When its doors shuttered, she was appointed the State Chief Nurse. In this role, Jeanette was responsible for medical readiness in the state, ensuring the Texas Army National Guard's soldiers were completing physicals and were fit for combat. In this role, she often traveled to national meetings in Washington D.C., serving on various committees to offer her expertise. Her combined experiences prepared her to become the first non-physician Texas Army National Guard State Surgeon.
"I was the first non-physician State Surgeon in the Army National Guard nationwide – they had never done that before," she explained. "It was quite an honor."
The honor soon became one of the greatest challenges of her life. Shortly after her appointment were the attacks of September 11, 2001.
"Things got so complicated and stressful," Jeanette recalled. "We had a lot of soldiers who were being readied for mobilization."
Once again guided by her faith, Jeanette remained steadfast, doing her part to serve her country. She helped guide the mission in the aftermath of Sept. 11 before retiring from the National Guard in 2003, after 30 years of service to her country.
Jeanette's path ultimately led her back to Incarnate Word. Her children grown, she once again found love and remarried at Our Lady's Chapel on the Incarnate Word campus. Her husband, not then Catholic, was inspired by her faith. After years of marriage, he began attending Mass with her every week, ultimately becoming part of the Catholic Church, just as her father had done after falling in love with her mother.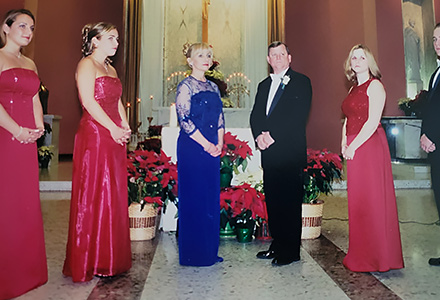 Today, 20 years retired from the National Guard, Jeanette looks back on her life with humility and gratitude. Following in her footsteps, her children have devoted their lives to service in their various vocations. One daughter is a gynecological oncology surgeon and receives a text from her mother every day, reminding her that she and her patients are being prayed for. Her son is a licensed professional counselor – he often asks his mother for prayers for his patients as well, as they work through mental and emotional ailments. Her eldest daughter worked for nonprofit organizations before a 12-year stint at an international law firm in New York. In 2021, she volunteered in El Paso, providing translation assistance for unaccompanied immigrant children, before taking up her current post working for the largest residential solar company in the country. All three of Jeanette's children rely on their faith as much as their mother and grandparents did.
"I know they're close to the Lord," Jeanette shared. "It just all comes from having a good foundation, and Incarnate Word helped solidify that for me and my children."
In her retirement, Jeanette was given the book Promises to Keep: A History of the Sisters of Charity of the Incarnate Word, written by none other than Sr. Margaret Patrice Slattery, her dear Aunt Patsy. Though her dear friend Mary O'Brien Buchek, whom she remained connected to over the 49 years since her Incarnate Word graduation, passed away last year, Jeanette keeps a close relationship with their Aunt Patsy, frequently visiting her at the Village at Incarnate Word. What Sr. Margaret wrote in the book astounded her.
"I must say that I had no idea that the Sisters of Charity of the Incarnate Word had such a history," she admitted. "I was so amazed, and I really wish I had known when I was in school. They are an amazing story … they had fears, but they prayed, and they trusted in the Lord, and they marched on."
As Jeanette recounted what she read in Promises to Keep, she couldn't help feeling stirred by the idea that her life, and her family's lives, are threads woven into a greater tapestry. Just like the Sisters of the Incarnate Word prayed through her fears, so did she and her father. Just as they devoted their lives to healthcare and humanitarian work, so did she, her siblings, and her children.
During homecoming, Jeanette once again returned to the Incarnate Word campus to reconnect with the school that shaped her so much. She enjoyed dinner in the Brackenridge Villa with fellow Class of 1973 graduates, attended Mass and even took part in the coin toss at the homecoming football game. She marveled at how much the school has grown since her time as a student, grateful for the part she was able to play in its history, and amazed at how much the Sisters of Charity of the Incarnate Word have accomplished. As she continues to pray, inspire loved ones to grow their faith, and watch her children continue legacies of service, Jeanette embodies what it means to carry UIW's Mission forward and into the world.
"I had never thought about it in so many words," she shared with a smile about her life's connection to Incarnate Word and its founders. "It is a full circle."